DeSean Jackson casually places tip jar in end zone
Updated:
September 13, 2011
By Zaki, PhillyGameday.com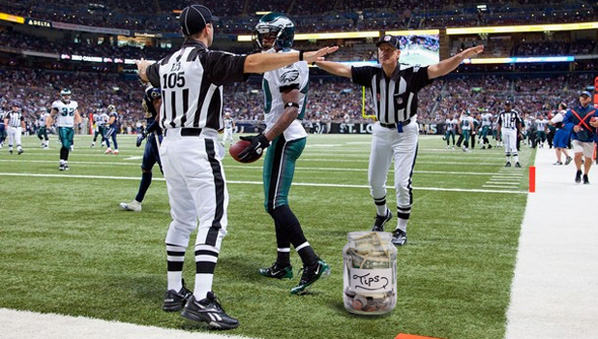 DeSean Jackson's contract situation with the Eagles heated up on Sunday as the receiver was spotted placing a large tip jar in his team's end zone prior to the game against the Rams.
Though the jar has several signs attached to it reading "Tips", "Where my money?" and "Naw, seriously, where my money?", Jackson downplayed the situation and insists he simply wants to focus on playing football.
"Man, I'm just focused on playing football right now and don't wanna talk about some tip jar and how I accept any size tip, no matter how small," Jackson said after Sunday's 31-13 win over the Rams. "I'm trying to go out there and make plays and if someone likes what they see and wanna put some cash in the jar, then that's on them. I can't worry about what other people are doing."
Jackson scored his first touchdown of the season in the third quarter and proceeded to pick up the tip jar and shake it violently in the air while screaming "Y'all gotta do better than this!"
Zaki is the Chief Rocka and senior writer for PhillyGameday.com and thinks you should hurry up and follow the site on Twitter and Facebook before it's too late.