Eagles president Joe Banner announced today that the team would be employing 6- to-10 bodyguards to protect coaches from running back LeSean McCoy. "We have to protect our assets as an organization," Banner said, "even if that means beating the hell out of one of our own players."
The bold personnel move comes in the wake of the second attack on an Eagles coach by McCoy this season, when the running back attempted to knock down Offensive Line Coach Howard Mudd after being taken out of the game against Dallas. This latest attack comes just two weeks after McCoy viciously gut-punched Andy Reid in the stomach during a game against the Washington Redskins.
"I'm a pretty old man, and I just had hip surgery this past week," Mudd commented later, "For him to hurl his body at me like that… [it] could've killed me. I was terrified."
Banner explained to those at the press conference that McCoy would not be allowed within 10 feet of any members of the Eagles coaching staff, and that a violation of this policy or any perceived threat of violence would be met with "necessary force".
"We looked into several options," Banner said, "among others we were considering were chaining LeSean to a bench while the offense was on the sidelines, as well as having a sniper armed with tranquilizer darts trained on him at all times, waiting for him to get too close to a coach. We may look into those options at a later date."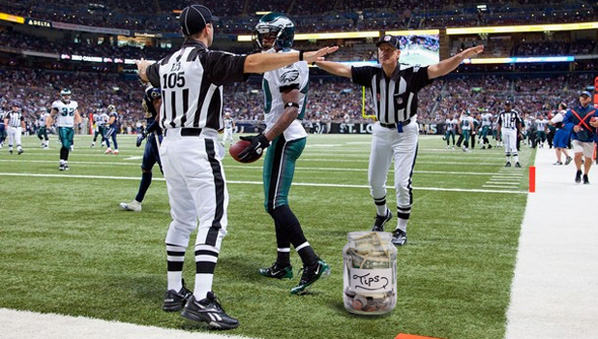 DeSean Jackson's contract situation with the Eagles heated up on Sunday as the receiver was spotted placing a large tip jar in his team's end zone prior to the game against the Rams.
Though the jar has several signs attached to it reading "Tips", "Where my money?" and "Naw, seriously, where my money?", Jackson downplayed the situation and insists he simply wants to focus on playing football.
"Man, I'm just focused on playing football right now and don't wanna talk about some tip jar and how I accept any size tip, no matter how small," Jackson said after Sunday's 31-13 win over the Rams. "I'm trying to go out there and make plays and if someone likes what they see and wanna put some cash in the jar, then that's on them. I can't worry about what other people are doing."
Jackson scored his first touchdown of the season in the third quarter and proceeded to pick up the tip jar and shake it violently in the air while screaming "Y'all gotta do better than this!"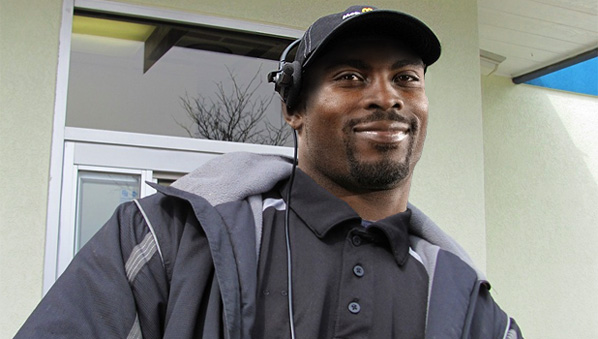 Michael Vick agreed to terms with the Eagles on a six-year, $100 million contract extension on Tuesday, finally enabling the Pro Bowl quarterback to leave his part-time job at an area McDonald's restaurant.
"It's sad leaving a place you've worked for two years," Vick said of his two-year employment at the Market Street McDonald's. "But if I had to clean another griddle, I was gonna lose it, so this contract came just in time."
Though Vick was able to quit his part-time gig at McDonald's, he will still need to continue his positions at Jiffy Lube and Taco Bell in order to make ends meet after using his new contract to pay off his $100 milllion debt.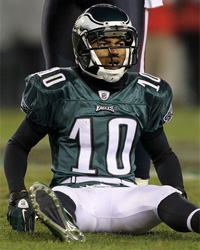 Running back Ronnie Brown and quarterback Peyton Manning both finalized their deals with the Eagles on Monday, leaving wide receiver DeSean Jackson as the only player in the NFL without a new contract with the Eagles.
Jackson, who led the NFL with 22.5 yards per reception last season, is set to earn about $600,000 this season which is significantly less than what the Eagles will pay 28th-string punter Adam Podlesh, who finalized a three-year deal with the Birds last Thursday.
"You know, I could cry and moan after watching over 1700 different guys sign deals with the team I helped lead to the playoffs last season, but I won't do that," Jackson said after reporting to camp on Monday after a brief holdout. "I just want to play some football, whether it's here or with any of the other 31 teams that are looking for a playmaking wideout and every other position on the field."
The Eagles reportedly have about $7 million in cap space to sign Jackson to a new deal, but according to one team source, the Eagles are close to using that money to sign free agent wide receiver Terrell Owens.
For the 50th straight year, the Philadelphia Eagles were ranked dead last as the least valuable franchise in all of sports, worth $3.50 according to Eagles Fan Magazine.
The value jumped just over $3 since this time last year, when the team was worth approximately $0.32 after Kevin Kolb was named the team's starting quarterback.
According to the valuation, team owner Jeff Lurie has lost approximately $185 million after purchasing the team for $185 million in 1994. However, analysts predict that a Super Bowl win could add several billion to the current $3.50 value.
Topping the list for the third straight year are the Philadelphia Phillies, who are valued at $918 trillion, up $296 trillion from last year due to the Cliff Lee signing.
Eagles runningback LeSean McCoy vowed Tuesday to unleash as many as 140 characters on the Giants in response to a series of deadly tweets by Osi Umenyoira and Steve Smith as the intense Twitter war between the rival NFL factions dragged into its sixth day.
McCoy launched a pre-emptive cyber attack last Thursday which sparked a full-scale Twitter war that is already being hailed as "one of the saddest and most pathetic wars of our time" by everyone.
"I currently possess the technology to press a single button a launch several tweets to wherever they may be hiding," McCoy said of his plans to continue his online assault. "God help them when I finally acquire an app that lets me fire more than the standard 140 characters at them."
Giants loyalists have already begun formulating a response to any McCoy retaliation by mapping out several tweets about his mama.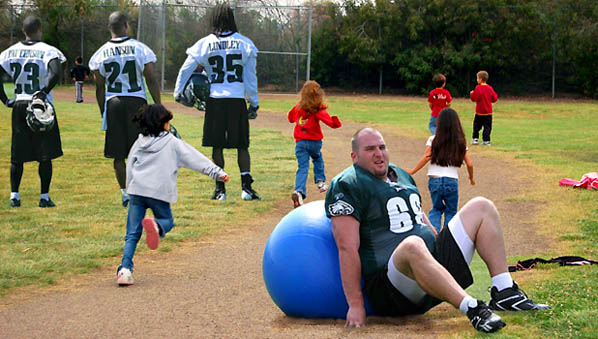 For the fifth time on Tuesday, Eagles players were interrupted by a 15-minute period of recess during an informal workout at E.T. Hamilton Elementary School in Voorhees, NJ.
"We kind of have to take what we can get at this point," wide receiver Jeremy Maclin said while watching a game of 'Duck, Duck, Goose' as he waited to continue training for a possible NFL season. "This is still better than the last field where everybody kept coming onto the field trying to play with us."
Despite the inconvenience, Eagles players were briefly entertained during the third period of recess by watching a young child dominate a game of tag before realizing it was wide receiver DeSean Jackson.
The Phillies used their first pick in Monday's First-Year Player Draft to select Larry Greene, a 6'1″ 230-pound linebacker that should be able to compete with Stewart Bradley for a starting job with the Eagles this season.
As a senior in high school, Greene hit .562 with 18 home runs in 30 games and has the power and agility needed to stop the run, something the Eagles have lacked the past few seasons.
"He's a solid ballplayer, but the Eagles need him a hell of a lot more than we do," Phillies general manager Ruben Amaro said of Greene. "Maybe [Andy] Reid can pay us back next season by drafting a leadoff hitter with some plate discipline."
Greene said that while he is waiting for the NFL lockout to end, he would consider signing a deal to play baseball with the Phillies.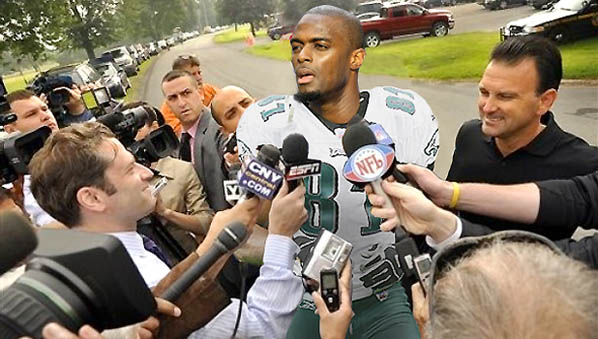 Further fueling the speculation that Plaxico Burress could soon join the Eagles, the former Giants star wore a full Eagles uniform and carried a sign reading "I really, really want to play for the Eagles" as he was released from prison on Monday.
Burress later downplayed his choice of clothing as he spoke with reporters after spending 21 months in prison.
"I just felt like wearing this uniform today…don't read too much into it," Burress said while thumbing through an Eagles playbook. "When I decide what team I want to play for, I'll let you know."
The Eagles have yet to publicly express interest in the wide receiver but the team constructed a bronze statue of Burress that will be placed outside of Plaxico Burress Field.
After more than a decade of planning, the Eagles finally completed the conversion of the NovaCare Complex into a fully-functional minimum security prison and are currently awaiting the transfer of former Giants wide receiver Plaxico Burress.
The building, now referred to as the NovaCare Correctional Facility, will house non-violent inmates that have shown, over an extended period of time, the ability to play football at a very high level.
Eagles owner Jeff Lurie spoke Friday about the completion of the facility and what it meant to finally realize his dream of becoming a prison warden.
"I've dreamed of this day since I was a young kid," Lurie said while trying to hold back tears. "To finally be able to rehabilitate young men and turn them into productive, revenue-generating NFL players is pretty overwhelming."
While Lurie and the Eagles are anxious to bring Burress into the newly-renovated facility, the team is also reportedly scouting a linebacker out of Rockview State Correctional Institution currently serving a 14-year sentence for aggravated assault, but ran the 40 in under 4.2 seconds and has exceptional upper-body strength.