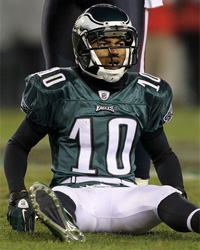 Running back Ronnie Brown and quarterback Peyton Manning both finalized their deals with the Eagles on Monday, leaving wide receiver DeSean Jackson as the only player in the NFL without a new contract with the Eagles.
Jackson, who led the NFL with 22.5 yards per reception last season, is set to earn about $600,000 this season which is significantly less than what the Eagles will pay 28th-string punter Adam Podlesh, who finalized a three-year deal with the Birds last Thursday.
"You know, I could cry and moan after watching over 1700 different guys sign deals with the team I helped lead to the playoffs last season, but I won't do that," Jackson said after reporting to camp on Monday after a brief holdout. "I just want to play some football, whether it's here or with any of the other 31 teams that are looking for a playmaking wideout and every other position on the field."
The Eagles reportedly have about $7 million in cap space to sign Jackson to a new deal, but according to one team source, the Eagles are close to using that money to sign free agent wide receiver Terrell Owens.