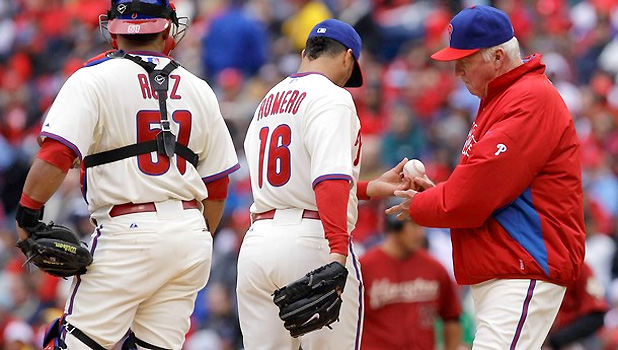 Baby, I know I did some things to hurt you, but you know we belong together. And you know that I'm right. This thing we had between us was something special, sweet baby. Since you let me go, all I do is sit around with my head hangin'... [Read more...]
More Analysis & Opinions News

Can the Phillies win without Greg Dobbs? By Greg Dobbs
Hello again fans! Greg Dobbs here doing some pinch-blogging (heh, see what I did there?) about the Phillies' chances to overcome the loss of Greg Dobbs and continue their run atop the NL East. The... [Read more]

Is Andre Iguodala just too talented to play for the Sixers?
Ever since Allen Iverson left in a trade to Denver in 2006, the Sixers have widely been regarded as 'Andre Iguodala's team,' and with that team's performance over the past few years,... [Read more]
Is DeSean Jackson a 'Diva', or do we just hate him 'cause we ain't him?
Eagles receiver DeSean Jackson has recently been called a 'Diva' for his behavior on and off the football field, but is this label entirely fair? What measuring stick should we use to determine... [Read more]
I'm nothing like Cliff Lee, by Roy Oswalt
I'm just not seeing it, folks. Ever since I came here, I've been dodging comparisons to this guy like I'm some kinda of "replacement Lee" and I don't get it. I hear... [Read more]
How in the hell is my ERA not 15.00 by now, by J.C. Romero
I'm confused. I checked this morning and I have the ERA of a man that occasionally throws strikes and gets hitters out, but that's impossible since I do neither of those things. No, really.... [Read more]
Is Greg Dobbs a Hall of Famer? by Greg Dobbs
Hello fans! It's Greg Dobbs, your favorite pinch hitter and corner infielder, ready to fan the flames of the growing "Is Greg Dobbs a Hall of Famer?" debate. Greg Dobbs knows you're... [Read more]
Which came first: The idiot Philly fan or the idiot journalist?
Philly fan bashing has become a well-televised national pastime and we have both the idiot fans who keep dancing the jig and the equally idiotic members of the media who keep pushing the anti-Philly sentiment... [Read more]
The Phillies are in serious trouble right now, by Joey Bagadonuts
Raul Ibanez can't hit, Kendrick can't get anyone out, the Marlins just showed they can beat us, the Braves are right on our tails, Moyer's old as hell, Jimmy Rollins is hurt, Lidge is... [Read more]
Please, let the doorknob hit you Jordan, by Joey Bagadonuts
What a complete waste of a year of my life. I told everyone the day that this douchebag Eddie Jordan got hired that this would be a complete disaster, but did anybody listen to me? Hell no. I knew this... [Read more]