Phillies recall Hunter Pence from Houston Astros
By Zaki, PhillyGameday.com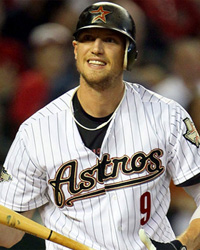 After weeks of speculation, the Phillies finally recalled promising young outfielder Hunter Pence from Triple-A Houston on Friday.
The Phillies were exploring the trade market for a right-handed outfielder to plug into the middle of the order, but ultimately decided to fill the need internally by calling up Pence.
"Since we already had a guy like [Hunter] Pence in our system, we weren't forced into trading our top prospects to get a guy like Carlos Beltran or Carlos Quentin," said Phillies general manager Ruben Amaro. "We've been successful in the past by calling up guys like Brad Lidge and Roy Oswalt, so we hope Hunter can keep that success going."
To make room on the roster, the Phillies sent Jarred Cosart, Jonathan Singleton and Josh Zeid down to Houston, though Amaro said he expects Cosart and Singleton to be back up with the parent club in the next few years.
"I explained to both of those guys that it's only temporary," said Amaro. "They're good players and will be back with us soon enough."
Zaki is the Chief Rocka and senior writer for PhillyGameday.com and thinks you should hurry up and follow the site on Twitter and Facebook before it's too late.