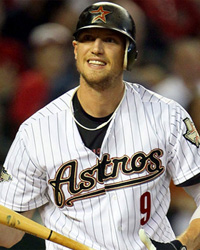 After weeks of speculation, the Phillies finally recalled promising young outfielder Hunter Pence from Triple-A Houston on Friday.
The Phillies were exploring the trade market for a right-handed outfielder to plug into the middle of the order, but ultimately decided to fill the need internally by calling up Pence.
"Since we already had a guy like [Hunter] Pence in our system, we weren't forced into trading our top prospects to get a guy like Carlos Beltran or Carlos Quentin," said Phillies general manager Ruben Amaro. "We've been successful in the past by calling up guys like Brad Lidge and Roy Oswalt, so we hope Hunter can keep that success going."
To make room on the roster, the Phillies sent Jarred Cosart, Jonathan Singleton and Josh Zeid down to Houston, though Amaro said he expects Cosart and Singleton to be back up with the parent club in the next few years.
"I explained to both of those guys that it's only temporary," said Amaro. "They're good players and will be back with us soon enough."
The New York Mets officially announced that fitness guru Richard Simmons will be joining the team this spring to try and fill several gaping holes on the Mets roster and encourage healthier living.
"I'm so excited to be here! Like, really excited!" Simmons exclaimed during a Thursday press conference. "I walked into Citi Field today and immediately felt like I was born to be here. Like this is my home."
Simmons gives the Mets a healthy, able-bodied mammal that the team has sorely needed for the past year or so. The 61-year-old Simmons also hopes his enthusiasm for fitness rubs off on his new teammates.
"I've helped so many wonderful people achieve their dreams over the years," Simmons added. "Now it's time to transform these men into the gorgeous swans they were meant to be."
Amid the recent comments made by Jose Reyes, Carlos Beltran and Francisco Rodriguez about the completely one-sided Phillies/Mets rivalry, Cole Hamels was asked by a fan to rank the toughest teams in the league for the upcoming season.
"I think the Phillies are definitely at the top of the list right now," Hamels answered. "The last team besides us to win a World Series was the 2007 Red Sox and that was like a thousand years ago."
Hamels was then prodded by the fan to give his position for the Mets on his list.
"Until you mentioned them just now, I honestly forgot that they were actually still a major league team," Hamels said. "With all of the choking they do, it's really hard to put them on any list with respectable teams like the Phillies. But if I had to rank them, they would probably be somewhere between those Puppy Bowl puppies and the Pirates."