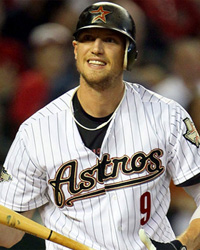 After weeks of speculation, the Phillies finally recalled promising young outfielder Hunter Pence from Triple-A Houston on Friday.
The Phillies were exploring the trade market for a right-handed outfielder to plug into the middle of the order, but ultimately decided to fill the need internally by calling up Pence.
"Since we already had a guy like [Hunter] Pence in our system, we weren't forced into trading our top prospects to get a guy like Carlos Beltran or Carlos Quentin," said Phillies general manager Ruben Amaro. "We've been successful in the past by calling up guys like Brad Lidge and Roy Oswalt, so we hope Hunter can keep that success going."
To make room on the roster, the Phillies sent Jarred Cosart, Jonathan Singleton and Josh Zeid down to Houston, though Amaro said he expects Cosart and Singleton to be back up with the parent club in the next few years.
"I explained to both of those guys that it's only temporary," said Amaro. "They're good players and will be back with us soon enough."
According to a report from the comments section of a popular website, Phillies ace Roy Holliday was announced as the unanimous winner of the NL Cy Young Award on Tuesday and became the first two-time winner in baseball history.
Holliday, who hurled six perfect games this season, beat out Adam Wanerite of St. Louis and Yubo Himez of Colorado and led the majors in wins (like 25), ERA (below 2.00) and strikeouts (like 320 or so), according to the internet report.
Though regarded as one of the game's best pitchers, Phillies ace Roy Halladay missed out on winning a second career Cy Young Award, but according to Twitter reports, pitchers Roy Halliday and Doc Holiday each won the award, which everyone was really excited about.
Facebook reports indicate that Cole Hammals didn't get a single vote, which really sucked, but Astros pitcher Brett Meyers received two.
"What's that all about?" the report continued.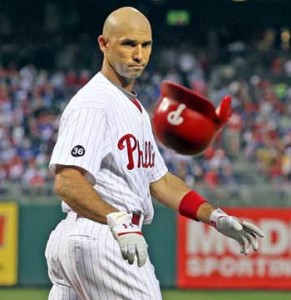 After being swept at home in four straight games by the Houston Astros, Phillies hitters maintained their usual level of confidence that another Phillies hitter will get hot here pretty soon and carry the team.
"This is usually around the time when they get hot," each struggling Phillies hitter said of the other. "I just think everyone is pressing right now, but we'll get it together like we always do. And when I say 'we', I mean someone else."
Phillies hitters went on to say that if some other hitter doesn't get hot, then they are fully confident some other team will collapse to get the Phillies in the playoffs.
"Either way, it should be fun to just sit back and watch," Phillies hitters added.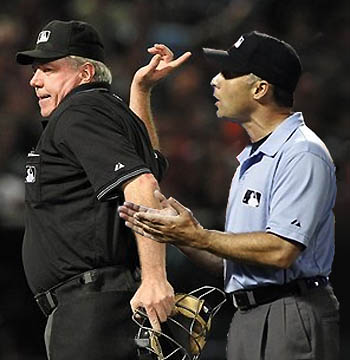 In response to the recent umpiring controversy around the league, Major League Baseball has reportedly decided to hire additional umpires to umpire current umpires during games.
The report comes one day after umpire Scott Barry lost control during a game between the Phillies and Astros and mocked Phillies first baseman Ryan Howard after a check swing strike call, but due to lack of an umpire to control the unprofessional behavior of umpires, he was not ejected from the game.
According to the report, the new umpires will police existing umpires by making calls of 'safe' or 'out' after umpires signal 'safe' or 'out', in addition to ejecting umpires for unruly behavior. The report also details plans to employ more umpires to keep the newly hired umpires in line, if needed.
Many have already criticized the new plans, saying that umpires are about as useful as a malignant tumor given the advances in technology during the 1960s to quickly replay tape to confirm that a baserunner was safe or out or if a ball was fair or foul. However, it appears baseball is fully committed to preserving its place as the former national pastime of the 19th century.
MLB commissioner Bud Selig was unable to confirm the report, but according to league sources, "this sounds like some shit he would probably do."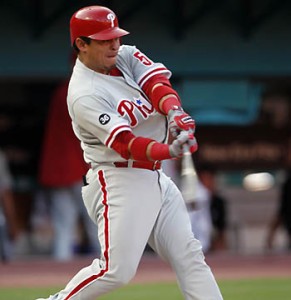 Citing a need for a clutch bat in the bottom fourth of the batting order, Phillies manager Charlie Manuel decided to move the red-hot Carlos Ruiz to 12th in his lineup for Tuesday's game against the Astros.
"He's been one of our best hitters this year," said Manuel of Ruiz, who is third on the team in batting average (.297) and second in on-base percentage (.389) and bats in front of the pitcher on most nights. "We're just lucky to have such a great, clutch hitter at the very bottom of our lineup."
When informed by the home plate umpire that he could not bat Ruiz 12th in the lineup, Manuel stated he was "totally fine with 11th, then."
The Phillies have acquired All-Star pitcher Roy Oswalt from a Houston curb after he was discarded by the Astros on Wednesday.
Though the Astros were reportedly interested in trading the 10-year veteran, it appears the team opted to go in another direction by abandoning Oswalt on the curb.
"We know Oswalt has had some back issues lately, but he still works just fine," said Phillies GM Ruben Amaro. "I think he just needs a good wash and a couple shots of cortisone and he'll work just like a new Oswalt."
Sources close to the Phillies are saying the team felt bad for taking Oswalt and sent a perfectly good J.A. Happ to the Astros as a gesture of thanks.