Phillies hitters confident some other hitter will get hot soon
By Zaki, PhillyGameday.com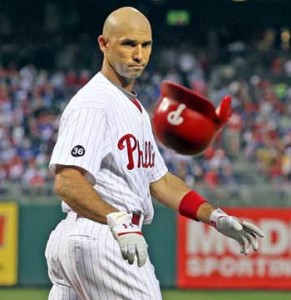 After being swept at home in four straight games by the Houston Astros, Phillies hitters maintained their usual level of confidence that another Phillies hitter will get hot here pretty soon and carry the team.
"This is usually around the time when they get hot," each struggling Phillies hitter said of the other. "I just think everyone is pressing right now, but we'll get it together like we always do. And when I say 'we', I mean someone else."
Phillies hitters went on to say that if some other hitter doesn't get hot, then they are fully confident some other team will collapse to get the Phillies in the playoffs.
"Either way, it should be fun to just sit back and watch," Phillies hitters added.
Zaki is the Chief Rocka and senior writer for PhillyGameday.com and thinks you should hurry up and follow the site on Twitter and Facebook before it's too late.