Manuel moves red-hot Ruiz to 12th in batting order
By Zaki, PhillyGameday.com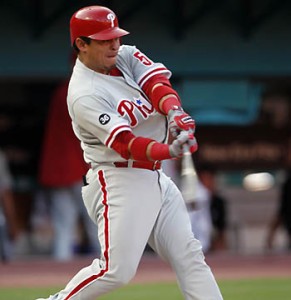 Citing a need for a clutch bat in the bottom fourth of the batting order, Phillies manager Charlie Manuel decided to move the red-hot Carlos Ruiz to 12th in his lineup for Tuesday's game against the Astros.
"He's been one of our best hitters this year," said Manuel of Ruiz, who is third on the team in batting average (.297) and second in on-base percentage (.389) and bats in front of the pitcher on most nights. "We're just lucky to have such a great, clutch hitter at the very bottom of our lineup."
When informed by the home plate umpire that he could not bat Ruiz 12th in the lineup, Manuel stated he was "totally fine with 11th, then."
Zaki is the Chief Rocka and senior writer for PhillyGameday.com and thinks you should hurry up and follow the site on Twitter and Facebook before it's too late.