Umpire Joe West: 'I was just following the rules I made up'
Updated:
September 6, 2011
By Zaki, PhillyGameday.com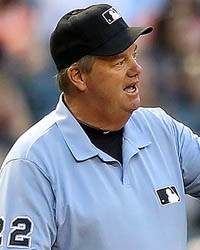 Veteran umpire Joe West said Tuesday that he was correct to use replay during Sunday's Phillies-Marlins game and maintained that he was simply "following the rules [he] made up."
"Look, as an umpire, there are strict guidelines I have to follow which are clearly outlined in my head before each game," West said. "I'm just doing my job."
West made the controversial decision to use replay to decide whether a Hunter Pence double had been interfered with by a fan, which eventually led to Pence being called out. The Phillies played the remainder of the game under protest.
The Phillies went on to lose in 14 innings after West refused to review a play in which outfielder Shane Victorino was called out after hitting a a grand slam too far.
Zaki is the Chief Rocka and senior writer for PhillyGameday.com and thinks you should hurry up and follow the site on Twitter and Facebook before it's too late.