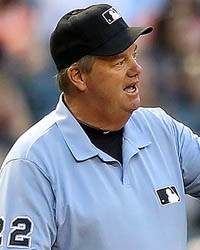 Veteran umpire Joe West said Tuesday that he was correct to use replay during Sunday's Phillies-Marlins game and maintained that he was simply "following the rules [he] made up."
"Look, as an umpire, there are strict guidelines I have to follow which are clearly outlined in my head before each game," West said. "I'm just doing my job."
West made the controversial decision to use replay to decide whether a Hunter Pence double had been interfered with by a fan, which eventually led to Pence being called out. The Phillies played the remainder of the game under protest.
The Phillies went on to lose in 14 innings after West refused to review a play in which outfielder Shane Victorino was called out after hitting a a grand slam too far.
After a long history of callous behavior toward Cole Hamels, Phillies fans are now reportedly showing concern for the starting pitcher's well-being after he left Tuesday's start against the Marlins in the eighth inning with tightness in the middle of his back.
While Hamels maintains that he is healthy and will make his next start, Phillies sources indicate that the team continues to receive well-wishes and endless requests from fans to see if there is anything they can do for the 2008 World Series MVP.
The sudden outpouring of love for Hamels comes after years of torment by fans, including an incident in 2009 where the pitcher suffered compound fractures in both legs, but was booed off the field after giving up six runs in four innings of work.
Experts have speculated that the recent concern is due to Hamels' team-leading 2.49 ERA and league-leading nine wins, but many fans say this is not the case.
"Two years ago, Cole could've won 30 games and I wouldn't care if he was run over by a bus," said long-time Phillies fan Rob Cohen. "Now it's different. I'm not gonna say I love the guy or anything, but I definitely don't want him to get run over by a bus anymore. That's something, at least."
Phillies manager Charlie Manuel spoke to reporters on Tuesday about the team's preparation for tonight's matchup against Marlins ace Josh Johnson, which included using a left-handed heavy lineup and acquiring Johnson in a trade.
"We came into this game watching a lot of video on Johnson and decided the best way to approach him is to be aggressive and trade for him as quickly as possible," said Manuel. "Some of our guys have had success against him in the past, but we think these adjustments of moving him from the Marlins to our team will give us a significant edge."
The Phillies also acquired Marlins outfielder Logan Morrison in the deal for Johnson and sent five no-named, garbage minor leaguers that will somehow turn into major league stars to the Marlins.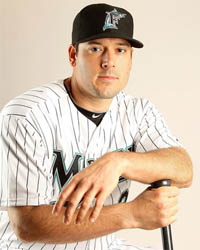 Hello again fans! Greg Dobbs here doing some pinch-blogging (heh, see what I did there?) about the Phillies' chances to overcome the loss of Greg Dobbs and continue their run atop the NL East.
The Phillies current run of four-straight division titles began back on January 15, 2007, when the Phillies re-affirmed their commitment to winning by claiming Greg Dobbs off waivers from the Seattle Mariners.
The rest — as they say — is history.
Greg Dobbs led Philadelphia to its first playoff appearance in 13 years, its first division title in 24 years and its first World Series title in 28 years. Greg Dobbs was enjoying all the success he brought to the team and thought the ride would never end.
But Greg Dobbs was wrong.
On October 28, 2010, the Phillies decided that they didn't need Greg Dobbs anymore and let Greg Dobbs file for free agency. As you may remember, this move sparked major outrage by the Phillies fanbase, which led to the team signing Cliff Lee two months later in a desperate attempt to replace Greg Dobbs.
Will the signing of Cliff Lee and the formation of the supposed greatest rotation in the history of the game be enough to overcome the loss of Greg Dobbs? Greg Dobbs thinks anything is possible, but Greg Dobbs wouldn't put his money on it.
Greg Dobbs isn't very impressed by the offseason moves by the Nationals and Braves and doesn't think the Mets will still be a team by June, but the Marlins have the one thing that the Phillies don't have, and that's Greg Dobbs.
A fifth division title isn't out of the question for the Phillies and Greg Dobbs has definitely seen stranger things happen before, but Greg Dobbs would definitely recommend trading for Greg Dobbs at some point during the season if the team is still committed to winning games.
Hopefully the Phillies will at least stay competitive this season, but without Greg Dobbs, Greg Dobbs just doesn't see that happening.
Tim Hudson allowed four earned runs in six innings against the Pirates to help the Braves reclaim second place in the NL East for the first time since May 30.
"It's a great feeling to be back," said Troy Glaus of his team's new position in the standings. "People doubted us all year and said we're not a second place team. But, I think our recent play is proof to the rest of the league that we belong here."
The Phillies, who edged the Marlins 8-7 on Tuesday for their 80th win of the season, fell back into first place, signaling the team's inevitable spiral into the playoffs for a fourth straight season.
The Phillies' week-long celebration of their fans  continued Thursday as the team once again hit as if they were one of their millions of fans with no professional training on how to hit a baseball.
"I dedicated my four at bats yesterday to the guys at Lee's Hoagie House in Southampton," said Jayson Werth, who struck out in three of his four plate appearances, which is probably what guys who run a sandwich joint could have done. "The double play I hit into was dedicated to Steve, who I know played a little ball in high school which is why I actually made some contact."
Since the start of the celebration last Saturday, the Phillies have lost five straight and were shutout in three straight games by the division-rival Mets. There is no official word on when the team plans to end the tribute, but it will likely continue on Friday against the Marlins as the Phillies will face another mediocre pitcher in Chris Volstad.
Raul Ibanez can't hit, Kendrick can't get anyone out, the Marlins just showed they can beat us, the Braves are right on our tails, Moyer's old as hell, Jimmy Rollins is hurt, Lidge is stinking it up in the minors and won't be able to close, Danys Baez and David Herndon can't hold a lead, J.A. Happ and Joe Blanton are missing starts, Chase Utley stopped hitting homers, the Cardinals have Albert Pujols, Placido Polanco's average is below .400, nobody's stealing bases, fans are projectile vomiting on little girls, I still don't trust Cole Hamels and I'm worried about what's gonna happen with this team.
One of the first things the Phillies need to do is bench Raul and give Ben Francisco a chance out there. We should be able to trade Raul for some bullpen help, which is what we need anyway. I just don't know why Charlie keeps putting him in the lineup when he stinks like this. I'm pretty sure Domonic Brown is ready by now. Why don't we bring him up to take Raul's place? What's the hold up here?
The Marlins and Braves are seriously on our ass in the NL East and I think it's gonna be a serious battle the whole year and there's a chance we could miss the playoffs. The Marlins just beat us in two out of three games and even though the Braves are hitting .233 as a team right now, when they get going, they're gonna be dangerous with the pitching staff they have. I just don't feel right about our chances right now.
There are so many other things we need to fix before we can consider ourselves a real contender in the National League. I'm as optimistic as they come, but I'm freaking out right now. I know we're only 12 games into the season, but if this isn't time to hit the panic button, then when is?