Days after Cliff Lee caused a major media firestorm for a "non-issue" muscle strain, Joe Blanton fractured both of his legs during a routine workout on Thursday and has yet to receive any major media or medical attention.
Phillies trainers cited being "too busy" on Friday to tend to Blanton's gruesome injury as they keep a close eye on Lee's near-perfect health.
"We already told him that we'll get to him when we get to him," head athletic trainer Scott Sheridan said while massaging Lee's temples. "If he needs a splint and some crutches so bad, he knows where we keep them."
As of press time, no one has bothered to reach Blanton for comment.
Though Joe Blanton is currently locked in as the team's fifth starter and will only pitch in about 15 of the Phillies' 81 home games this year, you will somehow defy the odds and watch Blanton pitch every time you attend a game this year, according to several reports.
"Watch, if you go to five random games this year, you'll get Joe Blanton every time," your friend reported. "You literally have zero chance of watching the other four guys pitch. None."
The Phillies released a statement apologizing ahead of time for what will inevitably happen to you this season and would offer you free tickets, but you would likely just see Joe Blanton pitch again.
"The odds of Joe Blanton starting a game are currently at about 19%, but unfortunately, when you purchase a ticket to watch a game, those odds balloon to 100%," the statement read. "We can't quite explain why this happens right now, but rest assured that it will happen. All we can do is apologize and suggest that you just enjoy what Joe has to offer."
Another report suggests that there is at least a small chance that you may see Cole Hamels pitch, but since you have already seen him pitch 800 times, that really isn't much of a consolation.
Experts also warned that if you decide not to attend a game where Joe Blanton is scheduled to pitch, there is a 100% chance that Cliff Lee will actually start that game and throw a perfect game.
A television commercial for Taco Bell's new Beefy Crunch Burrito suddenly reminded Phillies general manager Ruben Amaro that he was supposed to trade Joe Blanton a few weeks ago.
"Wow, I totally forgot about that," Amaro said of dealing Blanton. "Dammit, and spring training is like next month, right? I should probably start making phone calls. Hey, do any of you know anybody that could use him? Nobody? OK, well if you do, you know where to reach me."
Amaro was later reminded that no one had any interest in trading for Joe Blanton, which was why he had forgotten about trading him in the first place.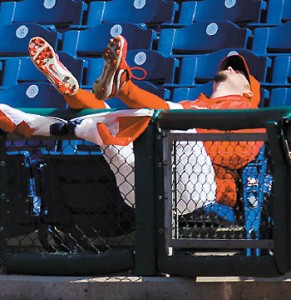 Phillies pitcher Joe Blanton, who hasn't pitched in a game since October 3, casually mentioned to the Phillies on Thursday that he will be over here if they need him for any reason.
"I'm just putting it out there, you know," Blanton reiterated. "I mean, if they need somebody to pitch, I can do that. If not, I'll be over here in the cut."
Blanton added that while he plans to be over here for most of the postseason, he will occasionally be over there eating a sandwich.
Phillies pitcher Jamie Moyer, who is baseball's oldest player at 47, made headlines on Friday for actually pitching like you'd expect a 47-year-old man to pitch against a major league team.
Moyer allowed nine runs while recording only three outs against the Red Sox after pitching like a man in his prime in his previous six starts (2.76 ERA over 42.1 innings).
"He's been pretty good for us lately and you kind of forget about his age for a minute there," Phillies manager Charlie Manuel said of Moyer. "But then he gives up nine runs and you're like 'oh yeah, why is he still playing?'"
While the Phillies are hoping that Moyer regains his 45-year-old form, the team is also concerned with Joe Blanton, who has pitched like a 86-year-old with glaucoma and a touch of the gout.
Raul Ibanez can't hit, Kendrick can't get anyone out, the Marlins just showed they can beat us, the Braves are right on our tails, Moyer's old as hell, Jimmy Rollins is hurt, Lidge is stinking it up in the minors and won't be able to close, Danys Baez and David Herndon can't hold a lead, J.A. Happ and Joe Blanton are missing starts, Chase Utley stopped hitting homers, the Cardinals have Albert Pujols, Placido Polanco's average is below .400, nobody's stealing bases, fans are projectile vomiting on little girls, I still don't trust Cole Hamels and I'm worried about what's gonna happen with this team.
One of the first things the Phillies need to do is bench Raul and give Ben Francisco a chance out there. We should be able to trade Raul for some bullpen help, which is what we need anyway. I just don't know why Charlie keeps putting him in the lineup when he stinks like this. I'm pretty sure Domonic Brown is ready by now. Why don't we bring him up to take Raul's place? What's the hold up here?
The Marlins and Braves are seriously on our ass in the NL East and I think it's gonna be a serious battle the whole year and there's a chance we could miss the playoffs. The Marlins just beat us in two out of three games and even though the Braves are hitting .233 as a team right now, when they get going, they're gonna be dangerous with the pitching staff they have. I just don't feel right about our chances right now.
There are so many other things we need to fix before we can consider ourselves a real contender in the National League. I'm as optimistic as they come, but I'm freaking out right now. I know we're only 12 games into the season, but if this isn't time to hit the panic button, then when is?
A man now identified as the Phillies' Joe Blanton appears to have officially lost his mind after walking into a local Citizens Bank and demanding $10.25 million in unmarked bills from the teller.
Though he isn't carrying any weapons and doesn't appear interested in holding anyone hostage, he may still pose a threat to himself and anyone still walking in and out of the bank.
"He just walked in and immediately demanded the money," said one bank teller of Blanton's robbery attempt. "A lot of us started laughing and a couple guys asked for his autograph, but we pretty much just went about our business."
Tim Rohrer was in the bank at the time of the so-called robbery and could tell Blanton had no clue what he was doing.
"I told him 'dude, you can't just barge in here asking for that much money'," Rohrer said. "If he demanded like $8.5 million or something, everybody would know he was serious. But we just carried on like nothing happened and some lady actually cut in front of him to cash in some pennies."
Blanton remains inside the Citizens Bank branch with the hope that he will collect on his $10.25 million demand, but as of press time, no one has yet to take him seriously.
I think everyone with at least one finger on the Phillies' bandwagon would say 'yes', Cliff Lee would probably be our number two starter right now if Jamie Moyer retired either during or after last season.
I'm not necessarily saying that Moyer is the sole reason why the Phils will not march into the World Series with a stacked lineup and rotation this season, but he's certainly not helping the situation. The Phillies owe Moyer around $8 million for 2010 to compete to be our fifth and final starter in the rotation behind Halladay, Cole Hamels, Joe Blanton and J.A. Happ. And by 'compete', I mean that he may not even get the job and we could have an $8 million long reliever on our hands.
Moyer balked when he was pulled from the rotation late last season, even when it was the best move for the team. Now it's looking like Moyer is interfering with the team's improvement again, but this time it's without even throwing a pitch.
I've got nothing against Moyer and he was as much a part of 2008 as anyone else, but when I think about how we could have had Cliff Lee — for at least 2010 — over a 47-year-old pitcher who was bumped out of the rotation last season and is coming off of several surgeries, I think that's a no-brainer.
I don't think any of us would have passed on signing a 2-year $13 million deal like Moyer did, so I blame the Phillies for giving a 45-year-old that much money for two years, but at the very least step up and say you'd defer some of your money to next year so we can afford to keep Lee on the team.
Of course, the deferring money thing applies to everyone else on the team as well, like so many others have said. Are we to understand that there was no possible way to keep Lee here at all? I call shenanigans on you, Ruben…and whoever else was involved in this whole process.
As always, I'll reserve my more viscous judgment until later on, but if Moyer tanks again or we make it to the World Series and Halladay's the only pitcher pulling his weight, we'll look back on this trade and know that this is where we went wrong.
Charlie Manuel answered questions on Friday about his decision to go with potential Game 3 starters Joe Blanton and J.A. Happ out of the bullpen after Cole Hamels — who apparently couldn't wait until February to knock his wife up — left after five innings in the 5-4 loss to the Rockies.
Some have said Manuel brought in his starters because he no longer trusts anyone out of the bullpen.
"Everybody says I don't trust my bullpen and that's just not true," Manuel said. "Just because I don't want them anywhere near my wife or to pitch in a game ever again doesn't mean I don't trust them with other things…like driving to the ballpark and dressing themselves."
Though Blanton and Happ's use in Game 2 doesn't prevent either from starting Game 4, it does mean that Pedro Martinez will start for the Phillies on Saturday for Game 3. It also means that Kyle Kendrick and/or Brad Lidge's spot on the playoff roster could have been filled by John Mayberry Jr., who could have pinch run on Thursday instead of risking Cliff Lee with the game on the line.
Manuel also suffered a mild stroke in the seventh inning when he was forced to bring in Scott Eyre to replace Happ, who took a line drive off of the leg and had to leave the game.
"It's not that I won't use the guys from the 'pen," Manuel explained on Friday. "They're just last on my list after I've used the starters and asked all 46,000 or so fans if they want to take a crack at it first."