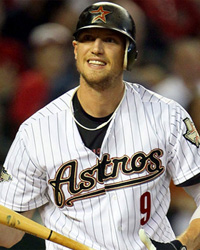 After weeks of speculation, the Phillies finally recalled promising young outfielder Hunter Pence from Triple-A Houston on Friday.
The Phillies were exploring the trade market for a right-handed outfielder to plug into the middle of the order, but ultimately decided to fill the need internally by calling up Pence.
"Since we already had a guy like [Hunter] Pence in our system, we weren't forced into trading our top prospects to get a guy like Carlos Beltran or Carlos Quentin," said Phillies general manager Ruben Amaro. "We've been successful in the past by calling up guys like Brad Lidge and Roy Oswalt, so we hope Hunter can keep that success going."
To make room on the roster, the Phillies sent Jarred Cosart, Jonathan Singleton and Josh Zeid down to Houston, though Amaro said he expects Cosart and Singleton to be back up with the parent club in the next few years.
"I explained to both of those guys that it's only temporary," said Amaro. "They're good players and will be back with us soon enough."
The Phillies used their first pick in Monday's First-Year Player Draft to select Larry Greene, a 6'1″ 230-pound linebacker that should be able to compete with Stewart Bradley for a starting job with the Eagles this season.
As a senior in high school, Greene hit .562 with 18 home runs in 30 games and has the power and agility needed to stop the run, something the Eagles have lacked the past few seasons.
"He's a solid ballplayer, but the Eagles need him a hell of a lot more than we do," Phillies general manager Ruben Amaro said of Greene. "Maybe [Andy] Reid can pay us back next season by drafting a leadoff hitter with some plate discipline."
Greene said that while he is waiting for the NFL lockout to end, he would consider signing a deal to play baseball with the Phillies.
The Phillies cut ties with pitcher Roy Oswalt on Friday after the velocity on the former ace's fastball dropped to a mere 91 mph during a rehab start with the Clearwater Threshers on Thursday.
Out since April 26 to tend to his family after tornadoes swept through his home in Mississippi, Oswalt allowed an unprecedented seven hits and three earned runs in just five innings of work, signaling the end of his brief Phillies career.
"We hoped Roy would be back to pitch for us at some point, but obviously he is no longer fit to play professional baseball," said Phillies general manager Ruben Amaro. "We wish him all the best in whatever he chooses to do with his life, but with a pathetic 91 mph fastball, that doesn't leave him very many career options."
The Phillies also announced that Chase Utley survived a harrowing jog to first base during a rehab game on Thursday and while the infielder was visibly shaken, he is now resting comfortably at a local hospital.
Phillies manager Charlie Manuel spoke to reporters on Tuesday about the team's preparation for tonight's matchup against Marlins ace Josh Johnson, which included using a left-handed heavy lineup and acquiring Johnson in a trade.
"We came into this game watching a lot of video on Johnson and decided the best way to approach him is to be aggressive and trade for him as quickly as possible," said Manuel. "Some of our guys have had success against him in the past, but we think these adjustments of moving him from the Marlins to our team will give us a significant edge."
The Phillies also acquired Marlins outfielder Logan Morrison in the deal for Johnson and sent five no-named, garbage minor leaguers that will somehow turn into major league stars to the Marlins.
While the Phillies continue to deal with injuries to Chase Utley, Brad Lidge, Roy Oswalt, Shane Victorino, Placido Polanco and Domonic Brown, a report released on Friday claims that first baseman Ryan Howard remains in good health.
General manager Ruben Amaro responded to the report on Friday, but could not confirm if Howard was in fact healthy.
"I spoke with Ryan a few minutes ago and he said he felt great, but as of right now, I can't confirm if he still feels great," Amaro said. "But as soon as Ryan or any other players tell us they're healthy, we'll let you know."
As of press time, as many as two more Phillies players were reported to be healthy and ready to start the season.
Chase Utley, who missed his second straight Spring Training game on Sunday, will be sidelined indefinitely with routine before-the-preseason-even-starts soreness, according to the Phillies.
"This sort of thing happens every year with a lot of guys," general manager Ruben Amaro said of Utley's condition. "When you rest for months at a time and then go straight into light Spring Training workouts, you're bound to get a little sore and have to miss a few games. Routine stuff."
Though the Phillies do not consider Utley's condition to be serious, the team had the second baseman airlifted to a nearby hospital on Sunday for routine tests.
The Phillies announced the signing of the Pittsburgh Pirates to a minor league deal on Wednesday and invited the veteran franchise to Spring Training.
The signing gives the Phillies additional infield, outfield, pitching and catching depth, though general manager Ruben Amaro does not anticipate the 126-year-old club to make the major league roster.
"No, are you kidding? Oh, God no," Amaro said to reporters on Wednesday. "We signed them because they're hilarious. I mean look at how happy that poor guy is just for catching the ball. And batting practice? Ooooh man, don't leave here until you've seen batting practice."
The Pirates hit .243 in 5,386 at bats last season.
The re-aquisition of Cliff Lee has the Phillies plenty excited for the upcoming season, but general manager Ruben Amaro said Tuesday that his team is actually more anxious to see if this could be the year that Jimmy Rollins finally breaks through and reaches base.
"We really think this is his year, without a doubt," said Amaro. "He's got all the tools to make it happen. He's got a bat, he's got legs, arms, eyes, brain. All that stuff. I wouldn't be surprised if he gets on twice this year."
In preparation for his season and his pursuit of a base, Rollins has dedicated a great deal of his offseason trying to discover new talent for his record label, Jimmy Rollins Entertainment Group.
The Phillies announced Friday that they have formally ended their pursuit of former Phillie and current Giants outfielder Aaron Rowand after more than 30 milliseconds of internal discussions.
"We gave it a shot," said Phillies general manager Ruben Amaro, whose moment-long pursuit of Rowand was prompted by a column in the Philadelphia Daily News by Paul Hagen. "But in the end, I could not conceive of one solitary reason it would make any sense whatsoever to go out of my way to trade for a 33-year-old man in steady decline making $24 million over the next two seasons that was benched in favor of slightly less garbage players after hitting .230 last season."
Amaro added that the pursuit of Rowand would have ended sooner, but the GM wanted to make absolutely sure that he was "giving Hagan's off-the-wall idea a fair chance."
On Tuesday, the Philadelphia Phillies avoided arbitration with Kyle Kendrick and agreed to a one-year, $2.45 million deal including clauses specifying acceptable proximity to players on the 40-man roster.
"We really like Kyle as a person, he's a great kid with a bright future not on our mound," said Phillies General Manager Ruben Amaro. "He's really very personable and easy to talk to when most everyone else has gone home for the night."
Kendrick himself was happy to be back in Philadelphia.
"I've enjoyed cheering with the fans over the past few seasons as this team has accomplished great things. I'm very much looking forward to watching what unfolds in 2011."
When asked where exactly Kendrick would be watching from next season, Amaro explained that the contract is legally viewed by Pennsylvania courts as a restraining order with generous severance for the employee and permission to attend games as fan, either in the bullpen or stands.