Following a 2-0 loss to the Mariners, the Phillies casually left Seattle on Monday without telling left fielder Raul Ibanez, hoping no one would notice for a while.
"I don't know what you're talking about," manager Charlie Manuel said of giving Ibanez the wrong departure time and canceling his morning wakeup call. "I've never heard of that guy before in my life. I think you've got me mixed up with some other guy. But, I hope you find out what happened to this Ibanez fella, though. He sounds like he used to be a pretty good ballplayer."
Manuel was later asked whether he had heard from either Jimmy Rollins, Placido Polanco, Ryan Howard, Carlos Ruiz or Ben Francisco, who also went missing after Sunday's loss and were not on the flight to St. Louis for Tuesday's series opener against the Cardinals.
"Nope. Sorry, not ringing a bell," Manuel said. "I feel bad for whoever this manager is that keeps losing his players like this though. I hope he gets them back at some point."
Major League Baseball took a gigantic step toward improving the quality of offense during Phillies games by allowing pitchers to serve as designated hitters for position players.
With the Phillies' run production the worst it has been in 20 years, the new rule would give the team a significant boost offensively as manager Charlie Manuel will now be able to let a pitcher like Cole Hamels bat for Ryan Howard during games.
"I really like the rule and think it could really get our offense going," Manuel said. "Even if it's a slight upgrade, like plugging Danys [Baez] in the leadoff spot for Jimmy [Rollins], I think we're a better team this way."
The Phillies also proposed a rule that would allow batters to start every at bat with a 3-0 count, but it was rejected by the league because it probably wouldn't help the team score more runs anyway.
The Phillies were unable to capitalize on several early scoring opportunities against the Dodgers on Tuesday, including a scoreless first inning that featured three bases loaded walks.
"The Dodgers literally gave us three runs there in the first inning and we couldn't do anything with them," manager Charlie Manuel said. "I didn't think it was possible to face a guy that throws 16 straight balls and you can't score. But, we found a way. We always do."
The Phillies would later stumble upon two runs but went on to lose 6-2 after the Dodgers capitalized on several scoring opportunities without even swinging the bat.
Through the Phillies first six games of the season, the absence of Chase Utley could be felt up and down the lineup, but no more so than with Ryan Howard, who continues to struggle to keep his batting average above .500.
Before the season began, several baseball experts predicted that the Phillies offense would struggle without their All-Star second baseman, but as Howard said Thursday, no one could have predicted it would be this bad.
"It's getting hard to get up in the morning," said an emotional Howard, who saw his average dip to .480 after a 1-for-4 showing against the Mets on Thursday. "I really don't know what's going on right now. You try to change your approach at the plate and watch video, but nothing works and your average stays around .500. It's, like, really frustrating."
While the Phillies continue to deal with injuries to Chase Utley, Brad Lidge, Roy Oswalt, Shane Victorino, Placido Polanco and Domonic Brown, a report released on Friday claims that first baseman Ryan Howard remains in good health.
General manager Ruben Amaro responded to the report on Friday, but could not confirm if Howard was in fact healthy.
"I spoke with Ryan a few minutes ago and he said he felt great, but as of right now, I can't confirm if he still feels great," Amaro said. "But as soon as Ryan or any other players tell us they're healthy, we'll let you know."
As of press time, as many as two more Phillies players were reported to be healthy and ready to start the season.
Ryan Howard's dreams were put on hold Saturday after home plate umpire Tom Hallion rung the Phillies slugger up on a called third strike, ending the Phillies season and Howard's lifelong dream of drawing a clutch playoff walk.
"You practice that play over and over as a kid," Howard said after the devastating 3-2 loss to the Giants. "You're in your back yard saying to yourself, '3-2 count…bottom of the ninth…here's the pitch…and…it's a ball! He draws the walk and the Phillies extend the inning! Go Crazy, folks! Go crazy!' But, unfortunately, it didn't turn out that way."
Howard went on to say that he will work hard this offseason to make sure his has at least one more opportunity to draw a walk and let someone else be the playoff hero.
Philadelphia police have issued an arrest warrant for Phillies first baseman Ryan Howard in connection with a bomb found in the left field stands at Citizens Bank Park on Wednesday.
"We are now looking for one Ryan James Howard," said a Philadelphia police spokesman. "The suspect is approximately 6-foot-4 and 255 pounds. Be advised that this man is armed and dangerous as fuck."
Howard is also believed to be connected to 27 more bombs found in at least 11 ballparks around the country. The blasts have left over one million fans "totally thrilled," according to a police spokesman.
"Mr. Howard is a trained professional that we're classifying as a repeat offender," continued the spokesman of Howard, who was acquitted for bringing the pain in September of '06, '07, '08 and '09. "If you see this man, the best thing to do is to not engage. Just dial 9-1-1 and find someone else to pitch to until police arrive."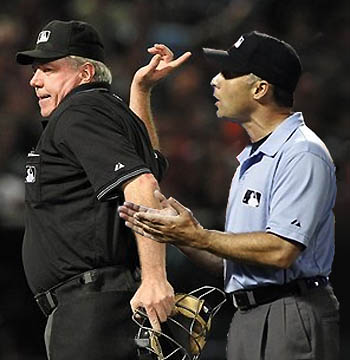 In response to the recent umpiring controversy around the league, Major League Baseball has reportedly decided to hire additional umpires to umpire current umpires during games.
The report comes one day after umpire Scott Barry lost control during a game between the Phillies and Astros and mocked Phillies first baseman Ryan Howard after a check swing strike call, but due to lack of an umpire to control the unprofessional behavior of umpires, he was not ejected from the game.
According to the report, the new umpires will police existing umpires by making calls of 'safe' or 'out' after umpires signal 'safe' or 'out', in addition to ejecting umpires for unruly behavior. The report also details plans to employ more umpires to keep the newly hired umpires in line, if needed.
Many have already criticized the new plans, saying that umpires are about as useful as a malignant tumor given the advances in technology during the 1960s to quickly replay tape to confirm that a baserunner was safe or out or if a ball was fair or foul. However, it appears baseball is fully committed to preserving its place as the former national pastime of the 19th century.
MLB commissioner Bud Selig was unable to confirm the report, but according to league sources, "this sounds like some shit he would probably do."
After several unsuccessful attempts to permanently fill their hole at second base, the Phillies will turn to infielder Chase Utley in a move some are already calling 'desperate'.
"It's getting late in the season and the trade deadline has past, so our options are limited right now," said general manager Ruben Amaro. "I hope this kid can play."
The Phillies, who considered trading for help at second base just last month, have used Wilson Valdez at the position and even moved Placido Polanco over from third base to try and solve the growing problem up the middle. Now out of options, the team will rely on Utley to carry the load for the rest of the season.
"Hopefully, Utley will give us a guy we can count on for this year and possibly into the future," said Jimmy Rollins. "But, we don't want to put too much pressure on the guy. Whatever he can give us is fine."
Sources close to the Phillies indicate that the team will now turn its attention to filling another void by acquiring left-handed first baseman Ryan Howard.
According to sources, Norristown resident Justin Powell would trade Phillies firstbaseman Ryan Howard in a heartbeat if he got the chance.
"Without question, I would give him up for a hot pocket right now," Powell reportedly said of Howard on 97.5 The Fanatic. "I'm not even kidding either. I would try and trade him for Cliff Lee, but if I couldn't, I would seriously settle for a roll of toilet paper."
Powell would later retract his statement, saying he "was just upset there was no food or toilet paper in the house."