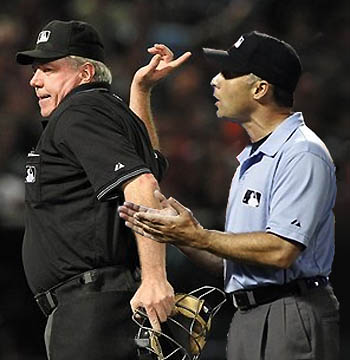 In response to the recent umpiring controversy around the league, Major League Baseball has reportedly decided to hire additional umpires to umpire current umpires during games.
The report comes one day after umpire Scott Barry lost control during a game between the Phillies and Astros and mocked Phillies first baseman Ryan Howard after a check swing strike call, but due to lack of an umpire to control the unprofessional behavior of umpires, he was not ejected from the game.
According to the report, the new umpires will police existing umpires by making calls of 'safe' or 'out' after umpires signal 'safe' or 'out', in addition to ejecting umpires for unruly behavior. The report also details plans to employ more umpires to keep the newly hired umpires in line, if needed.
Many have already criticized the new plans, saying that umpires are about as useful as a malignant tumor given the advances in technology during the 1960s to quickly replay tape to confirm that a baserunner was safe or out or if a ball was fair or foul. However, it appears baseball is fully committed to preserving its place as the former national pastime of the 19th century.
MLB commissioner Bud Selig was unable to confirm the report, but according to league sources, "this sounds like some shit he would probably do."
In an effort to avoid the fallout from missed calls by umpires, Major League Baseball will begin utilizing a new technology that will dispense tissues and gently rock umpires to sleep after suffering the embarrassment of blowing a simple call.
Commissioner Bud Selig admitted Jim Joyce's  recent blown call played a part in finally putting the new technology to use and hopes to avoid any similar situations in the future by making sure each umpire is properly coddled the moment they kick the shit out of an easy call.
"The technology was there all along, but I think it's now obvious that we have to begin using it," Selig said. "Umpires are the lifeblood of our game and since they're human and make mistakes, this technology will make sure they're as comfortable as possible when those mistakes are made."
The full implementation of the new technology will cost MLB approximately $4.8 billion over the next decade while each stadium is equipped with enough tissue and stuffed animals to allow umpires to do their job without fear of total humiliation when they screw up.
Selig also considered using very basic technology that would cost the league about $189.99 at Best Buy to be able to record each play and rewind the tape to make sure the correct call is being made, but the commissioner ruled out this option because "that would make too much sense."