Following Tuesday's revelation that the wife of Rangers pitcher Cliff Lee was harassed by fans at Yankee Stadium during the playoffs, Yankees owner Hal Steinbrenner expressed his concern over "what seems to be a new, disturbing trend of our fans harassing other fans."
"We're all shocked, to say the least," said Steinbrenner. "With our long, rich history of the most well-behaved fans in the game and our deep influence on major media markets so stories like this never see the light of day, we're just stunned that this could ever happen."
Baseball commissioner Bud Selig said Wednesday that he plans on combating the issue of fan harassment in baseball by asking Philadelphia fans to behave themselves.
Major League Baseball is now getting involved in the relief effort to help victims of Phillies pitcher Cole Hamels by setting aside about $53 on their behalf.
In addition to the relief fund, MLB is also prepared to offer counseling services to the families of those recently affected by Hamels over the past three months.
"Hamels has completely devastated a lot of people," said commissioner Bud Selig. "You can either ignore what's going on or get involved. We chose to get involved and raise about $53."
Albert Pujols, along with several other high-profile baseball players, was personally affected by Hamels during a July 22 contest at Busch Stadium.
"We're still trying to pick up the pieces," Pujols said of his team that has gone 20-27 since Hamels tore through the Cardinals lineup. "You try to move on, but how do you recover from Cole embarrassing you every night? You don't. That's how."
Selig also noted that while efforts to raise about $53 are going well, things could get a lot worse before they get better for opposing teams.
"The Phillies are starting to hit again," Selig said. "Prepare for the worst."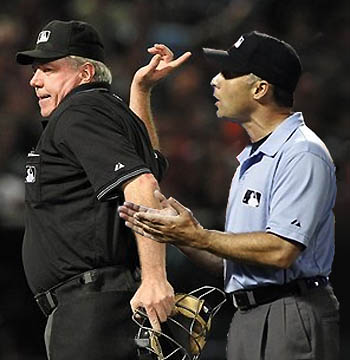 In response to the recent umpiring controversy around the league, Major League Baseball has reportedly decided to hire additional umpires to umpire current umpires during games.
The report comes one day after umpire Scott Barry lost control during a game between the Phillies and Astros and mocked Phillies first baseman Ryan Howard after a check swing strike call, but due to lack of an umpire to control the unprofessional behavior of umpires, he was not ejected from the game.
According to the report, the new umpires will police existing umpires by making calls of 'safe' or 'out' after umpires signal 'safe' or 'out', in addition to ejecting umpires for unruly behavior. The report also details plans to employ more umpires to keep the newly hired umpires in line, if needed.
Many have already criticized the new plans, saying that umpires are about as useful as a malignant tumor given the advances in technology during the 1960s to quickly replay tape to confirm that a baserunner was safe or out or if a ball was fair or foul. However, it appears baseball is fully committed to preserving its place as the former national pastime of the 19th century.
MLB commissioner Bud Selig was unable to confirm the report, but according to league sources, "this sounds like some shit he would probably do."
In an effort to avoid the fallout from missed calls by umpires, Major League Baseball will begin utilizing a new technology that will dispense tissues and gently rock umpires to sleep after suffering the embarrassment of blowing a simple call.
Commissioner Bud Selig admitted Jim Joyce's  recent blown call played a part in finally putting the new technology to use and hopes to avoid any similar situations in the future by making sure each umpire is properly coddled the moment they kick the shit out of an easy call.
"The technology was there all along, but I think it's now obvious that we have to begin using it," Selig said. "Umpires are the lifeblood of our game and since they're human and make mistakes, this technology will make sure they're as comfortable as possible when those mistakes are made."
The full implementation of the new technology will cost MLB approximately $4.8 billion over the next decade while each stadium is equipped with enough tissue and stuffed animals to allow umpires to do their job without fear of total humiliation when they screw up.
Selig also considered using very basic technology that would cost the league about $189.99 at Best Buy to be able to record each play and rewind the tape to make sure the correct call is being made, but the commissioner ruled out this option because "that would make too much sense."
Major League umpires have come under fire this postseason for several questionable calls and commissioner Bud Selig may step in to resolve the issue.
Because of the threat video replay now poses to the umpires' authority and job security, Selig may opt for a ban on all electronic gadgetry in Major League ballparks starting next season.
"Players and coaches have always fought with umpires, but it wasn't until we started filming games that our officials started to miss calls," Selig said on Wednesday. "Baseball was never as popular as it was during the TV-less, deadball era of the 1920s and I think that's because our umpires were allowed to do their jobs without being undermined by electricity. I think it's pretty obvious that a return to those days would benefit our sport immensely."
Major League Baseball didn't know what to expect with the midday and late-night start times for NLDS games between the Phillies and Rockies, so the league was overjoyed to hear that such a large contingent of jobless and insomniac Phillies fans had turned out to watch the past three games.
Approximately 17 fans across the Tri-state area have been able to watch each game live in its entirety, thrilling MLB's Commissioner, Bud Selig.
"With the Yankees, Red Sox and LA teams in the playoffs, it's been hard to get our reigning World Champs in a decent time slot," said Selig on Monday. "But going up against Sunday Night Football and Jet Li's The One, I'm more than pleased with the 15 or so people that stayed with us."
Ryan Howard's sacrifice fly in the top of the ninth and Brad Lidge's save-ish-thing gave the Phils the 6-5 win and a 2-1 series lead. This information comes from a local jobless insomniac, Joe Costello, who was among the handful of people awake enough to record the game's happenings.
"I definitely stayed up to watch the whole game, but…you know, what the hell else am I gonna do?" said Costello, who was one of the 17 fans that were also able to see the first two games without taking a three-hour lunch break or getting fired altogether. "It's gonna suck when the Phils start playing at normal times. It was pretty nice having people envy me again."
The Phillies will take on the Rockies tonight for Game 4 at a more-Godly hour of 6:00 pm ET.
In an effort to finally award Derek Jeter for his outstanding effort on the baseball field, Major League Baseball will award its first ever Most Valuable Jeter Award this off-season to the most valuable player in the league with the last name Jeter.
"Derek Jeter is invaluable to this league and it's a shame he has no hardware to show for it," Commissioner Bud Selig said. "Statistics don't always tell the story of how valuable a player is. With players like Derek Jeter, you have to use other factors, like his last name."
Last week, Jeter passed Lou Gehrig as the all-time hits leader in Yankee history with his 2,722nd base knock, but he has been snubbed each of his previous 14 seasons as the league's Most Valuable Player.
According to the criteria set forth by the Commissioner's office, Jeter is the front runner to win the first ever award. Through Monday's games, the Yankee shortstop leads all eligible players in over 60 different statistical categories.
"If he's the leader in 60 different statistical categories, then I guess he deserves the award," said fellow Yankee Mark Teixeira, who leads the AL with 111 RBIs and is second with 35 home runs. "Home runs and RBIs may fill up the stat sheet, but Jete's got something like 295 intangibles this season. Most of us are walking around with zero and this guy has 295. It's time to get this guy some hardware."
An award will be given out in both the American and National Leagues, although no clear cut candidate has emerged from the National League as of yet. While Ryan Howard and Albert Pujols have led their respective teams to potential playoff berths, neither appear to have the last name Jeter, which is the central criteria for the award.
Major League Baseball's All-Star game apparently slept with the Milwaukee's wife or killed its first born because the city continues to piss on what used to be a proud fixture of Americana.
Bud Selig, baseball's commissioner and former owner of the Brewers, signed his own declaration of war against the Midsummer Classic by enacting the "homefield advantage" rule in 2003.
Brewers fans have now picked up where Selig left off by voting for several of their undeserving players in this year's contest. Bill Hall is currently hitting .223 with four homers and 11 RBIs and sits in second place, well ahead of Chipper Jones, Ryan Zimmerman and Aramis Ramirez at third base.
J.J. Hardy is hitting .247 with five homers and 23 RBIs and leads all NL shortstops in voting, ahead of Hanley Ramirez, Jimmy Rollins and Jose Reyes.
Best of all, Jason Kendall's .206 average and zero homers were sufficient enough to earn him second place among NL catchers, ahead of Russell Martin, Ivan Rodriguez and Brian McCann.
Raul Ibanez, easily the most productive hitter in all of baseball, trails five other men in NL outfield voting, including suspended male-impersonator Manny Ramirez and Brewers outfielder Mike Cameron.
Baseball fans outside of Milwaukee are now permitted to cast their vote for deserving players, like Ibanez, and are encouraged to vote up to 25 times per email address.