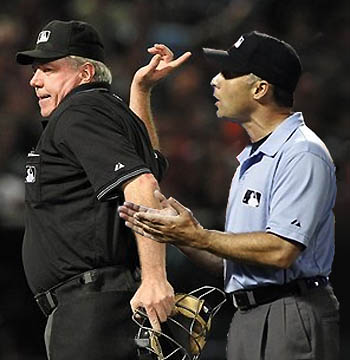 In response to the recent umpiring controversy around the league, Major League Baseball has reportedly decided to hire additional umpires to umpire current umpires during games.
The report comes one day after umpire Scott Barry lost control during a game between the Phillies and Astros and mocked Phillies first baseman Ryan Howard after a check swing strike call, but due to lack of an umpire to control the unprofessional behavior of umpires, he was not ejected from the game.
According to the report, the new umpires will police existing umpires by making calls of 'safe' or 'out' after umpires signal 'safe' or 'out', in addition to ejecting umpires for unruly behavior. The report also details plans to employ more umpires to keep the newly hired umpires in line, if needed.
Many have already criticized the new plans, saying that umpires are about as useful as a malignant tumor given the advances in technology during the 1960s to quickly replay tape to confirm that a baserunner was safe or out or if a ball was fair or foul. However, it appears baseball is fully committed to preserving its place as the former national pastime of the 19th century.
MLB commissioner Bud Selig was unable to confirm the report, but according to league sources, "this sounds like some shit he would probably do."