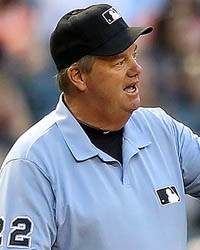 Veteran umpire Joe West said Tuesday that he was correct to use replay during Sunday's Phillies-Marlins game and maintained that he was simply "following the rules [he] made up."
"Look, as an umpire, there are strict guidelines I have to follow which are clearly outlined in my head before each game," West said. "I'm just doing my job."
West made the controversial decision to use replay to decide whether a Hunter Pence double had been interfered with by a fan, which eventually led to Pence being called out. The Phillies played the remainder of the game under protest.
The Phillies went on to lose in 14 innings after West refused to review a play in which outfielder Shane Victorino was called out after hitting a a grand slam too far.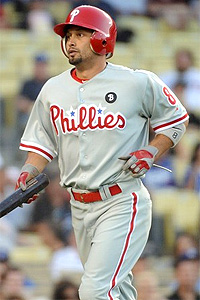 Major League Baseball announced Monday that Shane Victorino will be suspended for 30 games after making an aggressive charge toward first base during a first-inning single against the Nationals on Sunday.
Victorino, who had just returned from a serving a two-game suspension, will likely appeal the suspension and could have it reduced to as few as 29 games.
MLB also announced that Washington's Chien-Ming Wang, Michael Morse, Jayson Werth, Ryan Zimmerman, Ian Desmond, Rick Ankiel, Danny Espinosa, Jesus Flores and Jonny Gomes will not be suspended or fined for throwing several bats and balls at Victorino during the first-inning single.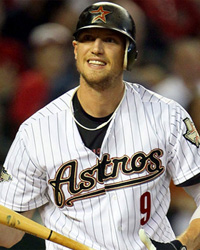 After weeks of speculation, the Phillies finally recalled promising young outfielder Hunter Pence from Triple-A Houston on Friday.
The Phillies were exploring the trade market for a right-handed outfielder to plug into the middle of the order, but ultimately decided to fill the need internally by calling up Pence.
"Since we already had a guy like [Hunter] Pence in our system, we weren't forced into trading our top prospects to get a guy like Carlos Beltran or Carlos Quentin," said Phillies general manager Ruben Amaro. "We've been successful in the past by calling up guys like Brad Lidge and Roy Oswalt, so we hope Hunter can keep that success going."
To make room on the roster, the Phillies sent Jarred Cosart, Jonathan Singleton and Josh Zeid down to Houston, though Amaro said he expects Cosart and Singleton to be back up with the parent club in the next few years.
"I explained to both of those guys that it's only temporary," said Amaro. "They're good players and will be back with us soon enough."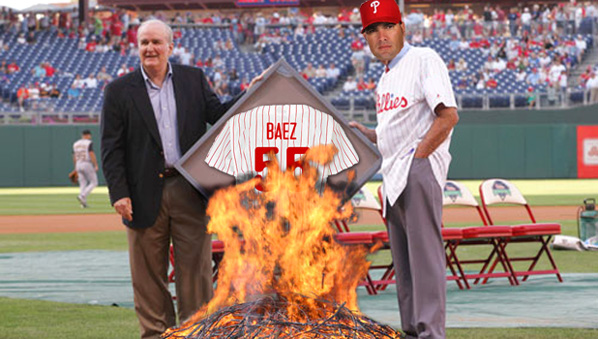 The Phillies will hold a pregame ceremony on Saturday afternoon before they take on the San Diego Padres to retire relief pitcher Danys Baez's No. 55 jersey by throwing it into a bonfire.
Baez, who was designated for assignment on Friday, will also throw out a ceremonial first pitch before the game which will also be cast into the bonfire.
In his two seasons with the Phillies, Baez maintained a 5.81 ERA over 80 games and joins Adam Eaton and Freddy Garcia as the only players in franchise history to have their jerseys destroyed during a pregame ceremony.
For the 50th straight year, the Philadelphia Eagles were ranked dead last as the least valuable franchise in all of sports, worth $3.50 according to Eagles Fan Magazine.
The value jumped just over $3 since this time last year, when the team was worth approximately $0.32 after Kevin Kolb was named the team's starting quarterback.
According to the valuation, team owner Jeff Lurie has lost approximately $185 million after purchasing the team for $185 million in 1994. However, analysts predict that a Super Bowl win could add several billion to the current $3.50 value.
Topping the list for the third straight year are the Philadelphia Phillies, who are valued at $918 trillion, up $296 trillion from last year due to the Cliff Lee signing.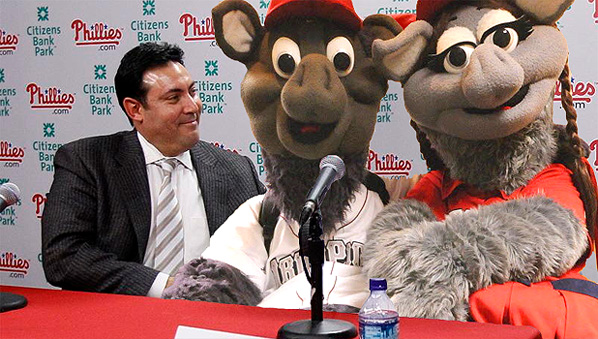 The Phillies have recalled promising young mascots Ferrous and FeFe from Lehigh Valley on Thursday to replace the Phillie Phanatic, who was placed on the 15-day disabled list with a neck contusion.
The Phanatic was struck by a foul ball while playing mascot at an IronPigs game, but team doctors expect the Galapagos native to be back with the big club in two weeks.
Ferrous and FeFe are expected to fill in at mascot for the Phillies while the Phanatic is sidelined, but manager Charlie Manuel said Thursday that the pigs will also see significant playing time in left field.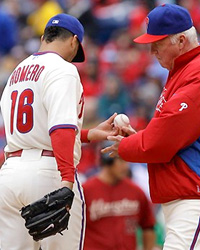 Baby, I know I did some things to hurt you, but you know we belong together. And you know that I'm right.
This thing we had between us was something special, sweet baby. Since you let me go, all I do is sit around with my head hangin' down and think about all the times I hurt you.
But, baby, I never meant to cause you no pain. Please forgive me for all the wrong I've done.
I know you put all your trust in me and I'm sorry I let you down. But right now, I'm gonna swallow my pride, say I'm sorry, stop pointing fingers because the blame is on me.
I was a fool to let another man step in and take my place, but I don't blame you, my sweet baby. I did you so wrong.
But, you know he can't love you the way I did. If you ever want to leave him, I'll be right here waiting 'till my dying day. I want to make things right.
I'll never walk again until you come back to me. I'm down on bended knee.
Following a 2-0 loss to the Mariners, the Phillies casually left Seattle on Monday without telling left fielder Raul Ibanez, hoping no one would notice for a while.
"I don't know what you're talking about," manager Charlie Manuel said of giving Ibanez the wrong departure time and canceling his morning wakeup call. "I've never heard of that guy before in my life. I think you've got me mixed up with some other guy. But, I hope you find out what happened to this Ibanez fella, though. He sounds like he used to be a pretty good ballplayer."
Manuel was later asked whether he had heard from either Jimmy Rollins, Placido Polanco, Ryan Howard, Carlos Ruiz or Ben Francisco, who also went missing after Sunday's loss and were not on the flight to St. Louis for Tuesday's series opener against the Cardinals.
"Nope. Sorry, not ringing a bell," Manuel said. "I feel bad for whoever this manager is that keeps losing his players like this though. I hope he gets them back at some point."
After a long history of callous behavior toward Cole Hamels, Phillies fans are now reportedly showing concern for the starting pitcher's well-being after he left Tuesday's start against the Marlins in the eighth inning with tightness in the middle of his back.
While Hamels maintains that he is healthy and will make his next start, Phillies sources indicate that the team continues to receive well-wishes and endless requests from fans to see if there is anything they can do for the 2008 World Series MVP.
The sudden outpouring of love for Hamels comes after years of torment by fans, including an incident in 2009 where the pitcher suffered compound fractures in both legs, but was booed off the field after giving up six runs in four innings of work.
Experts have speculated that the recent concern is due to Hamels' team-leading 2.49 ERA and league-leading nine wins, but many fans say this is not the case.
"Two years ago, Cole could've won 30 games and I wouldn't care if he was run over by a bus," said long-time Phillies fan Rob Cohen. "Now it's different. I'm not gonna say I love the guy or anything, but I definitely don't want him to get run over by a bus anymore. That's something, at least."
Major League Baseball took a gigantic step toward improving the quality of offense during Phillies games by allowing pitchers to serve as designated hitters for position players.
With the Phillies' run production the worst it has been in 20 years, the new rule would give the team a significant boost offensively as manager Charlie Manuel will now be able to let a pitcher like Cole Hamels bat for Ryan Howard during games.
"I really like the rule and think it could really get our offense going," Manuel said. "Even if it's a slight upgrade, like plugging Danys [Baez] in the leadoff spot for Jimmy [Rollins], I think we're a better team this way."
The Phillies also proposed a rule that would allow batters to start every at bat with a 3-0 count, but it was rejected by the league because it probably wouldn't help the team score more runs anyway.