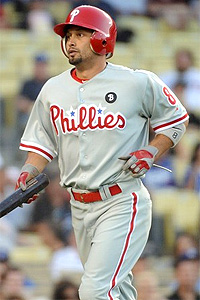 Major League Baseball announced Monday that Shane Victorino will be suspended for 30 games after making an aggressive charge toward first base during a first-inning single against the Nationals on Sunday.
Victorino, who had just returned from a serving a two-game suspension, will likely appeal the suspension and could have it reduced to as few as 29 games.
MLB also announced that Washington's Chien-Ming Wang, Michael Morse, Jayson Werth, Ryan Zimmerman, Ian Desmond, Rick Ankiel, Danny Espinosa, Jesus Flores and Jonny Gomes will not be suspended or fined for throwing several bats and balls at Victorino during the first-inning single.
Phillies outfielder Raul Ibanez admitted Friday to using "a number of different" performance-enhancing Nationals over the past three days in an effort to snap out of his recent 0-35 slump.
Ibanez went 8-for-12 in this past series with two home runs and five RBI and the rumors started to fly about whether the 38-year-old's sudden boost in production was related to PEN use.
"I just want to apologize to my teammates and my family for foolishly trying to use performance-enhancing Nats just to inflate my stats," said Ibanez, who attributes his recent power surge to a PEN called Lannan and another named Marquis. "I wanted to prove that I could still play at a high level and instead of doing it the right way, I started using Nats. It was a dumb thing to do."
Some reports estimate that as many as 90% of current major leaguers use PENs to help with on-field performance. Though Major League Baseball has done very little to combat this issue, Congress may soon get involved to stop PEN use by contracting the embarrassment of a franchise from the league.
The Phillies stranded a major league record 500 men on base against the Nationals on Tuesday as a part of a fitting tribute to their former teammate Jayson Werth.
"Jayson always loved a good stranded runner. That was kind of his 'thing,'" said Shane Victorino, who pointed and smiled at Werth after striking out with the bases loaded in the seventh inning. "We could have easily put 10 or 20 runs on the board, but this was Jayson's night."
The Phillies will attempt to honor the passing of legendary broadcaster Harry Kalas, who died two years ago today, by singing "High Hopes" after beating the Nationals 50-0 Wednesday night.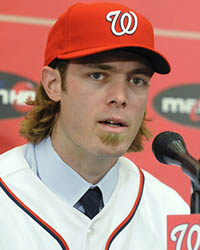 Ex-Phillie Jayson Werth's obsession with his old team continued on Sunday when the jilted Nationals outfielder sent 561 drunk text messages to the Phillies, mostly begging for forgiveness and for the team to take him back.
The texts come a day after it was reported that Werth declared his hatred for the Phillies, though the texts tell a different story.
"i didnt meen taht stuf abt hatin u babby," read one text. "pleeeeez tkae me bak…godd im soo wassted."
Other texts ranged from begging and apologies to drunken gibberish.
"aaaaaaaa!!!! i luuuuuuv the Biebs!!"
"wwhy did i tkae da moniies?!?!"
"omg..ths couhc feels llike hevens"
"natoinals smels like feeet….tehy r so badd"
"i missss winnnin wit u…god times"
"wat do u c n lee taht u dont c n me??!#?"
"sweeeet!!!?! hammm sanwihc"
"its not 2 laet 2 change…..i can chaeng babby"
"ths chic ovr heer is chekn me out rite now…..u jelus?!"
"im sso hapyy i took teh moniies"
"ooooo philles u stand by me….im forever urs fathfulyyyyyy….luve taht songg"
"aaaaaaejkqhj329kndjk….."
Werth would later leave a drunken voicemail message with the Phillies asking if the team wants its ring back.
The baseball world was turned on its head on Sunday after the Washington Nationals became the first team ever in the 110-year history of Major League Baseball to grossly overpay an athlete by agreeing to a seven-year, $126 million contract with free agent Jayson Werth.
"This is outraaaaaaaageous!" said one rival general manager. "Since when do we just go around throwing money at players like this?"
Up until now, the major league salary structure was able to regulate itself based on the calm, rational decisions by general managers, such as the Dodgers signing of Darren Dreifort for $55 million or the Rockies signing Mike Hampton for $121 million after the 2000 season. However, the Nationals signing of Werth will likely lead to a structure where nearly every player will begin to earn far more than they actually deserve for playing professional baseball.
"The honeymoon is over," said another GM. "The days of being able to pay a top free agent outfielder $100 million have come and gone. Everyone can thank the Nationals for that."
In what is being labeled as the worst case of bribery since Alex Rodriguez took $252 million from the Texas Rangers in 2001, Jayson Werth has accepted a $126 million bribe from the Washington Nationals in exchange for favors ranging from playing right field to making public appearances on behalf of the ballclub.
"We knew going into this that it would take a ton of money to get him in our pocket," Nationals general manager Mike Rizzo said of Werth. "But everybody's got a price, and to be honest, $126 million to get a guy to play for the Nationals for seven years is getting off kinda easy."
Rizzo added that the Nationals are not finished offering bribes and will not stop until they have "at least 25 major league players on the payroll."
Roy Halladay threw a complete game shutout against the Nationals on Monday as the Philies clinched the NL East shitless for the fourth straight year.
"If you told me a month ago that we'd clinch the living shit out of the NL East, I wouldn't have believed you," said Phillies outfielder Shane Victorino. "It just goes to show you what this team is capable of."
The shit was also clinched out of home-field advantage throughout the playoffs and the team will now focus on clinching the fuck out of its third straight National League pennant.
Phillies general manager Ruben Amaro said he would wait until Wednesday's game against the Nationals to determine the status of Jimmy Rollins and Jayson Werth, who were both injured while running up the score to historic levels to begin the season.
Though Rollins and Werth have run the score up hundreds of times throughout their careers, it appears neither player was physically ready to handle the early offensive explosion.
"I've never walked this many times in such a short period of time," Jimmy Rollins said of his seven walks in just six games. "It's just not something I'm conditioned to do."
Werth left the game before the top of the sixth due to a sore hip flexor he said he aggravated after excessive activity on the base paths.
"It's a minor injury, but I'm more concerned about how I'll be affected down the road if we keep scoring like this," Werth said. "I'll avoid time on the DL if we could just ease up and win a couple games 2-1 every once in a while."
With an off-day Tuesday, the Phils have extra time to evaluate the severity of both injuries and determine a more safe and healthy scoring pace for the team as a whole.
It looks like Jason Bay really loves that paper after signing with a disaster of an organization that plays in a stadium the size of Central Park. His power numbers will fall and his chances of a World Series will tank even further.
Bay and his 4-year $66 million contract will join David Wright and his 10 home runs from last season as the only two batters that remotely resemble a threat in the Mess' order. Most people can't even name one Cincinnati Reds player and yet they managed to score more runs than the Mets and their overpriced talent last season.
Wright led the Mess with 72 RBI last season, which would rank below Jimmy Rollins (77), who kept the bat on his shoulder and occasionally used it to pop the ball into the air for five out of six months last season. On the up-side, Wright did finish with more RBI than Shane Victorino (62), Carlos Ruiz (43) and Eric Bruntlett (7).
Though the pickup of Kelvim Escobar was a step in the right direction — a move I wish the Phils could have made — no one should even consider the Mets a contender for the #4 spot in the NL East until they get someone else to throw besides John Maine and a slew of head cases.
Signing Bay is a cosmetic move that might make the Mets look like they're trying to be presentable in public, but most of us know what lies beneath. And it's hot and fugly under there.