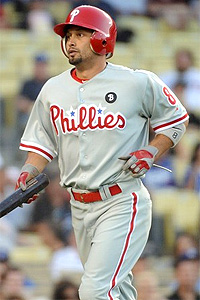 Major League Baseball announced Monday that Shane Victorino will be suspended for 30 games after making an aggressive charge toward first base during a first-inning single against the Nationals on Sunday.
Victorino, who had just returned from a serving a two-game suspension, will likely appeal the suspension and could have it reduced to as few as 29 games.
MLB also announced that Washington's Chien-Ming Wang, Michael Morse, Jayson Werth, Ryan Zimmerman, Ian Desmond, Rick Ankiel, Danny Espinosa, Jesus Flores and Jonny Gomes will not be suspended or fined for throwing several bats and balls at Victorino during the first-inning single.
The Phillies placed center fielder Shane Victorino on the disabled list and recalled top prospect Domonic Brown, who manager Charlie Manuel has touted as the organization's "pinch-hitter of the future."
"This kid has shown the ability to hit at every level in the minors and hopefully he'll have the same success up here when and if I decide to use him," Manuel said of Brown, who primarily played outfield in the minors, but is currently listed as a left-handed pinch-hitting decoy on the Phillies roster. "He might be the only five-tool bench player in the majors right now, and that's saying something."
Manuel went on to say that he will start Brown in right field against the Rangers on Saturday and ease him back into his role on the bench.
Phillies leadoff hitter Shane Victorino was able to work a count and draw a walk on Wednesday against the Brewers, marking the first time a Phillies batter took a pitch for a ball since Ryan Howard worked a 1-0 count back on April 9.
"That's why I love baseball. You watch enough games and you'll see something you've never seen before," Victorino said of his fourth inning walk. "And the whole team meeting me at first base to give me high fives was awesome."
Following Victorino's leadoff walk to start the fourth inning, Placido Polanco grounded into a double play and Jimmy Rollins lined out to center field on five pitches from Brewers pitcher Chris Narveson. That's not even a joke, that really happened.
The Phillies stranded a major league record 500 men on base against the Nationals on Tuesday as a part of a fitting tribute to their former teammate Jayson Werth.
"Jayson always loved a good stranded runner. That was kind of his 'thing,'" said Shane Victorino, who pointed and smiled at Werth after striking out with the bases loaded in the seventh inning. "We could have easily put 10 or 20 runs on the board, but this was Jayson's night."
The Phillies will attempt to honor the passing of legendary broadcaster Harry Kalas, who died two years ago today, by singing "High Hopes" after beating the Nationals 50-0 Wednesday night.
While the Phillies continue to deal with injuries to Chase Utley, Brad Lidge, Roy Oswalt, Shane Victorino, Placido Polanco and Domonic Brown, a report released on Friday claims that first baseman Ryan Howard remains in good health.
General manager Ruben Amaro responded to the report on Friday, but could not confirm if Howard was in fact healthy.
"I spoke with Ryan a few minutes ago and he said he felt great, but as of right now, I can't confirm if he still feels great," Amaro said. "But as soon as Ryan or any other players tell us they're healthy, we'll let you know."
As of press time, as many as two more Phillies players were reported to be healthy and ready to start the season.
Roy Halladay threw a complete game shutout against the Nationals on Monday as the Philies clinched the NL East shitless for the fourth straight year.
"If you told me a month ago that we'd clinch the living shit out of the NL East, I wouldn't have believed you," said Phillies outfielder Shane Victorino. "It just goes to show you what this team is capable of."
The shit was also clinched out of home-field advantage throughout the playoffs and the team will now focus on clinching the fuck out of its third straight National League pennant.
According to published reports, the heavens opened up above Citizens Bank Ballpark at approximately 1:14 pm ET, allowing Phillies' top prospect Domonic Brown to descend onto the playing field.
"Behold! The prophecy of Jayson Stark hath become reality! The time of Brown is upon us," GM Ruben Amaro announced at a  Wednesday afternoon press conference. "Rejoice, for Lehigh Valley hath given us its only prospect. Blessed are we to see His bat of maple upon our field. Hallelujah, Amen."
As of press time, there is no word on whether Brown's appearance had anything to do with the prayer by scores of fans for Shane Victorino to be placed on the disabled list.
According to a new study by the University of Pennsylvania, Phillies fans are approximately 17 times more likely to 'boo' after a loss than if the team actually wins a game.
"This groundbreaking study dispels decades of speculation that fan booing occurred at random, regardless of the outcome of the game or the performance of individual players," said research scientist Paul Hughes. "This information could change the way the Phillies play the game of baseball."
The study was released a day after Phillies outfielder Shane Victorino spoke out about being criticized by fans for his lackluster play this season. However, after reading the report, Victorino realized the key to not being booed may lie in improving his on-field performance.
"If all I had to do was start hitting to get the fans behind me again, I would have done that a while ago," said Victorino on Thursday. "I always thought complaining to the press was the answer."
The report also stated that laying off of pitches outside of the strike zone may also cut down on the amount of boos by up to 100%.
The Chicago Tribune ran a graphic depicting Flyers defenseman Chris Pronger in a skirt on Wednesday and  the paper's reader, Allen Bruhns, thought it was rather amusing.
"I always look to my Tribune for a good yarn and boy do they deliver," said Bruhns, a retired schoolteacher from Evanston, IL that has stood as the Chicago Tribune's sole subscriber for the past 15 months. "They gave that fancy boy Pronger a pair of woman legs and a skirt! He's a real dandy now! I bet 'Chrissy' will think twice about coming to Chicago, won't he! It's amazing how they manage to come up with such fresh material!"
The New York Post ran a similar front page graphic last October with Phillies outfielder Shane Victorino in a skirt, but according to a spokesperson with the Chicago Tribune, "ours was totally different because they used a red skirt and ours was orange."
"We also gave him a girly name to further suggest that he plays hockey like a girl," added the creative genius that came up with the headline. "I know, I surprise myself sometimes, too."
Just days after he held a closed-door meeting with his team to discuss their current hitting woes, Phillies manager Charlie Manuel held a second meeting on Friday to figure out what kind of person just walks off with the remote.
According to members of the team, Manuel repeatedly talked about "how ridiculous this is" for about 30 minutes and then reminded everyone for an additional 20 minutes that "it's one of those TVs without any buttons, so it's completely useless without the remote."
Manuel met with GM Ruben Amaro on Saturday to discuss possible roster changes as a result of the lost remote. Though no moves have been made yet, Manuel hinted that Greg Dobbs' job may be in jeopardy, but added that "it has nothing to do with the fact that he's one of baseball's worst players right now. I just think he's the one that lost the damn remote."