Just hours after announcing that team captain Chris Pronger would miss the remainder of the season with a concussion, the Flyers announced that recently acquired superstar Alex Ovechkin sustained a severe concussion and would also miss the rest of the season after being struck by a bus while watching television in his home on Thursday.
Ovechkin and Pronger join Claude Giroux and 16 recently acquired superstars, including Jarome Iginla, Patrick Kane and Daniel Sedin, on the list of Flyers either lost for the season or out indefinitely with concussions.
"We're not having the best of luck keeping our star guys healthy right now," said Flyers general manager Paul Holmgren. "But what happened to Alex…it's just one of those freak things. Nothing you can do about a bus coming into your house like that. It happens."
According to team sources, the Flyers rejected a deal late Thursday to acquire Lightning forward Steven Stamkos for fear of any further injuries and advised current Flyers players against standing out in any way to avoid the IR and possibly death.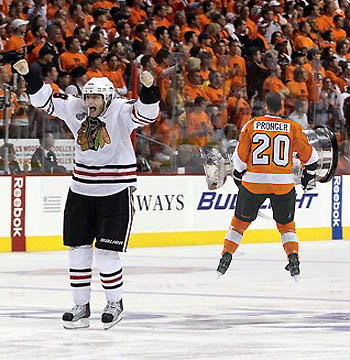 Flyers defenseman Chris Pronger has bucked hockey tradition once again by swiping the Stanley Cup Trophy while everyone was either celebrating or too wrought with devastation to notice.
Pronger, who also nabbed the game pucks at the end of Chicago's first two wins of the Stanley Cup Final, downplayed the incident following the Flyers 4-3 overtime loss to the Blackhawks on Wednesday.
"It's just a cup. I don't know what everybody's so worked up over," said Pronger. "If they wanted it so bad, they should've taken it instead of celebrating like jackasses."
When asked what he did with the 108-year-old Holy Grail of sports trophies, Pronger replied, "it's in the garbage…where it belongs."
The Chicago Tribune ran a graphic depicting Flyers defenseman Chris Pronger in a skirt on Wednesday and  the paper's reader, Allen Bruhns, thought it was rather amusing.
"I always look to my Tribune for a good yarn and boy do they deliver," said Bruhns, a retired schoolteacher from Evanston, IL that has stood as the Chicago Tribune's sole subscriber for the past 15 months. "They gave that fancy boy Pronger a pair of woman legs and a skirt! He's a real dandy now! I bet 'Chrissy' will think twice about coming to Chicago, won't he! It's amazing how they manage to come up with such fresh material!"
The New York Post ran a similar front page graphic last October with Phillies outfielder Shane Victorino in a skirt, but according to a spokesperson with the Chicago Tribune, "ours was totally different because they used a red skirt and ours was orange."
"We also gave him a girly name to further suggest that he plays hockey like a girl," added the creative genius that came up with the headline. "I know, I surprise myself sometimes, too."
According to the Philadelphia Daily News, the Flyers will win one game of well-played hockey against the New Jersey Devils but will ultimately fall to themselves in five games.
"We've said it all year that the only team that can beat us is ourselves," said Flyers defenseman Chris Pronger. "You'd figure that as many times as we've kicked our own asses that we'd learn to fight back. But, yeah. Not so much."
The Flyers have battled injuries and inconsistency all year, leading to Sunday's shootout win over the New York Rangers on the final day of the season. Though some members of the team are hopeful that things will change, others have taken a more realistic view of their playoff hopes.
"I can't say exactly how we're going to beat ourselves, but I'm pretty sure it will involve our goalie," forward Scott Hartnell said on Monday. "And a lot of penalties. Yeah, tons of those."
The Flyers will begin their playoff jog on Wednesday at the Prudential Center in Newark at 7:30 p.m. ET.