Just hours after announcing that team captain Chris Pronger would miss the remainder of the season with a concussion, the Flyers announced that recently acquired superstar Alex Ovechkin sustained a severe concussion and would also miss the rest of the season after being struck by a bus while watching television in his home on Thursday.
Ovechkin and Pronger join Claude Giroux and 16 recently acquired superstars, including Jarome Iginla, Patrick Kane and Daniel Sedin, on the list of Flyers either lost for the season or out indefinitely with concussions.
"We're not having the best of luck keeping our star guys healthy right now," said Flyers general manager Paul Holmgren. "But what happened to Alex…it's just one of those freak things. Nothing you can do about a bus coming into your house like that. It happens."
According to team sources, the Flyers rejected a deal late Thursday to acquire Lightning forward Steven Stamkos for fear of any further injuries and advised current Flyers players against standing out in any way to avoid the IR and possibly death.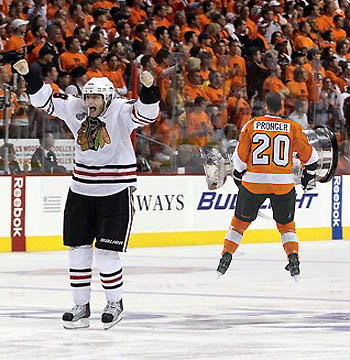 Flyers defenseman Chris Pronger has bucked hockey tradition once again by swiping the Stanley Cup Trophy while everyone was either celebrating or too wrought with devastation to notice.
Pronger, who also nabbed the game pucks at the end of Chicago's first two wins of the Stanley Cup Final, downplayed the incident following the Flyers 4-3 overtime loss to the Blackhawks on Wednesday.
"It's just a cup. I don't know what everybody's so worked up over," said Pronger. "If they wanted it so bad, they should've taken it instead of celebrating like jackasses."
When asked what he did with the 108-year-old Holy Grail of sports trophies, Pronger replied, "it's in the garbage…where it belongs."