Pronger skates off with Stanley Cup while no one's looking
By Zaki, PhillyGameday.com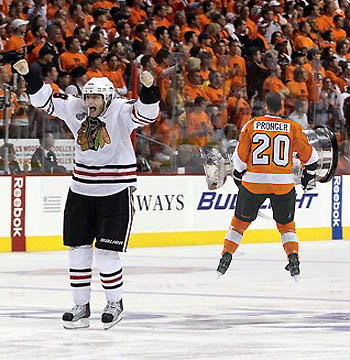 Flyers defenseman Chris Pronger has bucked hockey tradition once again by swiping the Stanley Cup Trophy while everyone was either celebrating or too wrought with devastation to notice.
Pronger, who also nabbed the game pucks at the end of Chicago's first two wins of the Stanley Cup Final, downplayed the incident following the Flyers 4-3 overtime loss to the Blackhawks on Wednesday.
"It's just a cup. I don't know what everybody's so worked up over," said Pronger. "If they wanted it so bad, they should've taken it instead of celebrating like jackasses."
When asked what he did with the 108-year-old Holy Grail of sports trophies, Pronger replied, "it's in the garbage…where it belongs."
Zaki is the Chief Rocka and senior writer for PhillyGameday.com and thinks you should hurry up and follow the site on Twitter and Facebook before it's too late.