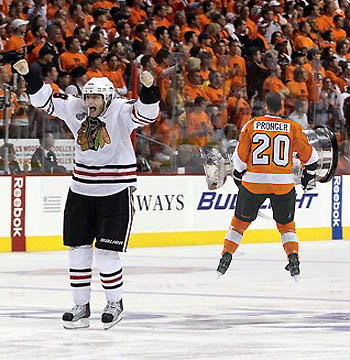 Flyers defenseman Chris Pronger has bucked hockey tradition once again by swiping the Stanley Cup Trophy while everyone was either celebrating or too wrought with devastation to notice.
Pronger, who also nabbed the game pucks at the end of Chicago's first two wins of the Stanley Cup Final, downplayed the incident following the Flyers 4-3 overtime loss to the Blackhawks on Wednesday.
"It's just a cup. I don't know what everybody's so worked up over," said Pronger. "If they wanted it so bad, they should've taken it instead of celebrating like jackasses."
When asked what he did with the 108-year-old Holy Grail of sports trophies, Pronger replied, "it's in the garbage…where it belongs."
The Chicago Tribune ran a graphic depicting Flyers defenseman Chris Pronger in a skirt on Wednesday and  the paper's reader, Allen Bruhns, thought it was rather amusing.
"I always look to my Tribune for a good yarn and boy do they deliver," said Bruhns, a retired schoolteacher from Evanston, IL that has stood as the Chicago Tribune's sole subscriber for the past 15 months. "They gave that fancy boy Pronger a pair of woman legs and a skirt! He's a real dandy now! I bet 'Chrissy' will think twice about coming to Chicago, won't he! It's amazing how they manage to come up with such fresh material!"
The New York Post ran a similar front page graphic last October with Phillies outfielder Shane Victorino in a skirt, but according to a spokesperson with the Chicago Tribune, "ours was totally different because they used a red skirt and ours was orange."
"We also gave him a girly name to further suggest that he plays hockey like a girl," added the creative genius that came up with the headline. "I know, I surprise myself sometimes, too."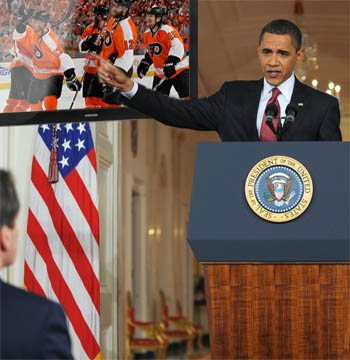 Efforts to contain the Philadelphia Flyers' epic run through the NHL suffered a major setback on Monday, meaning the team could continue destroying everything in its path for days, and possibly weeks.
Canadian hockey players were brought in to help suppress the Flyers' intensity, but after only minutes on the job, it was evident that the Montreal club had no clue what they were doing.
President Obama pledged Tuesday to "use every single available resource" and the U.S. military ratcheted up preparations to help contain the Flyers.
"We sent in Martin Brodeur, and that didn't work," Obama said of the previous attempts to stop the Flyers. "Then we throw the Bruins at them and just when we thought that worked, it didn't work. We only have a few more days to stop them before they reach my Chicago Blackhawks, then all hell will break loose."
Obama has not ruled out using military action against the Flyers, but according to the President, "the way those guys play with half of their face missing, I'm not sure our military would even make a difference."