ESPN in chaos after video of fans booing McNabb goes missing
Updated:
September 30, 2010
By Zaki, PhillyGameday.com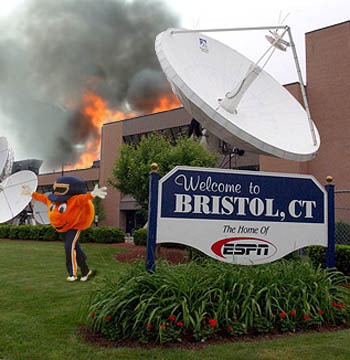 In what police are already calling "one of the darkest days in Connecticut history," ESPN's Bristol headquarters are currently ablaze after stock footage of Philadelphia fans booing Donovan McNabb went missing Thursday morning.
"Is this really happening?!" shouted a tearful Chris McKendry as she watched her offices slowly burn to the ground. "Do we really have no footage of Philly fans booing McNabb?!"
Emergency crews were brought in to try and rescue as many archived videos as possible to try and find footage of Philly fans' mistreatment of McNabb in preparation for Sunday's game between the Eagles and Redskins, but with no success.
"In all my years as a firefighter, I've never seen such devastation," said Greg Krygiel of the Bristol Fire Department. "The screams of 'What the hell are we gonna talk about now!' and 'Snowball…Santa!' were chilling."
Krygiel said he later found NFL analyst Mark Schlereth badly burned and with a video tape in his hand mumbling "Irvin…taser…puke…Philly…hate you guys…" before dying in the firefighter's arms.
Local officials have officially designated ESPN headquarters as a disaster area and have called off the search for video of fans booing McNabb to concentrate on locating the company's journalistic integrity.
Zaki is the Chief Rocka and senior writer for PhillyGameday.com and thinks you should hurry up and follow the site on Twitter and Facebook before it's too late.