After racking up over 400 total yards against the Redskins the week before, Michael Vick was held to 292 yards against the Giants on Sunday, but said that facing a much tougher defense was no excuse to "go out there and play like Tom Brady."
"The fans deserve way better than that," Vick said of his pedestrian 34 rushing yards, which anybody in the league could accomplish. "As high as my expectations are, I know I'll have days where I'll slip up and look like Peyton Manning out there, but it just sucks. I know I'm better than that."
Vick, who has yet to record an interception since 2006, said he would immediately retire from football and seriously re-evaluate what he was doing with his life if he ever looked like Donovan McNabb out there.
Bored out of his mind with shredding defenses and shattering records every week, Michael Vick announced Tuesday that he will step away from the game to find something more challenging to do with his time.
"You ever feel so bored that you just wanna throw stuff?" said Vick, who threw four touchdown passes against the Redskins out of pure boredom. "I've just reached a point in my career where I'm tired of hearing 'First down!' all the time."
While Vick didn't completely rule out a return to the NFL at some point, he did say the league would have to make serious changes to the way the game is played and suggested they "throw some bears out there…somethin'."
"(Yawn)," Vick added.
Over 42,000 fans watched in awe as Donovan McNabb left a man with no other choice but to prefer the services of Rex Grossman on Sunday.
Redskins head coach Mike Shanahan said that his preference for Grossman came after watching McNabb play football.
"I've seen enough of this. Somebody get me Rex Grossman," Shanahan said during the fourth quarter against the Lions. "He's the best shot we have at winning this game."
Shanahan's endorsement of Grossman marked the first time the head coach wanted someone other than McNabb as his quarterback since the previous Sunday.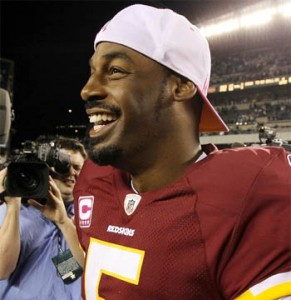 Redskins quarterback Donovan McNabb was hoisted up by his teammates and carried off the field in celebration on Sunday after returning to Philadelphia and torching the Eagles with eight completions.
McNabb, who was given a standing ovation by Eagles fans prior to the game, once again showcased his ability to come through in big games by throwing for 125 yards in the first 60 minutes of the game.
"The Eagles made a mistake by trading me last year," said McNabb after the game. "I think my eight completions and 125 yards was a nice reminder of what they gave up."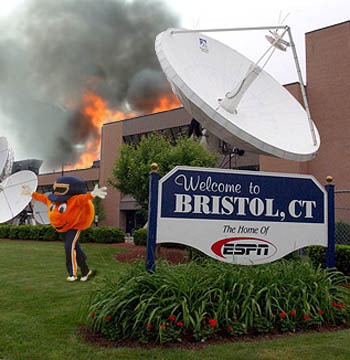 In what police are already calling "one of the darkest days in Connecticut history," ESPN's Bristol headquarters are currently ablaze after stock footage of Philadelphia fans booing Donovan McNabb went missing Thursday morning.
"Is this really happening?!" shouted a tearful Chris McKendry as she watched her offices slowly burn to the ground. "Do we really have no footage of Philly fans booing McNabb?!"
Emergency crews were brought in to try and rescue as many archived videos as possible to try and find footage of Philly fans' mistreatment of McNabb in preparation for Sunday's game between the Eagles and Redskins, but with no success.
"In all my years as a firefighter, I've never seen such devastation," said Greg Krygiel of the Bristol Fire Department. "The screams of 'What the hell are we gonna talk about now!' and 'Snowball…Santa!' were chilling."
Krygiel said he later found NFL analyst Mark Schlereth badly burned and with a video tape in his hand mumbling "Irvin…taser…puke…Philly…hate you guys…" before dying in the firefighter's arms.
Local officials have officially designated ESPN headquarters as a disaster area and have called off the search for video of fans booing McNabb to concentrate on locating the company's journalistic integrity.
A pantless Redskins running back Clinton Portis got into a heated argument on Thursday with a pantless reporter over the journalists' lack of professionalism.
"Who wants to look at another man's junk while you're trying to do an interview," a nude Portis told reporters sitting in front of his locker. "Do you think you're trying to impress me or something? Put some damn draws on."
Portis spoke out about female reporters in NFL locker rooms on Tuesday and amid the recent spat with the pantless reporter, Portis is ready to pressure the NFL to crack down on the dress code for reporters during interviews.
"The locker room is a place of business," said a still pantless Clinton Portis to reporters while getting into his car. "If you're insecure and need to show off your package to everyone, then that's fine. But just don't do it in an NFL locker room."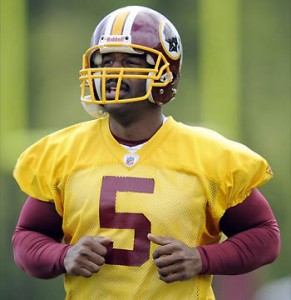 Donovan McNabb will miss Friday night's game against the Jets with what team doctors are officially calling a mild cankle sprain.
"Donovan uses his cankles more than most quarterbacks, so this was bound to happen," said head coach Mike Shanahan. "He's walking on the treadmill and should be up and wobbling on two healthy cankles in no time."
The injury is just the latest in a series of setbacks for McNabb, who sat out the last half of an August 13 game against the Bills with sore breasts.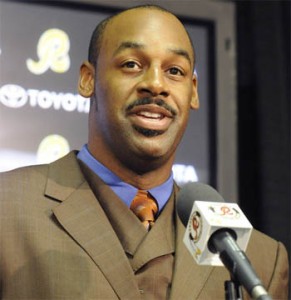 Though DeSean Jackson was merely commenting on the debut of Iron Man 2 and wasn't trying to stir anything up, Donovan McNabb responded to Jackson's comments anyway.
After seeing the film, starring Robert Downey Jr., Jackson said he was "very happy with the movie."
"I don't think it lost anything from the first one," Jackson added. "Even with the loss of Terrence Howard."
On Tuesday, McNabb was asked for a response to Jackson's comment, just to try and start controversy where there was none to begin with.
"I could feed into this war he's obviously trying to start by talking about Iron Man 2," McNabb said. "But someone has to be the bigger man, so whatever he wants to say is cool with me, but it's not making him look like the bigger man. I'm the biggest man there is, and ever will be."
Jackson also commented on what was poppin' in Atlanta over the weekend, but McNabb could not yet be reached for a response.
Editor's Note: We here at Philly Gameday like to present relevant news that is important to the Philadelphia sports fan. Unfortunately, we are being forced to publish a story about a local baseball team even though it seems everyone just wants to talk about the Donovan McNabb trade. We apologize ahead of time for the following story and hope you will return to the site in the future.
A baseball club with ties to the area began its season on Monday and reportedly played well enough to defeat another team, though it's still unclear how this has anything to do with Donovan McNabb and his trade to the Redskins.
"Apparently these ballplayers did some amazing things on the field yesterday," said one local reporter. "Unfortunately, they aren't Donovan McNabb, so there's no way they're getting more than five seconds of attention today."
According to this guy's report, the main pitcher man did something awesome and a new player man ran home and people were cheering or something. The final score was 11-1, but McNabb got traded to the Redskins and that's all you apparently need to know.
After 11 agonizing years in a Philadelphia labor camp, mistreated quarterback Donovan McNabb is now safe after being rescued by the Washington Redskins.
According to many national reports, McNabb was originally taken against his will by the Philadelphia Eagles in 1999 and sold into forced labor where he suffered through years of abuse by brutish locals, never getting the respect he deserved.
"First of all, we're just glad to say that he is now out of harm's way," said Daniel Snyder, the Redskins owner who led McNabb's rescue attempt out of the treacherous city. "The entire nation watched for over a decade as McNabb was treated like some sort of Gladiator sent into an arena to please a crowd. They want to see him finish the job instead of just being satisfied with making it as far as he did every year. They're all savages. Every last one of them."
The Redskins were able to secure McNabb's release in exchange for a couple draft picks, which the Eagles will likely use to take more unsuspecting college kids from their families.
Although the national media reports are distinctly one-sided, many local Philadelphians have given conflicting reports of McNabb's treatment while with the Eagles.
"I actually liked the guy and thought he was good for the team," said one sober townsperson who was immediately dismissed from commenting any further.
McNabb could not be reached for comment, but his agent said that he is glad to "finally leave the only fan base in the universe that would ever 'boo' a draft pick or criticize a player for his poor performance on the field."