Donovan McNabb sticks it to former team with 8 completions
By Zaki, PhillyGameday.com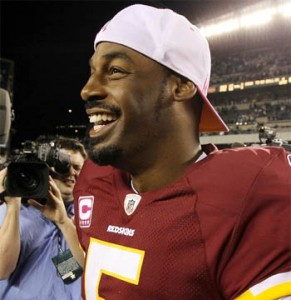 Redskins quarterback Donovan McNabb was hoisted up by his teammates and carried off the field in celebration on Sunday after returning to Philadelphia and torching the Eagles with eight completions.
McNabb, who was given a standing ovation by Eagles fans prior to the game, once again showcased his ability to come through in big games by throwing for 125 yards in the first 60 minutes of the game.
"The Eagles made a mistake by trading me last year," said McNabb after the game. "I think my eight completions and 125 yards was a nice reminder of what they gave up."
Zaki is the Chief Rocka and senior writer for PhillyGameday.com and thinks you should hurry up and follow the site on Twitter and Facebook before it's too late.