A study conducted by the Philadelphia Research & Historical Movement (or PHIRE HIM) found a possible link between Andy Reid and the Eagles' inability to win a Super Bowl, which could drastically change absolutely nothing about the Eagles' views on Andy Reid.
"We carefully studied 12 separate seasons in which the Eagles did not win the Super Bowl and all 12 tested positive for Andy Reid," said Shawn Batuik, head researcher for PHIRE HIM. "It is important to note that while we have discovered a link, we are still unsure what causes Andy Reid to prevent championship parades down Broad Street, but the evidence currently suggests that he may not know how to coach a professional football team."
A similar study in 2009 found that the Eagles were 100% less likely to win a Super Bowl with Donovan McNabb, which led to a trade with the Redskins.
After racking up over 400 total yards against the Redskins the week before, Michael Vick was held to 292 yards against the Giants on Sunday, but said that facing a much tougher defense was no excuse to "go out there and play like Tom Brady."
"The fans deserve way better than that," Vick said of his pedestrian 34 rushing yards, which anybody in the league could accomplish. "As high as my expectations are, I know I'll have days where I'll slip up and look like Peyton Manning out there, but it just sucks. I know I'm better than that."
Vick, who has yet to record an interception since 2006, said he would immediately retire from football and seriously re-evaluate what he was doing with his life if he ever looked like Donovan McNabb out there.
Over 42,000 fans watched in awe as Donovan McNabb left a man with no other choice but to prefer the services of Rex Grossman on Sunday.
Redskins head coach Mike Shanahan said that his preference for Grossman came after watching McNabb play football.
"I've seen enough of this. Somebody get me Rex Grossman," Shanahan said during the fourth quarter against the Lions. "He's the best shot we have at winning this game."
Shanahan's endorsement of Grossman marked the first time the head coach wanted someone other than McNabb as his quarterback since the previous Sunday.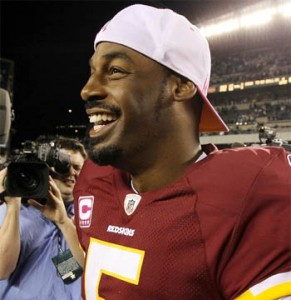 Redskins quarterback Donovan McNabb was hoisted up by his teammates and carried off the field in celebration on Sunday after returning to Philadelphia and torching the Eagles with eight completions.
McNabb, who was given a standing ovation by Eagles fans prior to the game, once again showcased his ability to come through in big games by throwing for 125 yards in the first 60 minutes of the game.
"The Eagles made a mistake by trading me last year," said McNabb after the game. "I think my eight completions and 125 yards was a nice reminder of what they gave up."
Eagles head coach Andy Reid spoke Tuesday about the start to the Kevin Kolb era in Philadelphia and the quarterback's ability to bring the team back to a more pass-oriented offense.
"That's something we lacked while Donovan [McNabb] was here," Reid said of his pass-until-you-can't-pass-no-more coaching style. "Kevin's accuracy and pocket presence allows us to get back to throwing the ball, which we got away from when Donovan handed the ball off once in Week 5 and one other time in Week 11. That's not our game."
Reid also announced his plans to completely phase out the use of a running back by the end of the season, though he did admit it could happen "as early as Week 6 against the Falcons."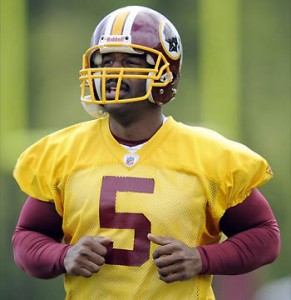 Donovan McNabb will miss Friday night's game against the Jets with what team doctors are officially calling a mild cankle sprain.
"Donovan uses his cankles more than most quarterbacks, so this was bound to happen," said head coach Mike Shanahan. "He's walking on the treadmill and should be up and wobbling on two healthy cankles in no time."
The injury is just the latest in a series of setbacks for McNabb, who sat out the last half of an August 13 game against the Bills with sore breasts.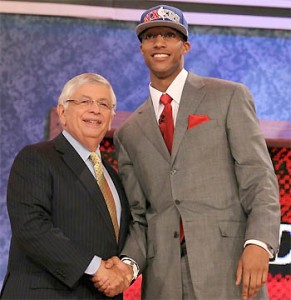 Philadelphia sports fans reportedly broke their historic tradition of booing and throwing urine-soaked snowballs at draft picks when they cheered the 76ers' selection of Evan Turner at the NBA draft on Thursday.
Though cheering for draft picks is a staple among non-Philly sports fans, Philly fans have historically berated athletes on draft day. However, that custom came to an end when Turner was selected with the second overall pick and greeted with warm applause by fans, marking the first such embrace by fans in Philadelphia sports history.
The most notable case of deplorable behavior by Philly fans on draft day was during the 1999 NFL draft when Donovan McNabb was booed unmercifully as he was selected with the Eagles' second overall pick. It was widely speculated that Eagles fans were booing the organization for not selecting Heisman Trophy winner Ricky Williams, but later reports confirmed that Philly fans are the scum of the earth and want to boo everyone at all times.
In a less publicized case, Allen Iverson was booed off the stage as he was selected with the first overall pick by the 76ers in 1996. Cole Hamels, the Phillies first-round selection in the 2002 MLB draft, was also booed by a throng of fans at his home in San Diego, CA as he sat in his living room with family and friends. Altogether, some 2,622 athletes have been booed by crazed Philadelphia sports fans over the years.
According to a report probably published somewhere, one rogue fan was heard booing while Turner's name was announced during the draft, which was, according to the report, "yet another black eye for Philadelphia sports fans."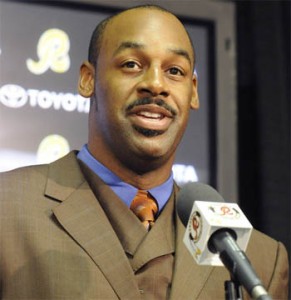 Though DeSean Jackson was merely commenting on the debut of Iron Man 2 and wasn't trying to stir anything up, Donovan McNabb responded to Jackson's comments anyway.
After seeing the film, starring Robert Downey Jr., Jackson said he was "very happy with the movie."
"I don't think it lost anything from the first one," Jackson added. "Even with the loss of Terrence Howard."
On Tuesday, McNabb was asked for a response to Jackson's comment, just to try and start controversy where there was none to begin with.
"I could feed into this war he's obviously trying to start by talking about Iron Man 2," McNabb said. "But someone has to be the bigger man, so whatever he wants to say is cool with me, but it's not making him look like the bigger man. I'm the biggest man there is, and ever will be."
Jackson also commented on what was poppin' in Atlanta over the weekend, but McNabb could not yet be reached for a response.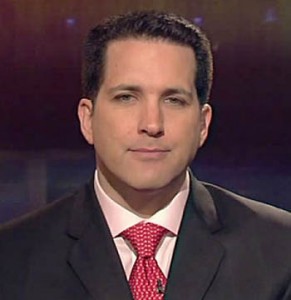 After losing out to the Redskins for Donovan McNabb, the Oakland Raiders still remain the front-runner to land someone, say, Adrian Peterson, league sources tell ESPN NFL Insider Adam Schefter.
The sources say the ingredients for a trade are still in place. Schefter is pretty sure the Raiders are still willing to meet a team's asking price for some player, like Tom Brady, maybe.
Also, sources say this player's contract, which could be anywhere from $500,000 to about $20 million or so, has scared off other teams. But, sources say, Oakland is willing to pay anything to get someone over here, like an Ed Reed-type guy.
There are also connections between the Raiders and this player, that could very well be Brandon Marshall for all we know. Raiders owner Al Davis and this guy probably both like things, and Oakland's new offensive coordinator, Hue Jackson, speaks English just like he kind of does.
One source familiar with trade discussions said no deal was done with Oakland. But other league sources predicted it soon would be done just to generate buzz even though they knew good and well that nothing was close to happening.
Another source far-removed from the situation is still trying to figure out why these guys have jobs.
Editor's Note: We here at Philly Gameday like to present relevant news that is important to the Philadelphia sports fan. Unfortunately, we are being forced to publish a story about a local baseball team even though it seems everyone just wants to talk about the Donovan McNabb trade. We apologize ahead of time for the following story and hope you will return to the site in the future.
A baseball club with ties to the area began its season on Monday and reportedly played well enough to defeat another team, though it's still unclear how this has anything to do with Donovan McNabb and his trade to the Redskins.
"Apparently these ballplayers did some amazing things on the field yesterday," said one local reporter. "Unfortunately, they aren't Donovan McNabb, so there's no way they're getting more than five seconds of attention today."
According to this guy's report, the main pitcher man did something awesome and a new player man ran home and people were cheering or something. The final score was 11-1, but McNabb got traded to the Redskins and that's all you apparently need to know.