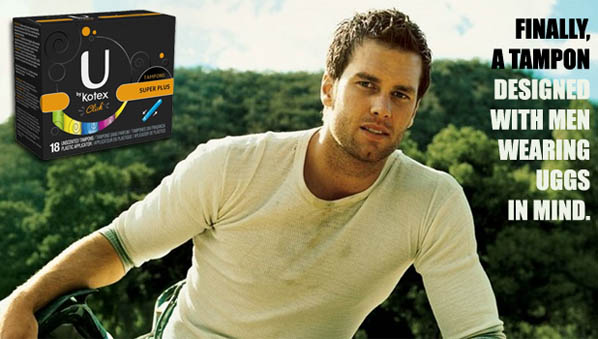 Just days after announcing an endorsement deal with UGG Australia, Patriots quarterback Tom Brady has signed on with Kotex to promote a new brand of tampons designed specifically for men that choose to wear UGGs out in public.
Kotex will make Brady the new face of Kotex for men wearing UGGs, urging men wearing UGGs everywhere to "stop being so damn shy about [their] vaginas" and that "[you've] only got one [vagina], so make sure you take care of it with new Kotex for men wearing UGGs," according to a Kotex press release.
"We couldn't think of a better person to align with our product with than Tom Brady, who has worn UGGs for quite a while and is already very familiar with our line of tampons, pads and liners," said Kotex spokesperson Carmen Firestone. "We want Tom to let the world know that tampons are not just for women anymore. They are also for hard-working men that want to pay upwards of $200 to wear soft, comfortable women's shoes."
Citing a need to cut down on any further endorsements and focus more on his career, Brady has reportedly rejected a deal to promote the National Football League.
After racking up over 400 total yards against the Redskins the week before, Michael Vick was held to 292 yards against the Giants on Sunday, but said that facing a much tougher defense was no excuse to "go out there and play like Tom Brady."
"The fans deserve way better than that," Vick said of his pedestrian 34 rushing yards, which anybody in the league could accomplish. "As high as my expectations are, I know I'll have days where I'll slip up and look like Peyton Manning out there, but it just sucks. I know I'm better than that."
Vick, who has yet to record an interception since 2006, said he would immediately retire from football and seriously re-evaluate what he was doing with his life if he ever looked like Donovan McNabb out there.
Trent Cole could face a steep fine by the NFL after he was flagged for a use of hands penalty on a well-defended Peyton Manning.
"The NFL will review the play in question and determine if Cole intended to utilize his hands to disrupt the Peyton Manning, or if it was merely incidental," said an NFL spokesperson. "As a league, we have to start cutting down on the number of hand-to-helmet taps on the Peyton Manning and the Tom Brady."
Asante Samuel will likely also face a fine by the NFL after illegally touching two Manning passes before the offense was given a chance to catch and run it in for a touchdown.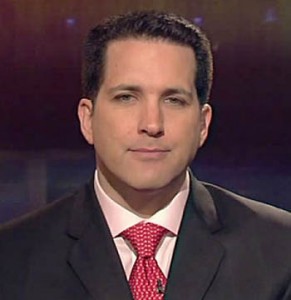 After losing out to the Redskins for Donovan McNabb, the Oakland Raiders still remain the front-runner to land someone, say, Adrian Peterson, league sources tell ESPN NFL Insider Adam Schefter.
The sources say the ingredients for a trade are still in place. Schefter is pretty sure the Raiders are still willing to meet a team's asking price for some player, like Tom Brady, maybe.
Also, sources say this player's contract, which could be anywhere from $500,000 to about $20 million or so, has scared off other teams. But, sources say, Oakland is willing to pay anything to get someone over here, like an Ed Reed-type guy.
There are also connections between the Raiders and this player, that could very well be Brandon Marshall for all we know. Raiders owner Al Davis and this guy probably both like things, and Oakland's new offensive coordinator, Hue Jackson, speaks English just like he kind of does.
One source familiar with trade discussions said no deal was done with Oakland. But other league sources predicted it soon would be done just to generate buzz even though they knew good and well that nothing was close to happening.
Another source far-removed from the situation is still trying to figure out why these guys have jobs.