Eagles runningback LeSean McCoy vowed Tuesday to unleash as many as 140 characters on the Giants in response to a series of deadly tweets by Osi Umenyoira and Steve Smith as the intense Twitter war between the rival NFL factions dragged into its sixth day.
McCoy launched a pre-emptive cyber attack last Thursday which sparked a full-scale Twitter war that is already being hailed as "one of the saddest and most pathetic wars of our time" by everyone.
"I currently possess the technology to press a single button a launch several tweets to wherever they may be hiding," McCoy said of his plans to continue his online assault. "God help them when I finally acquire an app that lets me fire more than the standard 140 characters at them."
Giants loyalists have already begun formulating a response to any McCoy retaliation by mapping out several tweets about his mama.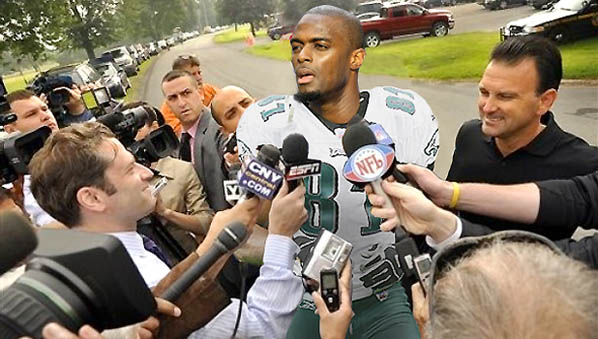 Further fueling the speculation that Plaxico Burress could soon join the Eagles, the former Giants star wore a full Eagles uniform and carried a sign reading "I really, really want to play for the Eagles" as he was released from prison on Monday.
Burress later downplayed his choice of clothing as he spoke with reporters after spending 21 months in prison.
"I just felt like wearing this uniform today…don't read too much into it," Burress said while thumbing through an Eagles playbook. "When I decide what team I want to play for, I'll let you know."
The Eagles have yet to publicly express interest in the wide receiver but the team constructed a bronze statue of Burress that will be placed outside of Plaxico Burress Field.
Andy Reid said Monday that it "just figures" the Eagles would mount a dramatic fourth quarter comeback after he stopped watching the game because the team was "pissing [him] off too much."
"This happens every time. I stop paying attention to the game, and they start playing ridiculous football," said Reid. "Sometimes-and I know this is going to sound pretty weird-but sometimes I really feel like I'm a jinx to this team."
With the Eagles down 21 points with 7:18 minutes left in the game and Andy Reid watching Golden Girls, Michael Vick took over the game, throwing two touchdowns and rushing for another while the Eagles defense forced two crucial punts to keep the score tied at 31-31.
"I got a text from my buddy saying the score was tied, so I started watching again," said Reid. "Then I see DeSean (Jackson) drop the punt and I start freaking out again and quit watching."
Moments after Reid turned his attention away from the game, Jackson picked the ball up and ran for a game-winning touchdown while time expired.
This marks the 118th time in Reid's 12-year career that he was watching something else during an Eagles win.
After racking up over 400 total yards against the Redskins the week before, Michael Vick was held to 292 yards against the Giants on Sunday, but said that facing a much tougher defense was no excuse to "go out there and play like Tom Brady."
"The fans deserve way better than that," Vick said of his pedestrian 34 rushing yards, which anybody in the league could accomplish. "As high as my expectations are, I know I'll have days where I'll slip up and look like Peyton Manning out there, but it just sucks. I know I'm better than that."
Vick, who has yet to record an interception since 2006, said he would immediately retire from football and seriously re-evaluate what he was doing with his life if he ever looked like Donovan McNabb out there.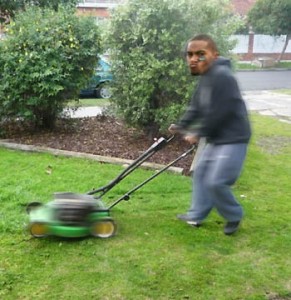 Having tied the NFL record for fifty-plus yard touchdowns in a season after adding two more long touchdowns yesterday, DeSean Jackson has begun to take the whole 'big-play' thing to extremes, and is compulsively doing everything in sixty yard bursts.
"Did you see my explosiveness from the car to the team facility?" asked Jackson, beaming with pride. "I covered some ground in a hurry. And I went past the security guard like he was standing still. Well, he was, but I went by him really fast."
Other typically mundane tasks Jackson has been rumored to be turning into a 'big play' include getting dressed, shopping, shoveling his driveway and getting the mail.
"I haven't perfected the big play in public yet," said Jackson, "but I'll get there. Last time I went to the grocery store to pick up a few things, I knocked over an entire display of cereal boxes to avoid a little old lady. I'm not opposed to running over a kicker if I have to, but a little old lady is where I draw the line."
Jackson's teammates appreciate his propensity for the big play on the field, but think his recent off the field antics have been a bit much.
"If he wants to score on a seventy-yard punt return and dance into the end zone against the Giants, I'm all for it," said Donovan McNabb. "But when he gets up to use the restroom during film, and weaves in and out of the desks and jumps over empty chairs it's kind of disruptive."