Plaxico Burress leaves prison wearing Eagles uniform
By Zaki, PhillyGameday.com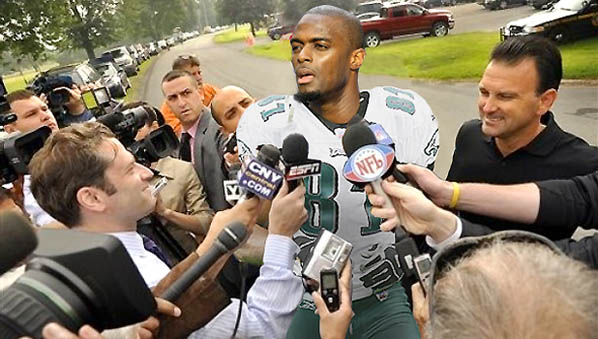 Further fueling the speculation that Plaxico Burress could soon join the Eagles, the former Giants star wore a full Eagles uniform and carried a sign reading "I really, really want to play for the Eagles" as he was released from prison on Monday.
Burress later downplayed his choice of clothing as he spoke with reporters after spending 21 months in prison.
"I just felt like wearing this uniform today…don't read too much into it," Burress said while thumbing through an Eagles playbook. "When I decide what team I want to play for, I'll let you know."
The Eagles have yet to publicly express interest in the wide receiver but the team constructed a bronze statue of Burress that will be placed outside of Plaxico Burress Field.
Zaki is the Chief Rocka and senior writer for PhillyGameday.com and thinks you should hurry up and follow the site on Twitter and Facebook before it's too late.