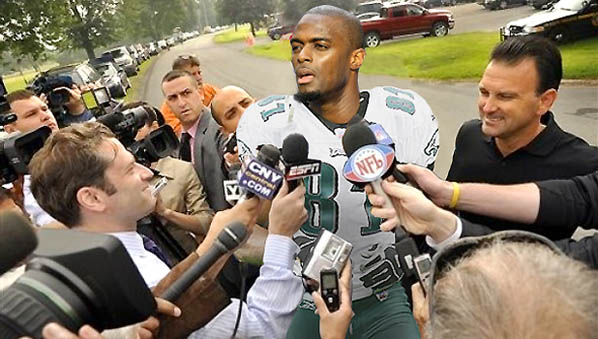 Further fueling the speculation that Plaxico Burress could soon join the Eagles, the former Giants star wore a full Eagles uniform and carried a sign reading "I really, really want to play for the Eagles" as he was released from prison on Monday.
Burress later downplayed his choice of clothing as he spoke with reporters after spending 21 months in prison.
"I just felt like wearing this uniform today…don't read too much into it," Burress said while thumbing through an Eagles playbook. "When I decide what team I want to play for, I'll let you know."
The Eagles have yet to publicly express interest in the wide receiver but the team constructed a bronze statue of Burress that will be placed outside of Plaxico Burress Field.
After more than a decade of planning, the Eagles finally completed the conversion of the NovaCare Complex into a fully-functional minimum security prison and are currently awaiting the transfer of former Giants wide receiver Plaxico Burress.
The building, now referred to as the NovaCare Correctional Facility, will house non-violent inmates that have shown, over an extended period of time, the ability to play football at a very high level.
Eagles owner Jeff Lurie spoke Friday about the completion of the facility and what it meant to finally realize his dream of becoming a prison warden.
"I've dreamed of this day since I was a young kid," Lurie said while trying to hold back tears. "To finally be able to rehabilitate young men and turn them into productive, revenue-generating NFL players is pretty overwhelming."
While Lurie and the Eagles are anxious to bring Burress into the newly-renovated facility, the team is also reportedly scouting a linebacker out of Rockview State Correctional Institution currently serving a 14-year sentence for aggravated assault, but ran the 40 in under 4.2 seconds and has exceptional upper-body strength.
The Eagles are just assumed to have lost to the Cowboys in Saturday's wildcard matchup, though no one in the entire Tri-State area actually watched the end of the game to confirm the final outcome or score.
A local man named Jerry Cole reported Sunday morning that the score was "probably 392-7 or some s-t like that."
"I stopped watching at halftime, but that sounds about right," Cole added.
Another man that threw his television out of his window midway through the third quarter claimed the 392-7 score was grossly inaccurate.
"I probably watched more of the game than anybody, and I'm telling you the final score was about 84-7," said Greg Alban, who read a book for the remainder of the game after his television was destroyed.
The Cowboys will move on to face the Minnesota Vikings next week while the Eagles will face an exciting offseason that will probably include letting Donovan McNabb and Brian Westbrook go and signing Plaxico Burress or someone else that will piss off most of the fan base.
The Arizona Cardinals announced Wednesday that they are willing to listen to trade offers for their Pro Bowl wide receiver Anquan Boldin. The Eagles were rumored to be interested in Boldin, but the team's interest may be dying because of the wideout's hefty price tag and the unfortunate, yet inevitable rise in the standings they may experience as a result of acquiring him.
"The Eagles are a business…and it wouldn't make sense for us to put a better team on the field when we're selling out every game," said Eagles owner Jeffrey Lurie. "It's sickening to think about throwing away money on a guy like Boldin just to win a Super Bowl…yeah…see…I think I just threw up in my mouth a little."
The division rival New York Giants are another team interested in Boldin's services to fill the void left by the release of Plaxico Burress earlier this month. Several media outlets also have the Giants close to acquiring Browns wide receiver Braylon Edwards.
"With the Redskins going out and getting [Albert] Haynesworth, the Cowboys improving their team ten-fold by dropping [Terrell] Owens and if the Giants pull off a trade for one of these wide receivers, we might be in trouble in our division," said Brian Westbrook. "I know that letting Dawk, Tra and Runyan go, stocking up on 12 draft picks and maintaining all that cap space is all a part of the plan, though. That means they're just setting up to make a big move here at some point…right?"
The Eagles are looking into somehow acquiring Greg Jennings from the Packers in response to the Birds' association with every headline grabbing, malcontent wide receiver in the country from Anquan Boldin and Braylon Edwards to Plaxico Burress and now the Bengals' Chad Ocho Cinco.
ESPN's Michael Smith reported this week that the Bengals may try to move Ocho Cinco since not one person left in the city can take someone seriously that legally changed his name to the wrong way to say "eighty-five" in Spanish.
The Eagles have surfaced as a possible destination for yet another one of the NFL's attention whores due to Eight Five's close relationship with Donovan McNabb, the amount of cap room the Eagles are hoarding like coins in Scrooge McDuck's Money Bin and the availability of their first round draft picks. However, the Greg Jennings rumors may put an end to any chance of seeing Eight Five in green this season.
"We are intrigued by what Jennings could bring to the table for us," Andy Reid said. "He's more of the wide receiver you want to bring home to mother…not the one you want to choke the life out of. It would definitely be a very refreshing change for us."
A source close to the Eagles told PhillyGameday.com that the team will not pursue recently released wide receiver Plaxico Burress. In fact, the only two teams that haven't violently rejected the notion of signing the troubled wideout are the NFL's resident 'Special Ed' teams, the Cowboys and Bengals.
Burress is currently awaiting trial for shooting himself in the leg four months ago in a New York City Nightclub. The court case was recently adjourned while everyone decides whether to throw him in the stocks or just hand him the "Most Outrageous Way to End Your Promising Football Career and Screw Yourself Out of Millions' award and be done with it — though, it may be Michael Vick's trophy to lose.
The Eagles still remain interested in acquiring either Braylon Edwards or Anquan Boldin, but Burress was officially dropped from consideration after about six whole seconds of thought by head coach Andy Reid.
"I gave it some thought…I really did," said Reid, referring to signing the former Super Bowl hero. "It was a tough one, but it didn't take nearly as long as the eight seconds I actually thought about checking in with the treadmill now and then. Both might help the team out in the long-run…but right now, I just don't see either goin' down."