Eagles head coach Andy Reid is no stranger to criticism regarding the lack of diversity in his offense, which has a habit of being pass happy at times. Today, Reid announced that he is looking to diversify his pass happy offense, with a new, exciting short pass that he and offensive coordinator Marty Mornhingweg just developed.
"I believe that this new play will add an entirely new wrinkle to our offense," said Reid, who clearly appeared ecstatic with the Eagles new, innovative play. "I don't want to get into too many details, such as formation and personnel, but I can tell you we simply spruced up an existing play. Instead of Celek running an option route over the middle with our back swinging out to the flat, we're going to have our back run the option route and have Celek go into the flat. It should totally confuse the defense."
Reid would not say which down and distance would be ideal for this new, innovative play, but did say that he plans to work this play into his game plan which typically consists of 350 passes and 1 run.
The Eagles managed only three field goals in 60 minutes of football against the NFL's worst defense in the past 375 years, mathematically eliminating them from being taken seriously for the remainder of this season and possibly ever again.
Following Sunday's 13-9 loss to the Raiders, Andy Reid did his best to explain how they managed to lose such a seemingly automatic win.
"It's hard to really explain, so let me put this in terms that you may understand," Reid said on Monday. "We suck. Any other questions?"
Brian Westbrook, as well as Donovan McNabb, returned from injury yesterday and helped lead the Eagles to a 33-14 win over the Buccaneers. Both players avoided further injury, however Westbrook arrived for his typical Monday morning MRI, only to find that no MRI had been scheduled.
"I thought I was supposed to come in for an MRI on Monday no matter what," said Westbrook. "I mean I've done it for something like 37 Mondays in a row during the football season. It was disorienting having an extra hour with nothing to do, so while I was there I had some X-rays taken just for fun."
As a result of not having an MRI done, Westbrook remains one punch short of a free MRI or CT Scan on his Frequent Imaging Club Card.
"I set out to get a free MRI or CT Scan this season, and I'm going to do it," said Westbrook as he dropped a heavy weight on his foot. "Isn't that what we play for, free MRIs? Well, maybe that and winning the Super Bowl."
Michael Vick's agent reported earlier this week that his client had signed a sponsorship deal with Nike. Nike has now come forward deny those claims and say the company is only supplying Michael Vick with a couple truckloads of funky, outdated shoes and nothing more.
"Nike does not have a contractual relationship with Michael Vick," Nike said in a statement on Thursday. "We have merely agreed to dump a truckload of worn-out shoes on Vick to give him an idea of what we think he's worth right now. And that has nothing to do with the dogfighting stuff, either. He's just a garbage football player right now. Now, if when he starts finding the end zone, we'll be all over him like stank on chitlins again."
DeSean Jackson is no stranger to celebrations. Last year he even celebrated a touchdown before he crossed the goal line. After his latest touchdown which involved a cartwheel into a split in the end zone, teammates even told him to cool it. But Jackson says he can't help it, and celebrated his morning tooth brushing with a backhand triple somersault.
"I love celebrating!" said an ecstatic Jackson after putting away his toothbrush. "Just look at how awesome I am at brushing my teeth! Just look!"
Scoring touchdowns and brushing his teeth are not the only things that Jackson celebrates with risky gymnastics type maneuvers. Rumors are floating around the Eagles locker room that he is planning a pike position double somersault for starting his car and a back handspring somersault one and a half twist for properly placing his dishes in the dishwasher after eating dinner at home.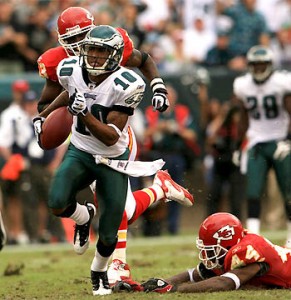 Michael Vick played in his first regular season NFL game since 2006 as the Eagles pummeled the Chiefs 34-14 on Sunday. Vick ran a handful of Wildcat plays, but it was the Eagles' elusive throw-to-an-open-cat (or "Opencat") offense that stole the show and gave the Eagles their second win of the season.
Starting in place of the injured Donovan McNabb, Kevin Kolb ran the experimental offense to near perfection, throwing to open cats for 327 yards and two touchdowns.
Andy Reid later explained the difficulty involved in running such a newfangled, hi-tech offense when everyone is so used to running the Wildcat.
"It's something we've been working on for a couple weeks now and to be honest, we didn't expect such positive results so soon," said Andy Reid of the Opencat offense. "It's hard to explain exactly how it works, but essentially what you wanna do is pick an open cat to throw to and when you've found one, that's when you throw the ball to that cat."
Overwhelmed by the formation from the Eagles' first offensive possession, the Chiefs had no answer and could not recover for the rest of the game.
"We gameplanned all freaking week to defend against the Wildcat and then they throw this Opencat stuff at us," said first-year Chiefs head coach Todd Haley. "They did run a couple Wildcat plays and we did a good job stopping them, but how in the world are you supposed to defend against a quarterback that can throw to open cats on a consistent basis? You can't, it's impossible."
The Eagles will decide whether to stick with the popular offense — which has also been implemented by the Saints with great success — or return to the Wildcat in Week 5 when Donovan McNabb is expected to return against the Buccaneers.
Following the announcement by Eagles offensive coordinator Marty Mornhinweg that Michael Vick will play this weekend, ESPN has begun feverish preparations to overanalyze the 15 or so plays Vick will participate in. The network is planning a one hour special documenting Vick's performance.
"It's a big deal that Michael Vick is returning to the NFL regular season," said a representative of the network. "I know he'll probably only play 10 to 15 plays, and run that stupid wildcat a few times, but we want coverage of it. So what if his stats will probably be 1-for-5 passing with 11 yards of total offense. America wants to see Vick."
ESPN plans on following its Michael Vick coverage with highlights and in depth analysis of the day's top performances by punters and kick off specialists.
First the 49ers accuse the Jets of tampering, claiming they spoke with Crabtree's agent. Today, Andy Reid has jumped in the mix, claiming that the Jets tampered with his bag of potato chips.
"I know I had a fresh bag of potato chips in my office," said Reid. "Believe me, I'd remember eating half a bag. I'm pretty sure I saw some guy in a Jets hat sneaking out with some of my potato chips and I'm not too happy about it."
Jets coach, Rex Ryan, says that these claims are completely false.
"What, these chips? No, no, I got these from the store myself," said Ryan, wiping crumbs from his face. "These claims that the Jets would tamper with another coaches bag of potato chips are baseless and false."
Andy Reid wants to make it clear that Rex Ryan and the Jets have not heard the last of this.
"I hope we meet them for the Super Bowl. Not playing in the actual game, but at a Super Bowl party. Then we can all enjoy as many chips as we want."
For about 30 minutes of football, Kevin Kolb looked like a solid NFL quarterback. He then brushed himself off in the second half and returned to looking like a backup QB that took some extra reps in practice.
For the game, Kolb attempted 51 passes for 391 yards and two touchdowns, but was picked off three times in an ugly 48-22 loss to Drew Brees and the Saints.
After the game, Andy Reid spoke about the loss and Kolb's performance in his first career start.
"Kevin really showed he still belongs in this league with the way he played out there," said Reid. "Don't take that as some ringing endorsement, though. It just means our plans of sitting him out on the curb if he bombed are in a holding pattern. I think a [expletive]-faced fan could have thrown for 400 yards against the Saints if you let him throw 51 times, so let's not get ahead of ourselves."
The Eagles sent two-time Pro Bowl offensive lineman Shawn Andrews out to pasture due to his persistent back problem in order to make room for quarterback Jeff Garcia, who was signed Monday.
The move has been heavily criticized due to early reports that listed Andrews' condition as a "sore back" which certainly would not warrant placing the offensive lineman on Injured Reserve, much less retiring him to a western Pennsylvania horse farm.
Andy Reid spoke on Wednesday and insisted that the move had nothing to do with Andrews' mental health.
"I think we did what's best for both the team and Shawn by giving him a place to graze and get some rest," Reid said. "He's got a sore back and won't be able to function the way he needs to this year, so we found a nice place for him where he can Tweet and get his Michael Phelps on in total peace and isolation. We think it's a place he can finally be happy."