It has been a disappointing season for the Eagles, to say the least, and nowhere is that more epitomized than the predictions for the NFL's week 13, in which the Eagles, pre season Superbowl favorites, have been picked as losing to the not-as-surprisingly 4-8 Miami Dolphins.
"They think we'll get dropped by the Dolphins?" South Philly resident Andrew Butcher exclaimed from the comfort of his Randall Cunningham jersey on Wednesday.  "Ha ha ha, no way.  The Dolphins blow ass."
Butcher, though admitting he spends most Sundays "passed out, face deep in pussy" went on to describe the Dolphins as a "bunch of lame fucks" who "don't even have a quarterback or whatever."
"Maybe you haven't seen the papers, but the Eagles are going to the Superbowl!!" Butcher continued, emphasizing the latter half of his statement in hopes of garnering cheers by passersby on the street.  "Come on, we got Jenkins, Asomugha, Shady, DeSean, muthafuckin' Vick—Dude, we got everybody."
Requiring several instances of explanations and enthusiastic pointing to believe the Eagles' collapse, Butcher soon retreated into his home alone, where he overcooked some spaghetti and fell asleep in a stained recliner with a vibrating Xbox controller in his lap after guzzling six Natural Lights.
Eagles president Joe Banner announced today that the team would be employing 6- to-10 bodyguards to protect coaches from running back LeSean McCoy. "We have to protect our assets as an organization," Banner said, "even if that means beating the hell out of one of our own players."
The bold personnel move comes in the wake of the second attack on an Eagles coach by McCoy this season, when the running back attempted to knock down Offensive Line Coach Howard Mudd after being taken out of the game against Dallas. This latest attack comes just two weeks after McCoy viciously gut-punched Andy Reid in the stomach during a game against the Washington Redskins.
"I'm a pretty old man, and I just had hip surgery this past week," Mudd commented later, "For him to hurl his body at me like that… [it] could've killed me. I was terrified."
Banner explained to those at the press conference that McCoy would not be allowed within 10 feet of any members of the Eagles coaching staff, and that a violation of this policy or any perceived threat of violence would be met with "necessary force".
"We looked into several options," Banner said, "among others we were considering were chaining LeSean to a bench while the offense was on the sidelines, as well as having a sniper armed with tranquilizer darts trained on him at all times, waiting for him to get too close to a coach. We may look into those options at a later date."
The Phillies used their first pick in Monday's First-Year Player Draft to select Larry Greene, a 6'1″ 230-pound linebacker that should be able to compete with Stewart Bradley for a starting job with the Eagles this season.
As a senior in high school, Greene hit .562 with 18 home runs in 30 games and has the power and agility needed to stop the run, something the Eagles have lacked the past few seasons.
"He's a solid ballplayer, but the Eagles need him a hell of a lot more than we do," Phillies general manager Ruben Amaro said of Greene. "Maybe [Andy] Reid can pay us back next season by drafting a leadoff hitter with some plate discipline."
Greene said that while he is waiting for the NFL lockout to end, he would consider signing a deal to play baseball with the Phillies.
Facebook, Twitter and the Blogosphere exploded on Sunday night with a "report" that the Eagles cared who their head coach was, but the team issued a statement on Tuesday flatly denying any such concern.
The erroneous report was picked up by several Eagles-related blogs run by teenagers and other people that generally don't know what they're talking about, but people started taking them seriously anyway. This firestorm led to a severe bunching of panties by traditional news sources that had to waste their time to refute reports that we all knew were stupid to begin with.
A high-ranking Eagles official, asked about the report on Tuesday, responded, "C'mon now."
"After hearing the rumors that Jon Gruden was close to becoming the next Eagles head coach and the subsequent rumor that we somehow cared about who we let coach our team, we felt it necessary to dispel both of those rumors," read the statement. "Whether Andy Reid or Jon Gruden or Bobo the chimp is the coach, we don't really care either way, so don't let anyone tell you any different."
Eagles offensive line coach Juan Castillo became the team's new defensive coordinator after Andy Reid followed through on his promise to hire the next person to walk into his office.
"After interviewing several candidates and carefully weighing our options, I decided that this whole thing has been one giant pain in my ass and that I'd hire the next guy I saw," Reid said at a Thursday press conference. "So, that's when Juan [Castillo] came in to show me some new iPhone app and I gave him the job."
This marks the first time that Reid has hired anyone in this manner since hiring Sean McDermott as the Eagles defensive coordinator in 2009.
The Philadelphia Eagles are reportedly in the process of finalizing a trade that would send quarterback Kevin Kolb to the Chicago Bears for their team allotment of Super Bowl tickets, according to a league source.
The transaction is pending approval on the location of the seats, however the tickets are rumored to be in the lower level with excellent site lines and concession stand access.
"When we drafted Kevin, we envisioned that one day his selection would translate into a trip to the Super Bowl. Today is that day," stated Eagles General Manager Howie Roseman on a conference call while packing for Dallas. "Andy and I are looking forward to our first Super Bowl together. I know he was upset about missing another opportunity to coach in the Pro Bowl this year, so this should cheer him up a bit. And we're sitting near the rib stand!"
While Chicago may seem like an unlikely destination for Kolb, who has publicly stated he wants to start, the move makes sense as Bears offensive line coach Mike Tice has a long history of giving away his Super Bowl tickets for a small fee.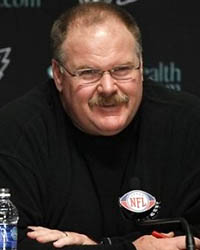 One of the most remarkable streaks in all of sport was extended on Thursday as the Eagles retained Andy Reid as the team's head coach for the 4,400th consecutive day.
Reid hasn't missed a day of employment since January 11, 1999 and is now the longest-tenured head coach in the NFL after the Titans fired Jeff Fisher.
"I've done the unthinkable," said Reid. "But what kind of guy would I be if I didn't mention the front office's part in keeping this streak alive. Jeff (Lurie) and Joe (Banner), you guys are awesome. Don't ever change."
Reid's streak nearly came to an end on Sunday after a report revealed the head coach openly criticised David Akers for missing two field goals during the Eagles playoff loss to the Packers despite knowing that the kicker's daughter was hospitalized for a potentially life-threatening cyst. However, Reid persevered and kept his historic streak alive.
"This streak has been hard on me and my family, but it's the team that has suffered the most," said Reid. "But I owe it to my fan out there to keep going. This is for you, Steve."
After more than 83 coaches turned down the Eagles' vacant defensive coordinator position in the past seven days, the team was reportedly "like, this close" to tricking Jim Mora into taking the job, according to one team source.
"Oooh-ho-ho! You almost got me, you sneaky sons of bitches! Oh, that was good times. Good times," Mora reportedly said after he realized he nearly became the new Eagles defensive coordinator. "Oh God, was this filmed? Please tell me you got this on tape. I wanna see my face when I found out you guys weren't really the Ravens. I bet I was all like 'Aww, man!' and stuff, right?"
The Eagles are expected to trick five more candidates into taking the job this week, including a second attempt at Mora.
A study conducted by the Philadelphia Research & Historical Movement (or PHIRE HIM) found a possible link between Andy Reid and the Eagles' inability to win a Super Bowl, which could drastically change absolutely nothing about the Eagles' views on Andy Reid.
"We carefully studied 12 separate seasons in which the Eagles did not win the Super Bowl and all 12 tested positive for Andy Reid," said Shawn Batuik, head researcher for PHIRE HIM. "It is important to note that while we have discovered a link, we are still unsure what causes Andy Reid to prevent championship parades down Broad Street, but the evidence currently suggests that he may not know how to coach a professional football team."
A similar study in 2009 found that the Eagles were 100% less likely to win a Super Bowl with Donovan McNabb, which led to a trade with the Redskins.
Kevin Kolb met with Andy Reid on Tuesday about his situation as the team's backup quarterback and issued an ultimatum that the Eagles either get rid of Michael Vick or he would walk out that door and never come back.
"I shouldn't have to compete with this…this Michael guy for your attention," Kolb reportedly said to Reid during the meeting. "What the hell do you see in him that you don't see in me! Is it because he can scramble out of the pocket and throw 80 yards downfield? Is that what you like? Well, I'm sorry I can't be who you want me to be. But, I'm me dammit! And I like me! And if you can't handle that, then you can just go on with your little Michael. But you just remember one thing: You drafted me…not the other way around."
Reid later asked Kolb to give him a few seconds to mull it over and he would get back to him.