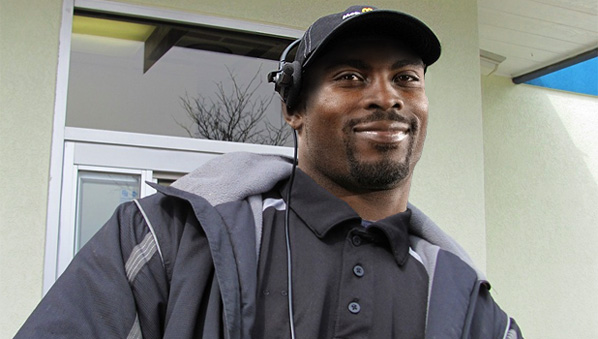 Michael Vick agreed to terms with the Eagles on a six-year, $100 million contract extension on Tuesday, finally enabling the Pro Bowl quarterback to leave his part-time job at an area McDonald's restaurant.
"It's sad leaving a place you've worked for two years," Vick said of his two-year employment at the Market Street McDonald's. "But if I had to clean another griddle, I was gonna lose it, so this contract came just in time."
Though Vick was able to quit his part-time gig at McDonald's, he will still need to continue his positions at Jiffy Lube and Taco Bell in order to make ends meet after using his new contract to pay off his $100 milllion debt.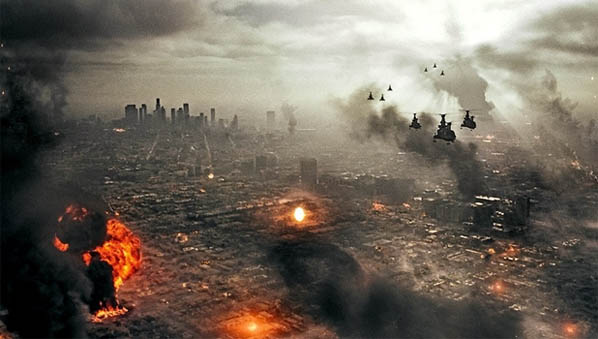 More than 5.8 million people were killed early Thursday morning in an apparent attack on the City of Philadelphia orchestrated by Emmy Award-winning talk show host Oprah Winfrey.
An audio recording was released Wednesday night — just hours after Eagles quarterback Michael Vick canceled his scheduled appearance on Winfrey's show — with what appears to be Winfrey's voice laughing for 34 seconds before issuing orders to "take them out."
"Let this serve notice to everyone else that no one cancels on Oprah," said the voice on the recording. "Oprah cancels you! (laughter)"
Vick, who was in Newport News, VA at the time of the invasion, immediately re-scheduled his interview with Winfrey, which will cover Vick's time in prison, his work with the Humane Society, his return to the NFL and precipitating the worst act of violence on American soil.
In what could be the first step toward a major endorsement deal for the embattled quarterback, Michael Vick signed on with Nike to wear the new Jordan Retro 3 sneaker in exchange for $149.99 at a local Foot locker on Wednesday.
"I just want to thank Nike for taking a chance and allowing me to buy their shoe," Vick said after signing the contract with Nike and handing it to the cashier. "I really think this agreement works out for both of us and hopefully it leads to bigger and better things in the future, like a discount or something."
Terms of Vick's deal with Nike include a 30-day, money back guarantee and a chance to win $1,000 for taking a quick online survey.
Kevin Kolb met with Andy Reid on Tuesday about his situation as the team's backup quarterback and issued an ultimatum that the Eagles either get rid of Michael Vick or he would walk out that door and never come back.
"I shouldn't have to compete with this…this Michael guy for your attention," Kolb reportedly said to Reid during the meeting. "What the hell do you see in him that you don't see in me! Is it because he can scramble out of the pocket and throw 80 yards downfield? Is that what you like? Well, I'm sorry I can't be who you want me to be. But, I'm me dammit! And I like me! And if you can't handle that, then you can just go on with your little Michael. But you just remember one thing: You drafted me…not the other way around."
Reid later asked Kolb to give him a few seconds to mull it over and he would get back to him.
Andy Reid announced that he would continue to rest his starters for Sunday's regular season finale against the Cowboys after allowing them to sit out on Tuesday against the Vikings.
"The original plan was to rest the guys during the last week of the season," said Reid on Thursday. "But they've done such an amazing job all year that I told them they could just watch the Vikings game like the rest of us."
The day off will give the starters a full 20 days to rest while giving Kevin Kolb an entire three hours to be the Eagles starting quarterback again.
Andy Reid said Monday that it "just figures" the Eagles would mount a dramatic fourth quarter comeback after he stopped watching the game because the team was "pissing [him] off too much."
"This happens every time. I stop paying attention to the game, and they start playing ridiculous football," said Reid. "Sometimes-and I know this is going to sound pretty weird-but sometimes I really feel like I'm a jinx to this team."
With the Eagles down 21 points with 7:18 minutes left in the game and Andy Reid watching Golden Girls, Michael Vick took over the game, throwing two touchdowns and rushing for another while the Eagles defense forced two crucial punts to keep the score tied at 31-31.
"I got a text from my buddy saying the score was tied, so I started watching again," said Reid. "Then I see DeSean (Jackson) drop the punt and I start freaking out again and quit watching."
Moments after Reid turned his attention away from the game, Jackson picked the ball up and ran for a game-winning touchdown while time expired.
This marks the 118th time in Reid's 12-year career that he was watching something else during an Eagles win.
After racking up over 400 total yards against the Redskins the week before, Michael Vick was held to 292 yards against the Giants on Sunday, but said that facing a much tougher defense was no excuse to "go out there and play like Tom Brady."
"The fans deserve way better than that," Vick said of his pedestrian 34 rushing yards, which anybody in the league could accomplish. "As high as my expectations are, I know I'll have days where I'll slip up and look like Peyton Manning out there, but it just sucks. I know I'm better than that."
Vick, who has yet to record an interception since 2006, said he would immediately retire from football and seriously re-evaluate what he was doing with his life if he ever looked like Donovan McNabb out there.
Bored out of his mind with shredding defenses and shattering records every week, Michael Vick announced Tuesday that he will step away from the game to find something more challenging to do with his time.
"You ever feel so bored that you just wanna throw stuff?" said Vick, who threw four touchdown passes against the Redskins out of pure boredom. "I've just reached a point in my career where I'm tired of hearing 'First down!' all the time."
While Vick didn't completely rule out a return to the NFL at some point, he did say the league would have to make serious changes to the way the game is played and suggested they "throw some bears out there…somethin'."
"(Yawn)," Vick added.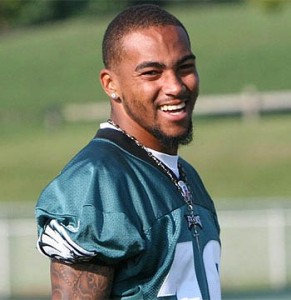 During his weekly appearance on Comcast SportsNet's "Daily News Live," DeSean Jackson expressed his total coolness with Kevin Kolb forgetting to notice that he's wide open downfield most of the game.
"I think it's great," said Jackson, who caught two passes for 24 yards against the 49ers on Sunday. "Who am I to say I should have the ball thrown to me if I'm alone in the end zone with no one around for 50 yards. That's the quarterback's decision. I'm not the quarterback. I'm just a wide open receiver enjoying life, trying to take advantage of some busted coverage down here."
Michael Vick, who is currently rehabbing a rib injury, also expressed his complete coolness with Kolb's inability to move the ball down field to his playmaking receivers.
Not since the Kevin Kolb era of 2010-10 have Eagles fans been this excited about a quarterback as Michael Vick put together another fantastic performance against the Jaguars on Sunday.
Vick threw for 291 yards and three touchdowns and ran for 30 yards and another score in the Eagles 28-3 win over the Jags, winning over countless fans in the process.
"I'm old enough to have lived through the Kevin Kolb era," said Mark Penza, 13, a longtime Eagles fan. "I remember fans jumping on the Kolb bandwagon left and right just like they are now with Michael Vick. Good times."
Philly Gameday attempted to track down former Eagles great Kevin Kolb, but team officials could not determine his whereabouts and is assumed to be retired or deceased.