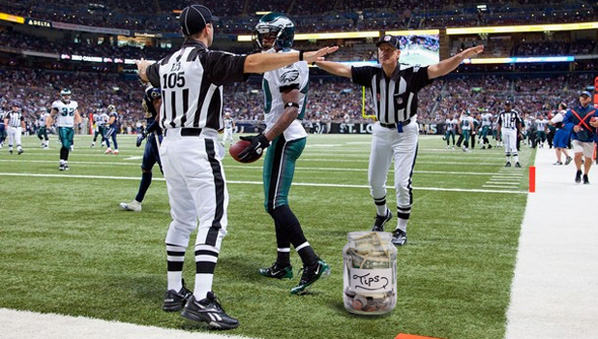 DeSean Jackson's contract situation with the Eagles heated up on Sunday as the receiver was spotted placing a large tip jar in his team's end zone prior to the game against the Rams.
Though the jar has several signs attached to it reading "Tips", "Where my money?" and "Naw, seriously, where my money?", Jackson downplayed the situation and insists he simply wants to focus on playing football.
"Man, I'm just focused on playing football right now and don't wanna talk about some tip jar and how I accept any size tip, no matter how small," Jackson said after Sunday's 31-13 win over the Rams. "I'm trying to go out there and make plays and if someone likes what they see and wanna put some cash in the jar, then that's on them. I can't worry about what other people are doing."
Jackson scored his first touchdown of the season in the third quarter and proceeded to pick up the tip jar and shake it violently in the air while screaming "Y'all gotta do better than this!"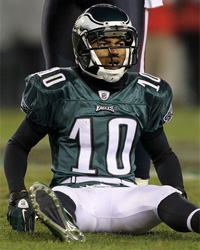 Running back Ronnie Brown and quarterback Peyton Manning both finalized their deals with the Eagles on Monday, leaving wide receiver DeSean Jackson as the only player in the NFL without a new contract with the Eagles.
Jackson, who led the NFL with 22.5 yards per reception last season, is set to earn about $600,000 this season which is significantly less than what the Eagles will pay 28th-string punter Adam Podlesh, who finalized a three-year deal with the Birds last Thursday.
"You know, I could cry and moan after watching over 1700 different guys sign deals with the team I helped lead to the playoffs last season, but I won't do that," Jackson said after reporting to camp on Monday after a brief holdout. "I just want to play some football, whether it's here or with any of the other 31 teams that are looking for a playmaking wideout and every other position on the field."
The Eagles reportedly have about $7 million in cap space to sign Jackson to a new deal, but according to one team source, the Eagles are close to using that money to sign free agent wide receiver Terrell Owens.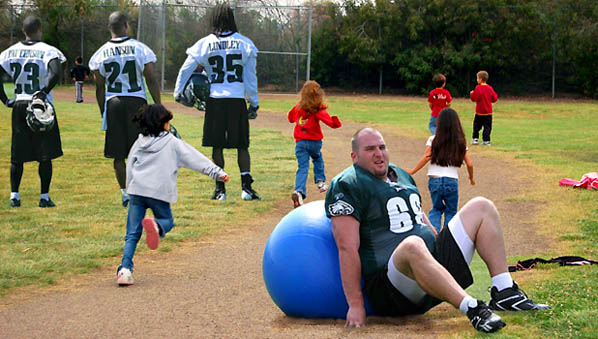 For the fifth time on Tuesday, Eagles players were interrupted by a 15-minute period of recess during an informal workout at E.T. Hamilton Elementary School in Voorhees, NJ.
"We kind of have to take what we can get at this point," wide receiver Jeremy Maclin said while watching a game of 'Duck, Duck, Goose' as he waited to continue training for a possible NFL season. "This is still better than the last field where everybody kept coming onto the field trying to play with us."
Despite the inconvenience, Eagles players were briefly entertained during the third period of recess by watching a young child dominate a game of tag before realizing it was wide receiver DeSean Jackson.
Andy Reid said Monday that it "just figures" the Eagles would mount a dramatic fourth quarter comeback after he stopped watching the game because the team was "pissing [him] off too much."
"This happens every time. I stop paying attention to the game, and they start playing ridiculous football," said Reid. "Sometimes-and I know this is going to sound pretty weird-but sometimes I really feel like I'm a jinx to this team."
With the Eagles down 21 points with 7:18 minutes left in the game and Andy Reid watching Golden Girls, Michael Vick took over the game, throwing two touchdowns and rushing for another while the Eagles defense forced two crucial punts to keep the score tied at 31-31.
"I got a text from my buddy saying the score was tied, so I started watching again," said Reid. "Then I see DeSean (Jackson) drop the punt and I start freaking out again and quit watching."
Moments after Reid turned his attention away from the game, Jackson picked the ball up and ran for a game-winning touchdown while time expired.
This marks the 118th time in Reid's 12-year career that he was watching something else during an Eagles win.
Eagles receiver DeSean Jackson has recently been called a 'Diva' for his behavior on and off the football field, but is this label entirely fair? What measuring stick should we use to determine if one person is more a 'Diva' than the next? More importantly, should the fact that we ain't Jackson and therefore may hate the Pro Bowler factor into this equation?
Let's quickly review the facts.
First, Jackson will earn $480,000 this season and while a true Diva would undoubtedly pout his Diva lips, stomp his Diva feet and refuse to cooperate until he earns more money, the fact of the matter is that most of us ain't him and do not earn anywhere near $480,000 annually. If the majority of the populace earned $480,000, would we see him as a Diva, or simply as a gentleman trying his best to stack this paper?
Second, Jackson is one of the premier receivers in the premier football league on the globe. As a natural born U.S. citizen, is it not his right to use his Diva phone to demand to his Diva agent that he be paid as such? Or are we, as people that ain't Jackson, hatin' just a little too hard right now by asking that he just play out his rookie contract that he agreed to which is still higher than anything most of us will ever earn in our lifetimes?
In order to truly get to the bottom of this situation, we have to ask ourselves why we are not DeSean Jackson.
Is it because we were too busy hatin' on him from an early age that we forgot to focus on our own success? Could it be that stuntin' is a habit that the rest of us were not born with? Or is it simply because there can only be one DeSean Jackson?
Let us, for a moment, submit that Jackson is, in fact, a Diva. What do we have to lose should this be the clear case? Are Divas not some of the most entertaining people on this planet? If not for Divas, who would the children of irresponsible parents look up to?
It is also entirely possible that Jackson is a Diva, while at the same time, a recipient of hate because we ain't him, as well. If this is the case, then how are we to judge the other party if we are both in the wrong. Is there a moral obligation to stop sweatin' each other and do the right thing?
It appears that what started off as an innocent question is actually a much more complex philosophical one which we may never know the answer to. Whether or not DeSean Jackson is, in fact, a Diva or if he is simply the product of mass hateration will have to be left to the great minds of our time to decide.
But for now, let's just win.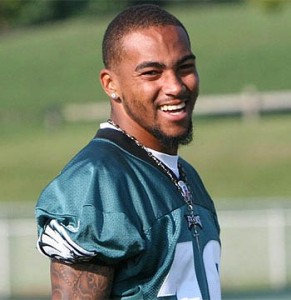 During his weekly appearance on Comcast SportsNet's "Daily News Live," DeSean Jackson expressed his total coolness with Kevin Kolb forgetting to notice that he's wide open downfield most of the game.
"I think it's great," said Jackson, who caught two passes for 24 yards against the 49ers on Sunday. "Who am I to say I should have the ball thrown to me if I'm alone in the end zone with no one around for 50 yards. That's the quarterback's decision. I'm not the quarterback. I'm just a wide open receiver enjoying life, trying to take advantage of some busted coverage down here."
Michael Vick, who is currently rehabbing a rib injury, also expressed his complete coolness with Kolb's inability to move the ball down field to his playmaking receivers.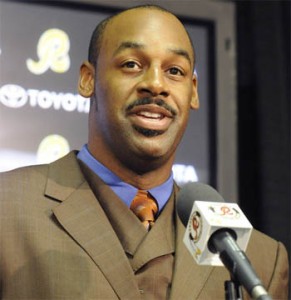 Though DeSean Jackson was merely commenting on the debut of Iron Man 2 and wasn't trying to stir anything up, Donovan McNabb responded to Jackson's comments anyway.
After seeing the film, starring Robert Downey Jr., Jackson said he was "very happy with the movie."
"I don't think it lost anything from the first one," Jackson added. "Even with the loss of Terrence Howard."
On Tuesday, McNabb was asked for a response to Jackson's comment, just to try and start controversy where there was none to begin with.
"I could feed into this war he's obviously trying to start by talking about Iron Man 2," McNabb said. "But someone has to be the bigger man, so whatever he wants to say is cool with me, but it's not making him look like the bigger man. I'm the biggest man there is, and ever will be."
Jackson also commented on what was poppin' in Atlanta over the weekend, but McNabb could not yet be reached for a response.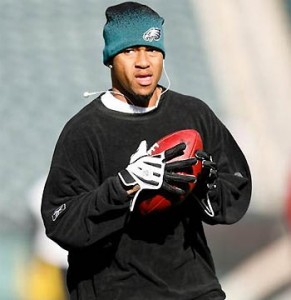 DeSean Jackson was hospitalized early Friday after contracting Drew Rosenhaus in a public restroom.
According to Eagles President Joe Banner, the illness could sideline Jackson for the start of the next season and could even threaten his career with the Eagles.
"This is really starting to remind me of 2005 all over again," Banner said on Friday, making reference to Terrell Owens' contraction of Drew Rosenhaus after the 2004 season. "This is really the last thing we need to have happen to one of our star players. We're optimistic he can pull through it, but we're planning for the worst."
The Drew Rosenhaus virus has plagued the NFL for almost two decades and is very similar to a strain of Scott Boras that many prominent MLB players have suffered through over the years.
In the most noteworthy case of the Drew Rosenhaus, Terrell Owens played in only seven games for the Eagles in 2005 before he was released in an effort to contain the outbreak before it spread to other players.
"We're really hoping to get DeSean some treatment so he can kick this thing," said Eagles head coach Andy Reid. "He needs to completely flush the Drew Rosenhaus from his system or these next few months are going to be pretty miserable for everyone."
DeSean Jackson of the Portsmouth Jacksons took to Twitter on Sunday and had quite a few biting words for the division rival Cowboys.
"Our rival American footballing club ought to keep a lively eye to their hind parts," Jackson tweeted of the Cowboys. "My colleagues and I are prepared to issue a sound thumping until the bandits have met their defeat."
After Jackson's negative comments garnered national attention, the first-time Pro-Bowler issued an apology on Tuesday via Twitter.
"It appears my ballyhoo from Sunday's eve has caused quite an unwelcome rumpus," said the follow-up Jackson tweet. "I know the Cowboys to be a fine band of fellows and hope they will accept my forthright apology. It's such a silly thing to gibe another through an electronic device to begin with. I don't know what came over me."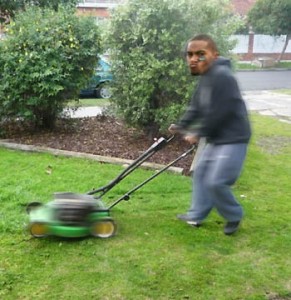 Having tied the NFL record for fifty-plus yard touchdowns in a season after adding two more long touchdowns yesterday, DeSean Jackson has begun to take the whole 'big-play' thing to extremes, and is compulsively doing everything in sixty yard bursts.
"Did you see my explosiveness from the car to the team facility?" asked Jackson, beaming with pride. "I covered some ground in a hurry. And I went past the security guard like he was standing still. Well, he was, but I went by him really fast."
Other typically mundane tasks Jackson has been rumored to be turning into a 'big play' include getting dressed, shopping, shoveling his driveway and getting the mail.
"I haven't perfected the big play in public yet," said Jackson, "but I'll get there. Last time I went to the grocery store to pick up a few things, I knocked over an entire display of cereal boxes to avoid a little old lady. I'm not opposed to running over a kicker if I have to, but a little old lady is where I draw the line."
Jackson's teammates appreciate his propensity for the big play on the field, but think his recent off the field antics have been a bit much.
"If he wants to score on a seventy-yard punt return and dance into the end zone against the Giants, I'm all for it," said Donovan McNabb. "But when he gets up to use the restroom during film, and weaves in and out of the desks and jumps over empty chairs it's kind of disruptive."