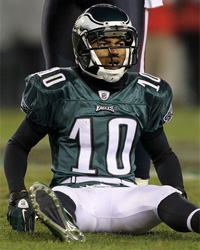 Running back Ronnie Brown and quarterback Peyton Manning both finalized their deals with the Eagles on Monday, leaving wide receiver DeSean Jackson as the only player in the NFL without a new contract with the Eagles.
Jackson, who led the NFL with 22.5 yards per reception last season, is set to earn about $600,000 this season which is significantly less than what the Eagles will pay 28th-string punter Adam Podlesh, who finalized a three-year deal with the Birds last Thursday.
"You know, I could cry and moan after watching over 1700 different guys sign deals with the team I helped lead to the playoffs last season, but I won't do that," Jackson said after reporting to camp on Monday after a brief holdout. "I just want to play some football, whether it's here or with any of the other 31 teams that are looking for a playmaking wideout and every other position on the field."
The Eagles reportedly have about $7 million in cap space to sign Jackson to a new deal, but according to one team source, the Eagles are close to using that money to sign free agent wide receiver Terrell Owens.
Trent Cole could face a steep fine by the NFL after he was flagged for a use of hands penalty on a well-defended Peyton Manning.
"The NFL will review the play in question and determine if Cole intended to utilize his hands to disrupt the Peyton Manning, or if it was merely incidental," said an NFL spokesperson. "As a league, we have to start cutting down on the number of hand-to-helmet taps on the Peyton Manning and the Tom Brady."
Asante Samuel will likely also face a fine by the NFL after illegally touching two Manning passes before the offense was given a chance to catch and run it in for a touchdown.
Following Sunday's loss to the New Orleans Saints, Vikings quarterback Brett Favre wasted no time in announcing his intentions to return to the NFL next season, hopefully as Colts quarterback Peyton Manning.
"There will be no retirement this year. I'm definitely coming back," Favre said during his post-game conference. "There's an outside chance I could come back with the Vikings, but I'd really like to just be Peyton Manning next year. I think I've gone about as far as I'm gonna go as Brett Favre, so my only shot at winning another Super Bowl is to return as Peyton Manning, somehow. That's the goal."
Favre also mentioned that he would consider a return as Drew Brees if the Saints were to win the Super Bowl, "but that probably won't happen, so we'll cross that bridge if we get there."
It's one thing to be upset that Peyton Manning didn't finish out the game, ending any chance of a perfect season. But it's another to demand your money back because of it.
What kind of spoiled bed-wetters are we dealing with here? Apparently a local Indy politician, Buert SerVaas, has gotten involved to draft an actual City-County Council resolution demanding that the NFL refund the money paid for tickets.
Let's iron this out so we have the facts straight and no one gets reamed unfairly here:
1. Indy head coach Jim Caldwell, ESPN and the entire planet has been talking about the prospect of sitting Peyton Manning in the final games for at least 500 years now.
2. These fans bought tickets to go see the game anyway.
3. Said fans saw Manning throw the football 21 times for 192 yards.
4. These same fans follow a team that is guaranteed home field advantage throughout the playoffs.
5. Now, a local councilman is concerning himself with what a football team is doing to ensure the health of its star players, rather than focusing on more important things in the middle of a recession.
I don't know how else to say it other than these people need lives…and maybe a little perspective.
Get upset because you didn't get to see the Colts win a game they probably could have, but keep things in perspective here: You paid to see a football game. It just so happens that the game was in the middle of preparation for the playoffs.
Caldwell was doing what he thought was best for the team in the long run. Sure, the odds of Peyton actually getting hurt are slim, but the downside to him getting hurt are catastrophic (relatively). He IS the Colts.
I'm putting myself in the shoes of a Colts fan and while I would have rather seen Peyton out there to go for the perfect season, I understand the decision to pull him and keep an eye on the bigger picture.
This stuff about trying to legally get your money back from a franchise that has given you a Super Bowl championship and arguably the best QB to ever play the game is insane. If anyone should ask for their money back, it's Browns or Rams fans. They know going into the game their team has no shot and they go home knowing they won't have a shot the next week either. At least Colts fans have a realistic shot at a Super Bowl to look forward to.
So please, pay for the ticket, plant your ass in a chair and watch the best team in football, regardless of how long Peyton plays.