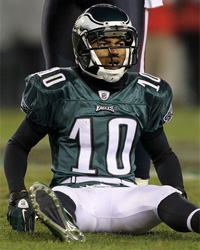 Running back Ronnie Brown and quarterback Peyton Manning both finalized their deals with the Eagles on Monday, leaving wide receiver DeSean Jackson as the only player in the NFL without a new contract with the Eagles.
Jackson, who led the NFL with 22.5 yards per reception last season, is set to earn about $600,000 this season which is significantly less than what the Eagles will pay 28th-string punter Adam Podlesh, who finalized a three-year deal with the Birds last Thursday.
"You know, I could cry and moan after watching over 1700 different guys sign deals with the team I helped lead to the playoffs last season, but I won't do that," Jackson said after reporting to camp on Monday after a brief holdout. "I just want to play some football, whether it's here or with any of the other 31 teams that are looking for a playmaking wideout and every other position on the field."
The Eagles reportedly have about $7 million in cap space to sign Jackson to a new deal, but according to one team source, the Eagles are close to using that money to sign free agent wide receiver Terrell Owens.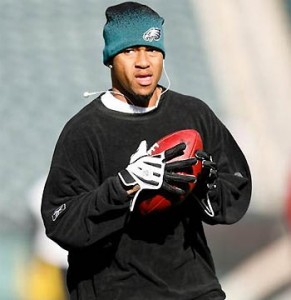 DeSean Jackson was hospitalized early Friday after contracting Drew Rosenhaus in a public restroom.
According to Eagles President Joe Banner, the illness could sideline Jackson for the start of the next season and could even threaten his career with the Eagles.
"This is really starting to remind me of 2005 all over again," Banner said on Friday, making reference to Terrell Owens' contraction of Drew Rosenhaus after the 2004 season. "This is really the last thing we need to have happen to one of our star players. We're optimistic he can pull through it, but we're planning for the worst."
The Drew Rosenhaus virus has plagued the NFL for almost two decades and is very similar to a strain of Scott Boras that many prominent MLB players have suffered through over the years.
In the most noteworthy case of the Drew Rosenhaus, Terrell Owens played in only seven games for the Eagles in 2005 before he was released in an effort to contain the outbreak before it spread to other players.
"We're really hoping to get DeSean some treatment so he can kick this thing," said Eagles head coach Andy Reid. "He needs to completely flush the Drew Rosenhaus from his system or these next few months are going to be pretty miserable for everyone."
The Arizona Cardinals announced Wednesday that they are willing to listen to trade offers for their Pro Bowl wide receiver Anquan Boldin. The Eagles were rumored to be interested in Boldin, but the team's interest may be dying because of the wideout's hefty price tag and the unfortunate, yet inevitable rise in the standings they may experience as a result of acquiring him.
"The Eagles are a business…and it wouldn't make sense for us to put a better team on the field when we're selling out every game," said Eagles owner Jeffrey Lurie. "It's sickening to think about throwing away money on a guy like Boldin just to win a Super Bowl…yeah…see…I think I just threw up in my mouth a little."
The division rival New York Giants are another team interested in Boldin's services to fill the void left by the release of Plaxico Burress earlier this month. Several media outlets also have the Giants close to acquiring Browns wide receiver Braylon Edwards.
"With the Redskins going out and getting [Albert] Haynesworth, the Cowboys improving their team ten-fold by dropping [Terrell] Owens and if the Giants pull off a trade for one of these wide receivers, we might be in trouble in our division," said Brian Westbrook. "I know that letting Dawk, Tra and Runyan go, stocking up on 12 draft picks and maintaining all that cap space is all a part of the plan, though. That means they're just setting up to make a big move here at some point…right?"
Terrell Owens has selected the Buffalo Bills as the team he will play for in 2009. According to the six-time Pro Bowler and perennial locker room distraction, countless teams had been "banging down the door with contract offers" in the recent days following his release from the Cowboys.
"Everybody thinks because of my past that no one would want me," said Owens at his Buffalo Bills press conference. "I had like a billion teams that wanted me to play for them, but I chose the Bills because it was the best fit for me, and not because it was my only option besides the Raiders. If you think that I was considering signing with the Raiders for the past couple of days and then the Bills called and I was like 'holy balls, I had no idea a halfway decent team actually wanted to sign me…hell yeah I'll take that deal', then you're crazy…because that's not what happened at all."
The one-year $6.5 million deal with the Bills will give Owens an opportunity to prove that he's still capable of performing at an elite level at the age of 35 and that he's able to walk into an NFL locker room without the drama of a pre-teen obsessed with The Hills or something.