Eagles president Joe Banner announced today that the team would be employing 6- to-10 bodyguards to protect coaches from running back LeSean McCoy. "We have to protect our assets as an organization," Banner said, "even if that means beating the hell out of one of our own players."
The bold personnel move comes in the wake of the second attack on an Eagles coach by McCoy this season, when the running back attempted to knock down Offensive Line Coach Howard Mudd after being taken out of the game against Dallas. This latest attack comes just two weeks after McCoy viciously gut-punched Andy Reid in the stomach during a game against the Washington Redskins.
"I'm a pretty old man, and I just had hip surgery this past week," Mudd commented later, "For him to hurl his body at me like that… [it] could've killed me. I was terrified."
Banner explained to those at the press conference that McCoy would not be allowed within 10 feet of any members of the Eagles coaching staff, and that a violation of this policy or any perceived threat of violence would be met with "necessary force".
"We looked into several options," Banner said, "among others we were considering were chaining LeSean to a bench while the offense was on the sidelines, as well as having a sniper armed with tranquilizer darts trained on him at all times, waiting for him to get too close to a coach. We may look into those options at a later date."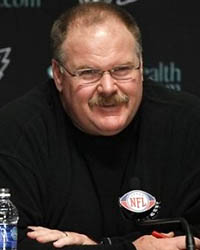 One of the most remarkable streaks in all of sport was extended on Thursday as the Eagles retained Andy Reid as the team's head coach for the 4,400th consecutive day.
Reid hasn't missed a day of employment since January 11, 1999 and is now the longest-tenured head coach in the NFL after the Titans fired Jeff Fisher.
"I've done the unthinkable," said Reid. "But what kind of guy would I be if I didn't mention the front office's part in keeping this streak alive. Jeff (Lurie) and Joe (Banner), you guys are awesome. Don't ever change."
Reid's streak nearly came to an end on Sunday after a report revealed the head coach openly criticised David Akers for missing two field goals during the Eagles playoff loss to the Packers despite knowing that the kicker's daughter was hospitalized for a potentially life-threatening cyst. However, Reid persevered and kept his historic streak alive.
"This streak has been hard on me and my family, but it's the team that has suffered the most," said Reid. "But I owe it to my fan out there to keep going. This is for you, Steve."
One week after releasing two-time Pro Bowl runningback Brian Westbrook without so much as a phone call from team President Joe Banner or owner Jeffrey Lurie, the Eagles requested that Westbrook also go halfsies on his remaining medical bills.
"What's fair is fair," Lurie said on Wednesday. "We paid him to play football, not get hurt and go to continual doctors visits, chiropractic appointments, physical therapy, you name it. I don't know what he expected, but these bills aren't going to pay themselves."
The Eagles say a large balance remains on several bills stemming from a concussion suffered by Westbrook  last season. According to the team, Westbrook should be happy they are only asking for fifty percent.
"Brian needs to understand most employers don't pay a cent towards an employee's medical bills other than what they contribute to insurance coverage," Lurie continued. "So, technically, we're already doing him a huge favor by paying half."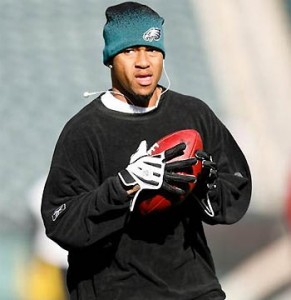 DeSean Jackson was hospitalized early Friday after contracting Drew Rosenhaus in a public restroom.
According to Eagles President Joe Banner, the illness could sideline Jackson for the start of the next season and could even threaten his career with the Eagles.
"This is really starting to remind me of 2005 all over again," Banner said on Friday, making reference to Terrell Owens' contraction of Drew Rosenhaus after the 2004 season. "This is really the last thing we need to have happen to one of our star players. We're optimistic he can pull through it, but we're planning for the worst."
The Drew Rosenhaus virus has plagued the NFL for almost two decades and is very similar to a strain of Scott Boras that many prominent MLB players have suffered through over the years.
In the most noteworthy case of the Drew Rosenhaus, Terrell Owens played in only seven games for the Eagles in 2005 before he was released in an effort to contain the outbreak before it spread to other players.
"We're really hoping to get DeSean some treatment so he can kick this thing," said Eagles head coach Andy Reid. "He needs to completely flush the Drew Rosenhaus from his system or these next few months are going to be pretty miserable for everyone."
All indicators point to the Eagles being able to select running back Knowshon Moreno with the 21st pick in Saturday's NFL Draft. Howevah, with the team's long history of trading out of the first round and abstaining from first-round running backs, fans are becoming increasingly skeptical that Moreno will become an Eagle.
The Eagles have reportedly elected to take the "fantasy draft/college finals" approach this year by procrastinating for the upcoming draft and pulling all-nighters on Thursday and Friday.
"We just found out [Joe] Banner got pantsed almost every day by his High School football team, so obviously nothing got done last night outside of the endless ripping," said Andy Reid. "We'll try to get something done tonight, but realistically we're looking at either going in there with [Todd] McShay's mock, or just wingin' it like we always do. It's not that hard anyway…just keep trading down, don't pick a running back…standard Eagles stuff."
It turns out that the recent accusation by a local drug dealer that former Eagles runningback Correll Buckhalter was one of his clients will be the first of many scandalous nuggets the Eagles will disclose in the coming weeks about their former players. According to a source close to the Eagles, the list includes Brian Dawkins, L.J. Smith, Tra Thomas and that part-time guy that got fired for no damn reason will be named in a potentially damaging report detailing sketchy behavior that was often covered up by the organization.
"I can't say much at the moment but more will be known in the coming days," the source told PhillyGameday.com. "I will say that we're close to releasing a story about L.J. Smith's addiction to Guitar Hero that led to his complete separation from reality and any awareness that he was actually a member of the National Football League and the Phildelphia Eagles for the past several years."
UPDATE: The Eagles have released a statement noting that former Eagles safety Brian Dawkins was, in fact, born with trace amounts of the metal adamantium throughout his skeletal system. The report goes on to say that there was actually zero effort to keep the future Hall of Famer in Philadelphia and that Eagles President Joe Banner's constant lying has actually caused his penis to invert to the point where he is now medically an extremely fugly chic.