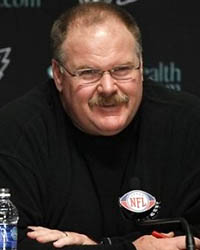 One of the most remarkable streaks in all of sport was extended on Thursday as the Eagles retained Andy Reid as the team's head coach for the 4,400th consecutive day.
Reid hasn't missed a day of employment since January 11, 1999 and is now the longest-tenured head coach in the NFL after the Titans fired Jeff Fisher.
"I've done the unthinkable," said Reid. "But what kind of guy would I be if I didn't mention the front office's part in keeping this streak alive. Jeff (Lurie) and Joe (Banner), you guys are awesome. Don't ever change."
Reid's streak nearly came to an end on Sunday after a report revealed the head coach openly criticised David Akers for missing two field goals during the Eagles playoff loss to the Packers despite knowing that the kicker's daughter was hospitalized for a potentially life-threatening cyst. However, Reid persevered and kept his historic streak alive.
"This streak has been hard on me and my family, but it's the team that has suffered the most," said Reid. "But I owe it to my fan out there to keep going. This is for you, Steve."