One week after releasing two-time Pro Bowl runningback Brian Westbrook without so much as a phone call from team President Joe Banner or owner Jeffrey Lurie, the Eagles requested that Westbrook also go halfsies on his remaining medical bills.
"What's fair is fair," Lurie said on Wednesday. "We paid him to play football, not get hurt and go to continual doctors visits, chiropractic appointments, physical therapy, you name it. I don't know what he expected, but these bills aren't going to pay themselves."
The Eagles say a large balance remains on several bills stemming from a concussion suffered by Westbrook  last season. According to the team, Westbrook should be happy they are only asking for fifty percent.
"Brian needs to understand most employers don't pay a cent towards an employee's medical bills other than what they contribute to insurance coverage," Lurie continued. "So, technically, we're already doing him a huge favor by paying half."
The Eagles have released longtime running back Brian Westbrook to free up some space for head coach Andy Reid.
"Brian is one of the greatest Eagles of all time and he is an even better person and leader," Reid said on Tuesday. "But mobility was a major issue last year, and with Westbrook gone, I won't have to suck in the gut to get around."
Westbrook battled multiple concussions in 2009 and saw action in only eight games, finishing with just two touchdowns and 274 rushing yards for the Eagles.
"Coach Reid always talked about how hard it was for him to get around, so I knew it was a matter of time before something like this happened," said Westbrook. "I never thought it would be me, but I guess it makes sense that he would get rid of a running back first."
The Eagles are just assumed to have lost to the Cowboys in Saturday's wildcard matchup, though no one in the entire Tri-State area actually watched the end of the game to confirm the final outcome or score.
A local man named Jerry Cole reported Sunday morning that the score was "probably 392-7 or some s-t like that."
"I stopped watching at halftime, but that sounds about right," Cole added.
Another man that threw his television out of his window midway through the third quarter claimed the 392-7 score was grossly inaccurate.
"I probably watched more of the game than anybody, and I'm telling you the final score was about 84-7," said Greg Alban, who read a book for the remainder of the game after his television was destroyed.
The Cowboys will move on to face the Minnesota Vikings next week while the Eagles will face an exciting offseason that will probably include letting Donovan McNabb and Brian Westbrook go and signing Plaxico Burress or someone else that will piss off most of the fan base.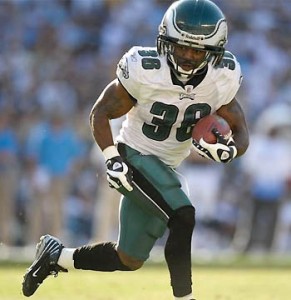 Team doctors have officially cleared Brian Westbrook to play this weekend against the 49ers with the aid of a fairly big-ass helmet.
"He's been limited in practice this week, but he looked good out there," said Andy Reid on Friday. "They gave him this massive double helmet to wear which looks completely ridiculous, but at least we'll have him back on the field."
Westbrook has missed the past four games and six of his last seven with concussion symptoms after using a normal-ass helmet so far this season.
"Two concussions in a season is rough to deal with," Westbrook said. "Without this helmet, I'd consider just hanging it up so I don't kill myself out there, but [the helmet] should help me avoid any more concussions. I'll look like an idiot and I'm pretty sure I'll teeter over a couple times, but at least I'll stay conscious."
Brian Westbrook, as well as Donovan McNabb, returned from injury yesterday and helped lead the Eagles to a 33-14 win over the Buccaneers. Both players avoided further injury, however Westbrook arrived for his typical Monday morning MRI, only to find that no MRI had been scheduled.
"I thought I was supposed to come in for an MRI on Monday no matter what," said Westbrook. "I mean I've done it for something like 37 Mondays in a row during the football season. It was disorienting having an extra hour with nothing to do, so while I was there I had some X-rays taken just for fun."
As a result of not having an MRI done, Westbrook remains one punch short of a free MRI or CT Scan on his Frequent Imaging Club Card.
"I set out to get a free MRI or CT Scan this season, and I'm going to do it," said Westbrook as he dropped a heavy weight on his foot. "Isn't that what we play for, free MRIs? Well, maybe that and winning the Super Bowl."
The Arizona Cardinals announced Wednesday that they are willing to listen to trade offers for their Pro Bowl wide receiver Anquan Boldin. The Eagles were rumored to be interested in Boldin, but the team's interest may be dying because of the wideout's hefty price tag and the unfortunate, yet inevitable rise in the standings they may experience as a result of acquiring him.
"The Eagles are a business…and it wouldn't make sense for us to put a better team on the field when we're selling out every game," said Eagles owner Jeffrey Lurie. "It's sickening to think about throwing away money on a guy like Boldin just to win a Super Bowl…yeah…see…I think I just threw up in my mouth a little."
The division rival New York Giants are another team interested in Boldin's services to fill the void left by the release of Plaxico Burress earlier this month. Several media outlets also have the Giants close to acquiring Browns wide receiver Braylon Edwards.
"With the Redskins going out and getting [Albert] Haynesworth, the Cowboys improving their team ten-fold by dropping [Terrell] Owens and if the Giants pull off a trade for one of these wide receivers, we might be in trouble in our division," said Brian Westbrook. "I know that letting Dawk, Tra and Runyan go, stocking up on 12 draft picks and maintaining all that cap space is all a part of the plan, though. That means they're just setting up to make a big move here at some point…right?"