Trent Cole could face a steep fine by the NFL after he was flagged for a use of hands penalty on a well-defended Peyton Manning.
"The NFL will review the play in question and determine if Cole intended to utilize his hands to disrupt the Peyton Manning, or if it was merely incidental," said an NFL spokesperson. "As a league, we have to start cutting down on the number of hand-to-helmet taps on the Peyton Manning and the Tom Brady."
Asante Samuel will likely also face a fine by the NFL after illegally touching two Manning passes before the offense was given a chance to catch and run it in for a touchdown.
Unable to effectively control news about the season-ending injury to linebacker Stewart Bradley, head coach Andy Reid has resorted to fabricating news to satisfy his inner Belichick and decide when news breaks.
Reid announced to reporters that he had lost 75 pounds over the past three months on the Medifast plan, though members of the media initially took it as a joke and laughed uncontrollably for about 17 minutes straight.
"Coach didn't lose any weight, he's just getting desperate out there," said cornerback Asante Samuel. "Even if it was true, that's like losing a brick on a pyramid. He's a large human being either way."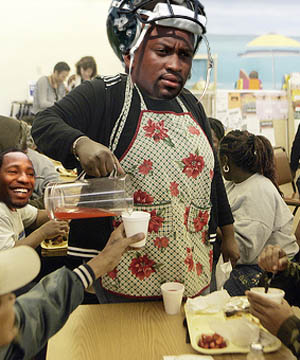 Andy Reid was pleased to find out that Sheldon Brown has been absent from the team's OTAs because the cornerback has spent the past two weeks volunteering at a local soup kitchen and not because of an ongoing contract dispute.
Brown's selfless act inspired Asante Samuel to also cut his training camp short and lend a hand at the kitchen, though he basically just took advantage of the free food and laughed at Brown the whole time.
"I know everybody thought I was just sitting at home all day trying to prove a point," said Brown. "But as much as I love volunteering to play football with the Eagles, it doesn't compare to my love for volunteering to help those in need. If I could volunteer for both at the same time, I would, but the soup kitchen needs me more than the Eagles do right now."