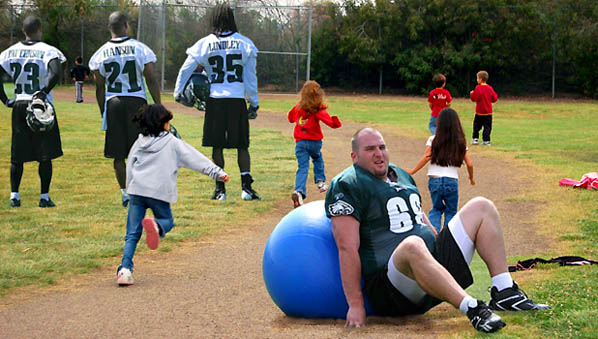 For the fifth time on Tuesday, Eagles players were interrupted by a 15-minute period of recess during an informal workout at E.T. Hamilton Elementary School in Voorhees, NJ.
"We kind of have to take what we can get at this point," wide receiver Jeremy Maclin said while watching a game of 'Duck, Duck, Goose' as he waited to continue training for a possible NFL season. "This is still better than the last field where everybody kept coming onto the field trying to play with us."
Despite the inconvenience, Eagles players were briefly entertained during the third period of recess by watching a young child dominate a game of tag before realizing it was wide receiver DeSean Jackson.
The Eagles' 2009 season is officially underway as training camp opened at Lehigh University on Monday. The initial Day One buzz focused on the absence of first round pick Jeremy Maclin but quickly turned to Kevin Kolb's eyebrow-raising performance in the 'play catch with your teammate' drill.
"Kevin caught everyone's attention out there today," said Assistant Head Coach and Offensive Coordinator Marty Mornhinweg. "He picked out a teammate and threw to him for about 20 minutes while avoiding throwing to other players, coaches, reporters and fans in the stands. Just a superb session."
Mornhinweg also noted that new offensive lineman Stacey Andrews struggled mightily in the 'don't eat the punter' drill.
Early draft grades were being dealt out by any and every self-appointed NFL analyst on Saturday night in judgment of teams' first two rounds.
The consensus among the national talking heads is that the Eagles struck relative gold with their first-round pick of Jeremy Maclin and their late second-round selection of LeSean McCoy. However, no one really cares what they think anyway because a coked-up spider monkey  could do their job.
No one imagined that Maclin would ever be available anywhere near the Eagles' pick at 21 because the hype machine's (a.k.a ESPN) Todd McShay and Mel Kiper guaranteed the receiver would be taken somehwhere in the first ten picks.
"It's a good thing we don't pay any attention to any of the mock drafts or big-haired hired heads," said Eagles GM Tom Heckert.  "It must be a sweet job though, to make predictions for a living and then give others 'Fs' when your predictions fail miserably."