For the 50th straight year, the Philadelphia Eagles were ranked dead last as the least valuable franchise in all of sports, worth $3.50 according to Eagles Fan Magazine.
The value jumped just over $3 since this time last year, when the team was worth approximately $0.32 after Kevin Kolb was named the team's starting quarterback.
According to the valuation, team owner Jeff Lurie has lost approximately $185 million after purchasing the team for $185 million in 1994. However, analysts predict that a Super Bowl win could add several billion to the current $3.50 value.
Topping the list for the third straight year are the Philadelphia Phillies, who are valued at $918 trillion, up $296 trillion from last year due to the Cliff Lee signing.
The Philadelphia Eagles are reportedly in the process of finalizing a trade that would send quarterback Kevin Kolb to the Chicago Bears for their team allotment of Super Bowl tickets, according to a league source.
The transaction is pending approval on the location of the seats, however the tickets are rumored to be in the lower level with excellent site lines and concession stand access.
"When we drafted Kevin, we envisioned that one day his selection would translate into a trip to the Super Bowl. Today is that day," stated Eagles General Manager Howie Roseman on a conference call while packing for Dallas. "Andy and I are looking forward to our first Super Bowl together. I know he was upset about missing another opportunity to coach in the Pro Bowl this year, so this should cheer him up a bit. And we're sitting near the rib stand!"
While Chicago may seem like an unlikely destination for Kolb, who has publicly stated he wants to start, the move makes sense as Bears offensive line coach Mike Tice has a long history of giving away his Super Bowl tickets for a small fee.
Kevin Kolb met with Andy Reid on Tuesday about his situation as the team's backup quarterback and issued an ultimatum that the Eagles either get rid of Michael Vick or he would walk out that door and never come back.
"I shouldn't have to compete with this…this Michael guy for your attention," Kolb reportedly said to Reid during the meeting. "What the hell do you see in him that you don't see in me! Is it because he can scramble out of the pocket and throw 80 yards downfield? Is that what you like? Well, I'm sorry I can't be who you want me to be. But, I'm me dammit! And I like me! And if you can't handle that, then you can just go on with your little Michael. But you just remember one thing: You drafted me…not the other way around."
Reid later asked Kolb to give him a few seconds to mull it over and he would get back to him.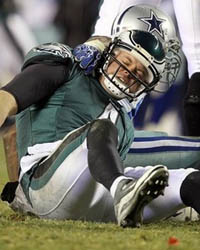 Kevin Kolb threw for 162 yards against the Cowboys on Sunday to underachieve 2,082 yards for his career, passing Koy Detmer for 23rd on the Eagles all-time passing yards list.
"If someone told me when we drafted Kevin that he would have 2,000 career yards after his fourth season in the league, I wouldn't have believed them," Andy Reid said after a 14-13 loss to the Cowboys in the regular season finale. "With any luck, he should be knocking on the door to 2,500 yards by next season."
Kolb also underachieved his 11th career touchdown on Sunday, which also passed Detmer on the Eagles' all-time passing touchdowns list.
"I just want to thank Coach Reid, because without hyping me up to be some great quarterback, I wouldn't have been able to underachieve any of this," said Kolb. "Thanks a lot, dick."
Andy Reid announced that he would continue to rest his starters for Sunday's regular season finale against the Cowboys after allowing them to sit out on Tuesday against the Vikings.
"The original plan was to rest the guys during the last week of the season," said Reid on Thursday. "But they've done such an amazing job all year that I told them they could just watch the Vikings game like the rest of us."
The day off will give the starters a full 20 days to rest while giving Kevin Kolb an entire three hours to be the Eagles starting quarterback again.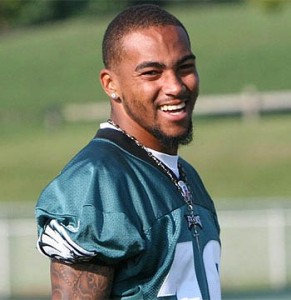 During his weekly appearance on Comcast SportsNet's "Daily News Live," DeSean Jackson expressed his total coolness with Kevin Kolb forgetting to notice that he's wide open downfield most of the game.
"I think it's great," said Jackson, who caught two passes for 24 yards against the 49ers on Sunday. "Who am I to say I should have the ball thrown to me if I'm alone in the end zone with no one around for 50 yards. That's the quarterback's decision. I'm not the quarterback. I'm just a wide open receiver enjoying life, trying to take advantage of some busted coverage down here."
Michael Vick, who is currently rehabbing a rib injury, also expressed his complete coolness with Kolb's inability to move the ball down field to his playmaking receivers.
Not since the Kevin Kolb era of 2010-10 have Eagles fans been this excited about a quarterback as Michael Vick put together another fantastic performance against the Jaguars on Sunday.
Vick threw for 291 yards and three touchdowns and ran for 30 yards and another score in the Eagles 28-3 win over the Jags, winning over countless fans in the process.
"I'm old enough to have lived through the Kevin Kolb era," said Mark Penza, 13, a longtime Eagles fan. "I remember fans jumping on the Kolb bandwagon left and right just like they are now with Michael Vick. Good times."
Philly Gameday attempted to track down former Eagles great Kevin Kolb, but team officials could not determine his whereabouts and is assumed to be retired or deceased.
Following the announcement on Tuesday that Michael Vick would be the Eagles' starting quarterback for the remainder of the season, Eagles head coach Andy Reid maintained that Kevin Kolb's slow regression as the team's starting quarterback of the future is still "right on track."
"The fourth year as a backup is critical to becoming an elite NFL quarterback," Reid said without cracking a smile. "We're not sure his skills are eroding quickly enough, but mentally, his confidence is shot to all kinds of hell, which is an important step in his development."
Reid then discussed his plans to further Kolb's relapse by breaking his throwing arm in five places, murdering his entire family and releasing him on Christmas morning.
"Kevin will be a great quarterback one day," Reid added with a straight face.
Eagles head coach Andy Reid announced Tuesday that he will go with rookie Mike Kafka at quarterback against the Jaguars if everyone doesn't get off of his freaking back already.
"I've decided that Mike Kafka is gonna be my guy on Sunday if you guys don't shut it up," threatened Reid. "So, if you want Kafka on the field, keep bumping them gums about how Vick isn't starting, OK? Yeah, that's what I thought. Kevin Kolb doesn't looks so bad now, does he?"
Reid noted that Kafka will practice with the first team offense this week just in case the head coach hears another peep from anyone else.
After being knocked down in Sunday's 27-20 loss to the Packers, Kevin Kolb and Stewart Bradley were each given the mandatory eight-count by Eagles' trainers before being allowed to return to the field.
"We're required by the league to do it," Andy Reid said of the extensive test to give the player eight seconds to return to consciousness. "I think it's a little excessive, but rules are rules."
The league-mandated eight-count has been used by NFL teams since the 2008 season when Commissioner Roger Goodell determined that the previous policy of 'Play if there's a pulse' jeopardized players' safety.