Kevin Kolb underachieves career milestone
By Zaki, PhillyGameday.com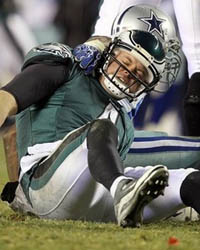 Kevin Kolb threw for 162 yards against the Cowboys on Sunday to underachieve 2,082 yards for his career, passing Koy Detmer for 23rd on the Eagles all-time passing yards list.
"If someone told me when we drafted Kevin that he would have 2,000 career yards after his fourth season in the league, I wouldn't have believed them," Andy Reid said after a 14-13 loss to the Cowboys in the regular season finale. "With any luck, he should be knocking on the door to 2,500 yards by next season."
Kolb also underachieved his 11th career touchdown on Sunday, which also passed Detmer on the Eagles' all-time passing touchdowns list.
"I just want to thank Coach Reid, because without hyping me up to be some great quarterback, I wouldn't have been able to underachieve any of this," said Kolb. "Thanks a lot, dick."
Zaki is the Chief Rocka and senior writer for PhillyGameday.com.