The labor dispute between the NFL and its players over how to split the $9 billion in revenues from 2010 came to an end on Thursday after the league realized it had already blown all of the money on legal fees.
"Well then…I guess that's the end of that," NFL commissioner Roger Goodell said of the labor dispute after the NFL and players immediately agreed to a new collective bargaining agreement since money was no longer an issue. "It's funny how easily you can just focus on what's best for the game when you remove $9 billion from the picture. Maybe we'll donate our revenues to charity from now on or something. What's that? Am I serious? Ha-ha, of course not, but you should've seen your face. Classic."
As of press time, the NFL discovered that $6.27 had actually remained from the 2010 revenues which nullified the newly-signed CBA, sending the two sides back to court over how to divide the $6.27.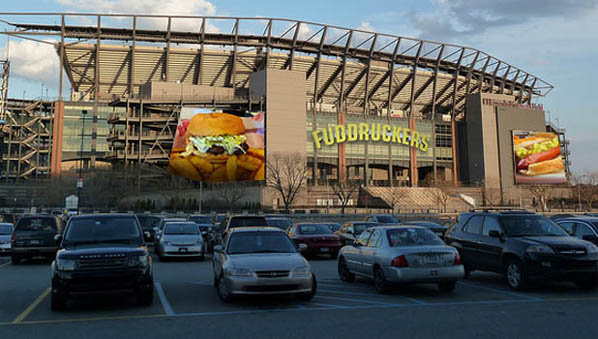 Moments after announcing that the players had been locked out of the league, the NFL moved forward with plans to convert each of the newly abandoned stadiums into a chain of Fuddruckers restaurants.
"The players may be locked out of the NFL right now, but the flavor is definitely locked in our delicious hamburgers!" commissioner Roger Goodell said during a Tuesday press conference. "Don't labor another minute! Visit any of our 32 locations for family fun at a collective bargain! You definitely won't leave the table disappointed!"
Goodell also announced that the Fuddruckers wait staff could face a potential lockout if the two sides cannot agree that 100% of everyone's tips belong to the NFL.
After numerous failed attempts to come to terms on a new collective bargaining agreement, NFL owners and the players union respectfully agreed to disagree on Monday and dismantled the National Football League.
"It's the same argument over and over again and we never get anywhere," said Roger Goodell, former commissioner of the now defunct NFL. "In the end we realized that the NFL just isn't worth ruining a friendship over, so both sides agreed to disagree and move onto something else."
Though both sides reached an agreement to disagree, NFL owners and members of the players union continue to talk to everyone about how their side was right.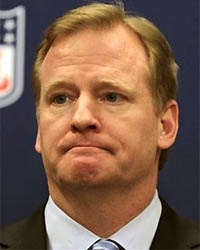 The NFL met with the NFL Players Association on Wednesday for yet another collective bargaining session and while both sides agree that lighting cigars with $100 bills is both convenient and entertaining, the parties still remain split over the key issue of which side is the most passionate about their incessant lust for money.
"It has always been the position of the NFLPA that if it don't make dollars, it don't make sense," said NFLPA executive director DeMaurice Smith. "The NFL can't possibly love money more than these guys. We polled our players and 87% report fornicating with their money at least three times a day while the remaining 13% just enjoy spooning with it."
If the two sides are unable to come to an agreement over whose depraved obsession with money is greater before the current CBA expires in March, the league will face a lockout.
"If the players loved money more, then they wouldn't oppose adding two more games to the schedule," Indianapolis Colts president Bill Polian said while shredding a stack of $100 bills that he said were too wrinkled to use in public. "We are clearly ready to risk the stability and brand of the greatest professional sports league on the planet in order to make more money, so that should tell you just how far we're willing to go just to make money we don't even need at this point."
As of press time, the two sides were still posturing, beating their chests and throwing money around the room in hopes that the other side would recognize how awesome and important they are.
After being knocked down in Sunday's 27-20 loss to the Packers, Kevin Kolb and Stewart Bradley were each given the mandatory eight-count by Eagles' trainers before being allowed to return to the field.
"We're required by the league to do it," Andy Reid said of the extensive test to give the player eight seconds to return to consciousness. "I think it's a little excessive, but rules are rules."
The league-mandated eight-count has been used by NFL teams since the 2008 season when Commissioner Roger Goodell determined that the previous policy of 'Play if there's a pulse' jeopardized players' safety.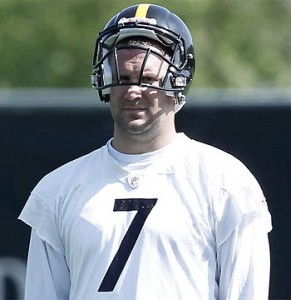 NFL commissioner Roger Goodell said during a radio show appearance Monday that Ben Roethlisberger sexually assaulted the league's personal conduct policy, and that a suspension would be forthcoming.
"According to witnesses, Roethlisberger was out drinking with his friends when he began to abuse the conduct policy, sexually," said Goodell during the radio interview. "There's no video of the incident and very little medical evidence that rape took place, but let's be real here: This isn't the first time he's done something like this. And seriously, just look at the guy. Doesn't he just look like a sexual predator to you? "
Roethlisberger will likely face a four-game suspension, though Goodell hasn't ruled out chopping his dick off altogether.
NFL Pro Bowl rosters were released on Tuesday and it appears someone made a huge mistake: Brian Dawkins is currently being listed on the AFC Pro Bowl roster, when he should be listed on the NFC roster as a representative from the Eagles.
"Someone f-ked up, big time," NFL Commissioner Roger Goodell said on Wednesday. "I have no idea how someone could make that kind of a mistake, but we're investigating the matter and will find who is responsible."
This current mistake could be related to a series of blunders following Dawkins this season that has the Eagles safety wearing a Denver Broncos jersey and playing on the road with the Broncos rather than with his Eagles teammates.
"It's all one big mix up and it's obvious someone didn't do their job very well," said Dawkins. "I wouldn't pay it any mind, though. I'm an Eagle and I'll always be an Eagle and that's all that matters."
NFL commissioner Roger Goodell gave Michael Vick and the Eagles the green light to obliterate their existing offensive playbook sooner than previously expected. The Eagles will be free to experiment with their new toy starting in Week 3 at home against the Chiefs, when Vick will be fully reinstated by the league.
Andy Reid spoke about the news and didn't seem all that pleased by Goodell's decision.
"I really can't tell you I'm happy about this," said Reid. "Goodell led us to believe Michael wouldn't be available until around Week 4 or 5. We still have no freaking clue how we're actually going to use him in games and now he'll be available Week 3? Goodell completely screwed us."
Vick played in the team's final preseason game and was sacked four times, lost a fumble and threw an interception in the 38-27 loss to the Jets but did manage to run two yards for a touchdown in the second quarter.
"I wanted to end the preseason on a high note," Vick said after the game. "And as you can see that didn't happen. But at least my first game back is against the Chiefs which we're treating like a fifth preseason game at this point."
Vikings head coach Brad Childress was approached by a very groggy and inattentive Brett Favre late Saturday afternoon about the start times for the remaining preseason and regular season games.
Since returning to football about a month ago, Favre has had a hard time coping with the NFL's policy to play games during late-afternoon and prime time hours.
Favre made his Vikings debut on August 21 and struggled in his brief appearance, completing one of his four passes for only four total yards against the Chiefs. The aging QB attributed his lack of focus and general cantankerous behavior to what he has labeled as "inappropriate" game times.
"I don't know why they have us playing at all hours of the night like this," Favre said during a midday practice session. "Since when do we play games at four in the evening? As much as I love this game, there's no way I can be productive at such an unholy hour."
NFL commissioner Roger Goodell  told reporters that he received a hand-written letter from Favre demanding a change to the Vikings game times to coincide with the Mississippi native's two o'clock supper time.
"This isn't the first time I've dealt with something like this," said Goodell. "I get about two or three of these every year from the older guys still hanging around in the league. Vinny Testaverde actually wanted to replace the Gatorade jugs with prune juice a few years back. I sent him a crossword puzzle book as a compromise and haven't heard from him since."