DeSean Jackson is no stranger to celebrations. Last year he even celebrated a touchdown before he crossed the goal line. After his latest touchdown which involved a cartwheel into a split in the end zone, teammates even told him to cool it. But Jackson says he can't help it, and celebrated his morning tooth brushing with a backhand triple somersault.
"I love celebrating!" said an ecstatic Jackson after putting away his toothbrush. "Just look at how awesome I am at brushing my teeth! Just look!"
Scoring touchdowns and brushing his teeth are not the only things that Jackson celebrates with risky gymnastics type maneuvers. Rumors are floating around the Eagles locker room that he is planning a pike position double somersault for starting his car and a back handspring somersault one and a half twist for properly placing his dishes in the dishwasher after eating dinner at home.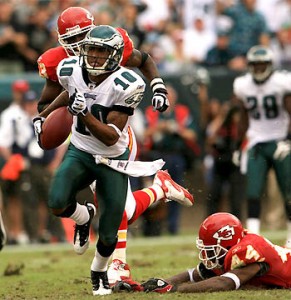 Michael Vick played in his first regular season NFL game since 2006 as the Eagles pummeled the Chiefs 34-14 on Sunday. Vick ran a handful of Wildcat plays, but it was the Eagles' elusive throw-to-an-open-cat (or "Opencat") offense that stole the show and gave the Eagles their second win of the season.
Starting in place of the injured Donovan McNabb, Kevin Kolb ran the experimental offense to near perfection, throwing to open cats for 327 yards and two touchdowns.
Andy Reid later explained the difficulty involved in running such a newfangled, hi-tech offense when everyone is so used to running the Wildcat.
"It's something we've been working on for a couple weeks now and to be honest, we didn't expect such positive results so soon," said Andy Reid of the Opencat offense. "It's hard to explain exactly how it works, but essentially what you wanna do is pick an open cat to throw to and when you've found one, that's when you throw the ball to that cat."
Overwhelmed by the formation from the Eagles' first offensive possession, the Chiefs had no answer and could not recover for the rest of the game.
"We gameplanned all freaking week to defend against the Wildcat and then they throw this Opencat stuff at us," said first-year Chiefs head coach Todd Haley. "They did run a couple Wildcat plays and we did a good job stopping them, but how in the world are you supposed to defend against a quarterback that can throw to open cats on a consistent basis? You can't, it's impossible."
The Eagles will decide whether to stick with the popular offense — which has also been implemented by the Saints with great success — or return to the Wildcat in Week 5 when Donovan McNabb is expected to return against the Buccaneers.