Report: Top Philadelphia draft pick cheered
By Zaki, PhillyGameday.com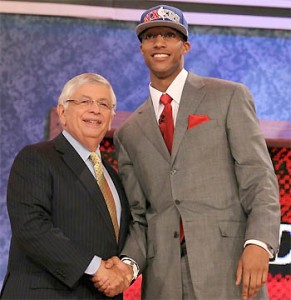 Philadelphia sports fans reportedly broke their historic tradition of booing and throwing urine-soaked snowballs at draft picks when they cheered the 76ers' selection of Evan Turner at the NBA draft on Thursday.
Though cheering for draft picks is a staple among non-Philly sports fans, Philly fans have historically berated athletes on draft day. However, that custom came to an end when Turner was selected with the second overall pick and greeted with warm applause by fans, marking the first such embrace by fans in Philadelphia sports history.
The most notable case of deplorable behavior by Philly fans on draft day was during the 1999 NFL draft when Donovan McNabb was booed unmercifully as he was selected with the Eagles' second overall pick. It was widely speculated that Eagles fans were booing the organization for not selecting Heisman Trophy winner Ricky Williams, but later reports confirmed that Philly fans are the scum of the earth and want to boo everyone at all times.
In a less publicized case, Allen Iverson was booed off the stage as he was selected with the first overall pick by the 76ers in 1996. Cole Hamels, the Phillies first-round selection in the 2002 MLB draft, was also booed by a throng of fans at his home in San Diego, CA as he sat in his living room with family and friends. Altogether, some 2,622 athletes have been booed by crazed Philadelphia sports fans over the years.
According to a report probably published somewhere, one rogue fan was heard booing while Turner's name was announced during the draft, which was, according to the report, "yet another black eye for Philadelphia sports fans."
Zaki is the Chief Rocka and senior writer for PhillyGameday.com and thinks you should hurry up and follow the site on Twitter and Facebook before it's too late.