The Sixers currently hold the eighth seed in the Eastern Conference with a 14-21 record, which puts the team on a historic pace to become the worst to make the NBA playoffs since the 2010 Chicago Bulls.
"To find a team this bad in position to make the playoffs, you'd have to go back almost 12 months," NBA commissioner David Stern said of the Sixers. "Just to give you some perspective, LeBron was still with the Cavs and, if you can believe it, Evan Turner was still in college the last time this happened."
The Pacers are 1 1/2 games ahead of the Sixers as the seventh seed in the conference with a 14-18 record and if both teams end up making the playoffs, they could become the worst duo to play in the postseason since 2009.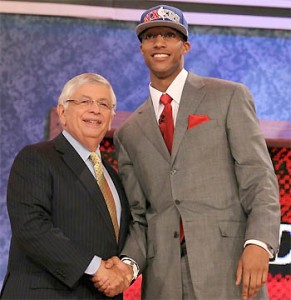 Philadelphia sports fans reportedly broke their historic tradition of booing and throwing urine-soaked snowballs at draft picks when they cheered the 76ers' selection of Evan Turner at the NBA draft on Thursday.
Though cheering for draft picks is a staple among non-Philly sports fans, Philly fans have historically berated athletes on draft day. However, that custom came to an end when Turner was selected with the second overall pick and greeted with warm applause by fans, marking the first such embrace by fans in Philadelphia sports history.
The most notable case of deplorable behavior by Philly fans on draft day was during the 1999 NFL draft when Donovan McNabb was booed unmercifully as he was selected with the Eagles' second overall pick. It was widely speculated that Eagles fans were booing the organization for not selecting Heisman Trophy winner Ricky Williams, but later reports confirmed that Philly fans are the scum of the earth and want to boo everyone at all times.
In a less publicized case, Allen Iverson was booed off the stage as he was selected with the first overall pick by the 76ers in 1996. Cole Hamels, the Phillies first-round selection in the 2002 MLB draft, was also booed by a throng of fans at his home in San Diego, CA as he sat in his living room with family and friends. Altogether, some 2,622 athletes have been booed by crazed Philadelphia sports fans over the years.
According to a report probably published somewhere, one rogue fan was heard booing while Turner's name was announced during the draft, which was, according to the report, "yet another black eye for Philadelphia sports fans."
After ten years in a persistent vegetative state, the NBA All-Star Slam Dunk Contest has died just a few hours after its 26th birthday.
The brain-dead event was removed from life support early Sunday morning when four NBA players realized they had finally run out of ways to thrust a basketball through a hoop.
"We tried. We really tried everything we could, but nothing worked," Gerald Wallace said of his attempts to revive the contest on Saturday. "I did this one dunk where I jumped up and while in mid-air, brought the ball slightly down to my waist and then slammed it through the rim, which was actually behind me rather than in front like a normal dunk. I thought it was original, but this lady in the stands said something like  'I saw that [expletive] back in '85 and twice in '97′, so sit ya ass down'. So, I sat my ass down."
Born in 1984, the newborn Dunk Contest immediately rose to stardom as a premier event during the NBA's All-star weekend festivities. As a two-year-old infant in 1986, the event made history as a 5'7″ Spud Webb suspended every conceivable law of physics by dunking a ball with two hands into a basketball hoop without the aid of a trampoline or a body that would normally allow someone to be able to dunk.
However, around age seven, the contest's health was severely weakened by the unknown, two-time Slam Dunk champion Harold Miner (1993 and 1995) and medically pronounced dead after Brent Barry took home the trophy in 1996. Kobe Bryant managed to resurrect the All-Star event in 1997 and Vince Carter nearly gave his own life in 2000 to save the contest by selflessly throwing his entire arm through the net.
The Dunk Contest would never be the same after 2000 and fell into a coma from which it would never recover. Players tried introducing cupcakes, stickers, chairs and other people into the show to try and revive the once vibrant spectacle, but to no avail.
David Stern addressed the media on Monday, but would not accept that the Dunk Contest had actually passed away.
"Our Dunk Contest is still alive and well, no matter what the doctors, fans or anyone other than myself is saying right now," said Stern. "Just because it is lifeless and wreaks of unholy death doesn't mean it's actually dead. It's just playing dead to set up the sickest dunk you've ever seen. So, make sure you watch next year or you might miss it."
The Slam Dunk Contest is survived by the terminally ill National Basketball Association.
Two days after indefinitely suspending Gilbert Arenas for his recent behavior, NBA Commissioner David Stern had his way with the troubled guard by temporarily lifting his suspension for all of three minutes.
"I brought him into my office to tell him the suspension was over," Stern said on Friday. "We shook hands and just before he was about to walk out, I told him I was just messin' around and in all seriousness, he'll probably be 50 before I let him play again. You should have seen his face, though. He totally lost his s-t. Just priceless."
Stern held a press conference Friday morning to announce the prank and taunt Arenas a little more.
"What happened Gilbert?"  Stern asked mockingly at his press conference. "You were having so much fun joking with your little finger guns that I thought you'd enjoy my joke. Oh well. Have fun with no duckets for the rest of the year."