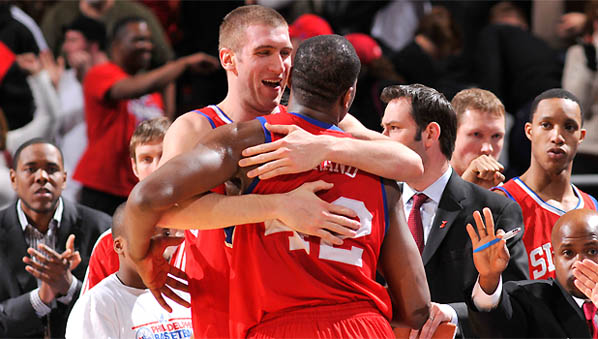 The Sixers capped off an improbable dream season by clinching an epic Game 4 win against the Miami Heat during the first round of the NBA playoffs.
"We did it! We shook up the world! We shook up the world!" said a champagne-covered Andre Iguodala after the Sixers were eliminated from the playoffs on Wednesday. "You grow up watching teams win playoff games and you hope that one day that could be you out there hoisting the game ball in front of your home crowd. No one thought we would even get this far, but here we are, baby! We shook up the world!"
Sixers head coach Doug Collins said Friday that while the team exceeded any and all expectations during the dream 2010-11 season, he fully expects the young core group of players to capture an Eastern Conference semifinal win next season.
"I know this is setting the bar pretty high, but I think we're ready to take the next step and become a slightly above average team next year," Collins said.
The Sixers currently hold the eighth seed in the Eastern Conference with a 14-21 record, which puts the team on a historic pace to become the worst to make the NBA playoffs since the 2010 Chicago Bulls.
"To find a team this bad in position to make the playoffs, you'd have to go back almost 12 months," NBA commissioner David Stern said of the Sixers. "Just to give you some perspective, LeBron was still with the Cavs and, if you can believe it, Evan Turner was still in college the last time this happened."
The Pacers are 1 1/2 games ahead of the Sixers as the seventh seed in the conference with a 14-18 record and if both teams end up making the playoffs, they could become the worst duo to play in the postseason since 2009.
Interim head coach Tony DiLeo will not return to coach the Sixers next season and will instead return to his former position of senior vice president/assistant general manager.
Though DiLeo gave his two-week notice on Monday, everyone in the Sixers organization knows that he's probably just going to phone it in and surf the net all day for the next two weeks.
"I made the decision not to come back because I wanted to spend more time with my family," said DiLeo on Monday. "That assistant GM title is just front office speak for 'chillax and watch basketball' and will allow me the free time I need."
The Sixers have already begun their post-Dileo-era head coach search.  Eddie Jordan, Doug Collins and — hopefully, based on potential for satire — Avery Johnson have been named as possible replacements in the early going.